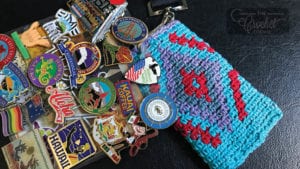 Wayuu Crochet Key Card Holder
The Wayuu Crochet Key Card Holder is an entry-level project for trying this technique most commonly found in Mochilas. Marion Verloop is an expert level in this technique designer and tutorial host. She is my mentor for this concept.
Full discloser, I'm not an expert crocheter in this technique. It takes practice and is a skill to be developed. You may find yourself emotionally beating yourself up over this technique. It's not for everyone.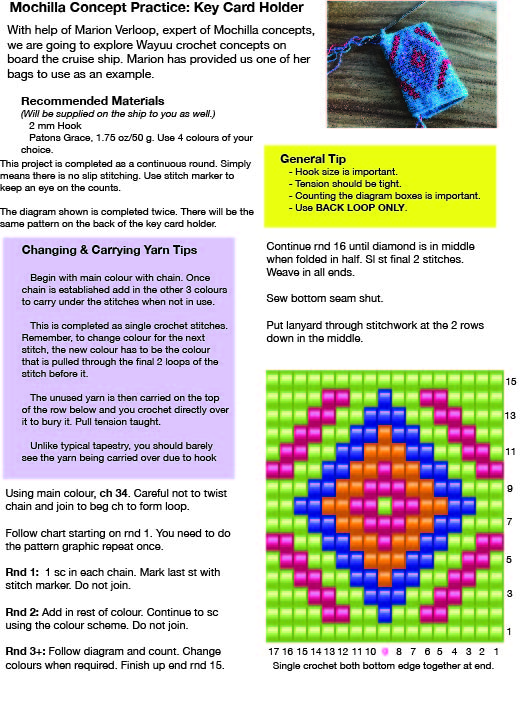 This technique is best done in following a colour-coded graph. I have provided that on this. The graph is showing what one side of the key holder looks like. Both sides look the same.
Wayuu crochet is very specialized in the crochet field of expertise. It's one of the reasons why a bag is between $50 - $300. It's deliberate in stitches and precise. For those who do this on a regular basis, they have the technique down pat. They can probably sit back and crochet up a storm. For those of us, like me, it takes longer as you just don't casually crochet.
This is an introductory project for those on the Panama Crochet Cruise. We are working with one of Marion Verloop's paid patterns on the ship as a Mochila. This will give you inside to come to the ship with more knowledge then just coming without seeing how it's done first.
I felt this was a small enough project, yet practical project that can be tried for a crochet cruiser in advance.
More Ideas
Tutorial