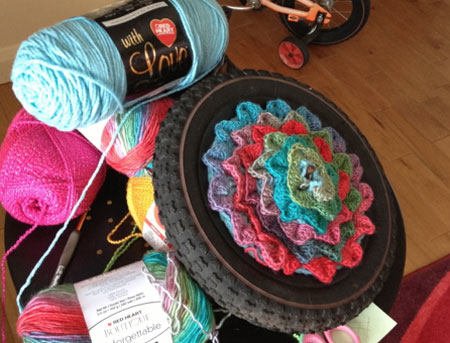 The Controversy of Yarn Bombing
Diva Dan, Colleen and I are preparing for Creativ Festival on April 25 – 26th. It's our 8th Show and this show is massive! Attracting 15,000 – 20,000 guests in a Spring Show in just two days. In the fall, it attracts between 30,000 – 40,000 people. It's a show unlike any I have ever been to.
We attended our first show in 2010 and in retrospect, our booth looked baron and had very little in the way of inspiration. Our display was really popular though. Why? We had personality and a team of volunteers that were on fire for the love of crochet.
In 2011, we returned and after having through one festival. We realized that we needed to step up our game. The guests are hungry for inspiration and ideas. What was more interesting is that the ideas don't need to always be practical or wearable. Like a Fashion Show, some designers design items that are not wearable but are showcasing their own skills and internal ideas. Daniel tried a paper machine topiary mixed with crochet. It was really stunning and pulled the creativity out from ourselves. From this show forward, we have always come back to Creativ Festival with a theme and interesting exhibits.
In 2012, I stopped dreaming of doing outrageous crochet items and started to experiment of covering pre-made items with yarn. Some of you will call this yarn bombing. I made a fabulous Crochet Carousel and Ferris Wheel all in yarn. I was so proud of myself. These were part of a Crochet Carnival Theme. It stole the hearts and imagination. Can I tell you from crocheter to crocheter. The feeling of watching people review your work, giggling, pointing and smiling at the objects gives me joy that if I died right there, I can say I lived my life and touched others along my journey. It's beyond joy… it's connection.
In the festivals afterwards, my ability to yarn bomb objects has flourished. Of crochet items, free form and abstract projects are my most favourite. They cannot be duplicated, nor can it really be taught. Your brain makes decisions at every possible point and you use your entire crochet library in your brain to make your next move. To me, this is so much more exciting than a video game or even playing Sugar Crush! At the end, you are left with a unique wonder.
The Controversy Comes with Yarn Bombing
When creativity is criticized, as a whole, I am beyond offended. Frankly, it makes me really angry and frustrated.
I've been calling myself a Yarn Bomb Artist but Diva Dan says you are walking a fine line of public perspective of what yarn bombing is. He says I should be referring to myself as a "Free Form Artist". He has a few reasons for the difference.
Many people who yarn bomb don't crochet the item for the shape that it's going onto. They crochet squares that are usually stretched over an object and tied together. This is where my artwork differentiates from a typical yarn bomber. If my work were removed from the object, my work would still have it's shape as the layers over the item are customized to match the item. It takes far longer as you have to think about every stitch as you make your project.
As a yarn artist, I end with a lot of little yarn balls that aren't really big enough to dedicate to a project. I also collect unusual yarns in my travels for my little accessory items and are perfect for these types of projects.
There are many people who yarn bomb and will do a community project. They may yarn bomb a fence, street objects and much more. Many people are extremely verbal complaining it is a waste of yarn. Most of these community projects, including my own, are charity based in some way. With any fundraiser, you need to spend money to have money given to charity. It's a fact of life. I think people need to stop complaining about the waste and look at the overall picture to realize that the project may have a greater purpose.
What you won't see me do is to randomly yarn bomb and object for a park or street object and leave it there. That to me, is when it because a public environmental nightmare. Display the object but don't leave it up expecting it to rot away.
The Art of Crochet
There are 1000's of art galleries world wide. I will admit, most of the galleries I will go into, I will never understand the artwork or have a personal connection with it. One thing that is common, this is someone's artwork and I would never classify any artwork as a waste of materials or resources.
While I have been criticized for wasting yarn for my small exhibits. My Free Form Creativity is art… even if I am the only one that sees it that way. In the yarn world, it seems to be okay to criticize others for wasting yarn. To me, this is like walking into an art gallery telling the artist that the canvas they used should have been clothes instead and that the paints they used should have been used for fuel instead of made into paint. Maybe some people would have the nerve to say such a thing.
The art of creativity is looking bleak… I think as a human species, we are appear to becoming less creativity and more apt to buy pre-made things instead of exploring the untapped skills within ourselves.
Stores like Pier 1 remind me that I need to be creative. If you seen some of the prices of their items that are definitely handmade or close to handmade and seeing the price tags… just a little bit of research and getting the right materials, we have the power to do it ourselves.