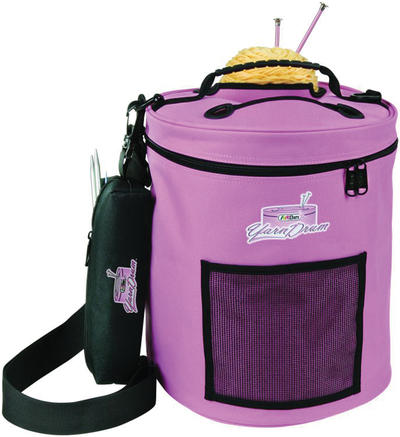 Artbin Yarn Drum
A highly popular item on today's market place is the ArtBin Yarn Drum. Large enough to carry enough materials, but small enough to not be a nuisance. It can hold up to 8 standard size skiens of yarn. The yarn can be taken out through the top without having to open it. There is are two large slits at the top to allow just the yarn to be pulled through without having to remove your yarn.
It comes with an accessory pouch to carry tools you may need such as hooks, needles, scissors, pens, and more.
I really like the strapping of this Yarn Drum to carry it around. Over my shoulder for convenience or carry it like a suitcase. You have choices. The inventor of this Yarn Drum has really put convenience at the forefront of this design.
Even better, the packaging claims that a portion of each sale goes toward the National Breast Cancer Foundation for their fight against breast cancer.

For more crafting tools and materials for a wide variety of crafting areas, why not check out http://www.cutratecrafts.com. 15 – 30% Savings Everyday. Free shipping may be available, see details at http://www.cutratecrafts.com