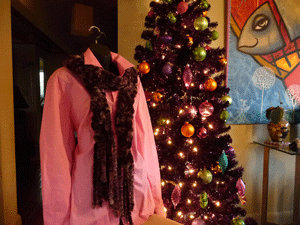 3 Inch – 3 Stitch Fab Faux Scarves
The fab faux scarves were one of the most complete projects for The Crochet Crowd in 2011. This is using Fab Faux yarn by Bernat. It can be completed in about 30 – 45 minutes. It makes for a great gift and is warm to wear. 
Details:
Scarf measures 7 Feet Long in completion. Consists of only 3 Stitches across. Complete in 30 – 45 minutes.
Materials:
15 MM Crochet Hook or Size Q or P
2 Balls of Bernat Fab Faux 70 G / 2.5 OZ
Definitions
CH – Chain, DC – Double Crochet
CH 6, DC starting from 3rd from the hook and DC all the way back. Total = 3 Stitches Across, Turn
CH 3, DC remaining.
Repeat Step 2 until first ball runs out. Add second ball like you would chainging colours.
Repeat Step 2 until there is about 8 Feet of yarn left. Fasten off and weave in ends.
Using remaining yarn, cut 6 – 8 inch Strands. Tie on each strand at the base of each one of the 3 stitches on both sides of the scarf.
To prevent loss of short yarn fibres. Tie each strand end into a knot to prevent unravelling while wearing.