23 Crochet Scarf Pattern Ideas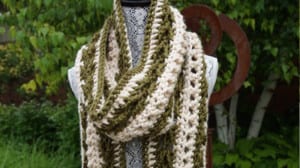 Crochet a Scarf
I think a scarf just has to be one of the most popular items to crochet.  They are useful and make great gifts.  They are quick to make so you can have quicker satisfaction on completing a project.  And wearing a scarf can just add a fun pop of color to an everyday outfit.
Here are 23 ideas to inspire you to create something quick and fun!
Elena Crochet Scarf – one skein and a really pretty stitch.
Ombre' V-stitch Scarf – this could possibly be used with scraps.
Faux Knit Infinity Scarf – really a crocheted cowl, but looks just like knit.
Hadley Scarf – bulky yarn and a big hook means this will hook up super quick.
Black & White Checked Scarf – don't limit yourself to these two colors.
Caution to the Wind Scarf – a pretty arrow design for a light accessory scarf.
Lacy Evening Scarf – Patons Lace Sequin makes this one really elegant.
The Trillium – a lovely geometric triangle scarf.
Layers of Texture Infinity CAL – this is currently in progress and looks like a fun CAL to learn new stitches.
Granny Stripe Skinny Scarf – an easy scarf to hook up quickly.
Dahlia Wrap – a lovely wrap that will drape nicely over your shoulders.
Rockin' the Changes Infinity Scarf – this would be perfect with Patons Uplands yarn.
Serendipity Scarf – uses a color changing yarn for a pretty effect.
Sweet Song Decorative Scarf – so soft looking made with a silk yarn.
Gentle Pink Scarf – lacy scarf with a matching hat.
Snakes Alive – every little boy will love this fun scarf.
Seahawks – a chevron style scarf in your favorite football team colors.
Tangerine Waves Wrap – fresh colors in a lovely V-stitch.
The Diagonalley Crochet Scarf – I really love this one.  You could really wrap up in this and stay warm.
Chevron Stripes Crochet Scarf – nicely styled featuring Caron Simply Soft yarn.
Lacy Pineapple Shawl – wrap it around your neck for scarf-like warmth.
Toddler Crochet Scarf Wrap – neat design that won't be too tight on the child.
Hooded Sports Scarf with Pockets – what could be better than to have it all in one accessory.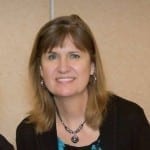 Be creative! 🙂 – Jeanne – The Crochet Crowd