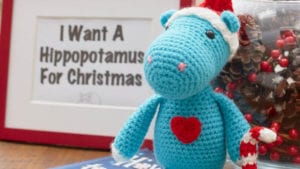 The Crochet Hippopotamus is definitely cute, but what if you were looking for a gift to buy crocheters.
Non-crocheters message us looking for gifting ideas, especially at Christmas time to look for buying a crocheter that is related to the hobby.
I talk about Big-Box Retailers and Independent Stores. Big-Box retailers are the massive chain stores like Walmart, JOANN and Michaels to name a few. Independent locations are the mom and pop shops where it's exclusively yarn and they usually focus on medium to higher-end brands of yarn.
Please note, I don't use affiliate links on this site. Essentially, none of the suggestions are biased in hopes you buy and it rewards us. 
Let's Start with Obvious
Michaels Gift Certificate

Gift Certificates for stores where you know the person can shop at. Let the receiver choose how to spend the money. I'm a fan of something more tangible than a gift certificate as I enjoy receiving a surprise. Stores like Michaels, JOANN, Walmart and other crafting stores are safe bets. TIP: You could go with the person as well and let them pick out what they want as well and treat them to products they really want versus guessing. 

Yarnspirations

Yarn Sales coming ahead. You may also want to keep an eye on the week before and after Black Friday as the best yarn deals are usually available as yarn manufacturers and stores are looking to clear stock. Yarnspirations usually have great sales and they are the makers of Bernat, Red Heart, Caron, Lily Sugar'n Cream and Patons North America.

Yarnspirations: Click Here to Learn More

TIP: If you subscribe to their newsletter, you can usually be told before the social media hits the airwaves so you can get into the deals quickly before they sell out. 

Furls Crochet Hooks

Furls Crochet Hooks are an American based company in the elite class of crochet hooks. From plastic to wood hooks. The Candy Shop series is lightweight and designed to fit a crocheter's hand. The Odyssey Series is nickel-chrome and heavier. These hooks are not the everyday crocheter's hook to use. They are designed with intention and purpose. I love what the owner once said something like this; these hooks are designed for your hands to hold them, not for the machines' benefit in making them. 

Crochet Furls Crochet Hook Stands

They also have assorted lathe wood hooks in regular to oversized hooks. Furls is known for luxury. They also have yarn bowls, crochet cases and standing crochet hook displays. To top it off they have jewellery that is fibre based such as pewter sheep, silvery alloy spinning wheel and pewter necklaces. You have to surf through the accessory section of their site. There is a lot of very unique gift ideas.

Furls: Click Here to Learn More

TIP: Furls is known for having a rock-solid return policy. These are ergonomic hooks designed to maximize comfort for the crocheter's natural movement of the body. Many crocheters who own these hooks feel it's a step up in the tools so they can continue to enjoy their hobby. 

Ottlite

OttLite is far more than a fancy light that you would find at Ikea. Eye-strain is one of the most impactful things we crocheters have to deal with. We buy lighting thinking it's going to be awesome. Only to be extremely disappointed but we have made that investment and suck it up. It's more than just a crafters light but there are so many varieties from task lighting for offices and much more.

OttLite Craft Table

Design and styling are modern. Some of the lighting systems have options to add like crafting tables, magnifying glass and many of the lights have directional pivoting at the heads of the light. What makes this light unique over others is the technology of the natural sunlight it projects.

OttLite: Click Here to Learn More

TIP: I would consider a self-standing OttLite if I were to be gifted this. Therefore, I can use my favourite chair and let the light hover over top of my hands but not in the way of blocking the view of the television. OttLites are not a cheap purchase but are definitely an investment in the health of our eyes.

Yarn Winder

Yarn Winders are a definite must, in my opinion. These are not for winding balls that are full skeins like your Red Heart Super Saver before you use but designed to wind up yarn that is in braided format into a workable ball. I also use this to wind balls that are partially used into a beautiful yarn cake. I usually slip off the ball band and wind up the remaining of the yarn into a yarn cake. I insert the label into the centre of the cake as I pull it off the winder. Therefore, the label will stay with the partially used balls so you know exactly the brand and colour it is. Winders can be found on websites like Wish, Amazon and AliExpress. Keep in mind shipping time. I have found these in independent yarn shops but have never seen them in big-box retailers. They can range from $15 - $75 depending on the brand. It's an inexpensive gift to add as a stocking stuffer. TIP: These last a long time and I have found even the cheapest models to be decent for my use. I don't use it that often but when I need it, it's available and really handy in keeping my yarn collection better organized. 

Gifts for More Consideration

Crochet Light Up Hooks

Light Up Rechargeable Crochet Hooks. I would definitely talk to the crocheter that you may gift this to before you purchase. The handle isn't the same shape as most crochet hooks and may take the crocheter time to get used to. In the past, they used to have things like this where you would have to replace the batteries, making it a very expensive option. These hooks are designed to be recharged for the LED light inside. The case includes many standard hook sizes. The hooks lock into place into the handle. Best yet, you can plug this into your computer or into a standard USB plug to recharge it. The lighting up of the hooks isn't primarily for hooking in dark spaces but using the hook to help light up the background of a darker yarn like blue or black. It helps see the stitches on the hook more clearly. TIP: Ask the crocheter first, they will tell you what they think. You can find these on Amazon. They are cheaper than you might think. 

Wool Needles

Wool Needles are something I discovered last year for the first time. I have seen these in independent yarn shops or online shopping sites. These are a very cheap investment for a crocheter. For us crocheters the large loop makes it very easy to feed the yarn of many thicknesses through the eye of the needle. I love the colours myself as they are easier to locate in a yarn tote or crochet case. While you are at Jimmy Beans Wool, take a look at Notions to see more options of other gift things you could add. They are shipping to your home anyway, you might as well add a few more things. TIP: They are under $3 USD for a pack of three needles and makes for a great small gift to add to another gift as a combo.

Jimmy Wool Beans: Click here to learn more. 

Makers Back Pack

Maker's Backpack and Other Bags are high-end luxuries for a crocheter or knitter. When you see the prices and not familiar with this brand, you will be thinking your grocery store tote bag is just fine. I'm a cheap crocheter and I know what many of you may think HOLY COW! There's so much more to this bag that you realize upon glimpsing at this plus the other bags in this class of quality. On the last Crochet Cruise, we gave away 10 of these and it is the HAWT ITEM to win! The bag is high quality not only in materials but also in the construction of the backpack. It is designed for the yarn lover to travel. The backpack also has a strap to put it over the handle of your real luggage.

Maker's Backpack Inside

The backpack straps are seat belt material that you know is extremely strong and durable. Inside the backpack are several compartments to hold implements and more. In fact, the owner of Jimmy Beans uses this as her purse as its extremely durable is built for everyday use. There is also a yarn feeder that helps the yarn to stay in the back but positioned so the yarn goes through the feeder instead of catching onto the strong zipper teeth. The bags are lined inside with a padded section for laptops or tablets. There are two exterior pockets to hold water bottles. The tassel shown can be unclipped if you don't prefer it. This is an incredible bag, plus the many other bags. This is not just your average backpack, it's the Maker's Backpack. TIP: Once you see this bag in person, it may make the receiver squeal with delight.

Jimmy Wool Beans: Click here to learn more. 

Teamoy Yarn Storage Tote

The Teamoy Yarn Storage Tote can be found on Amazon. In fact, if you do a search on Amazon and use the search term of Yarn Tote, many options will jump up. We crocheters are looking for storage in a yarn tote where compartments are a must. When sitting on an airplane or in a terminal waiting, we want access to our yarn and supplies without having to pull everything out. On the top of the bag, there are openings for the yarn to feed through. You can open the front of the bag and have access to your toolbox of supplies like hooks and more. For me, my passport or wallet would probably be in one of these pockets. The see-through compartments allow you to see into the bag to quickly locate items. The yarn shown is sitting in compartments so it doesn't tangle. For travelling, a strap for throwing over the shoulder is a must. TIP: Choose a darker colour as it most likely will rest on the floor and there are many options on Amazon and some may be best for your budget.  

Crochet Yarn Swift

Yarn Swifts come in a variety of designs. I have found through experience, you pay for what you get in this product. I prefer the wood one seen here and it's about $50. There are other models where the swift is like an umbrella with metal and plastic components that are extremely compact in comparison to the wood one. In fact, the metal and plastic component, usually shown in blue colouring, is best for storage. You can find these on Amazon, they are rare to find in a big-box retailer but you will have better luck in an independent yarn shop.

Metal Yarn Swift

I find I don't know where to put my large wooden version as I am scared to store it in a place where it could warp. Yarns swifts aren't for all crocheters, especially not for those crocheters who don't use yarn that is wound in a hank (braid) format. To me, the metal once feels flimsy but I don't use the yarn swift more than a few times a year, for storage and durability, it's the better option for me personally. Though I like wood better because I bought the wood one first. I bought the blue ones for gifts for others and it's just fine too. TIP: Think about how the crocheter will use this and see what type of yarn they buy. If they are buying their yarn exclusively from big-box retailers, they most likely won't need this. 

Mannequin Dress Forms

Mannequins or Dress Forms are completely accessories based and I have about 7 assorted styles of the same form here at The Crochet Crowd. They come in a variety of different materials and patterns so it can be part of your home decor or studio space. They are fashionable to have but I use them for staging or testing projects. Caution though, the cheaper ones, as shown above, are not to the scale of an average human body. You can find dress-making forms that are completely adjustable but the cost will be about 3 to 4 times more money.

Crochet Relax and Unwind Shawl

They are usually plastic with a fabric overlay. The heights can be changed and they stand pretty easily on their own without tipping. For those involved in craft shows, this is a deal for maximum display results. It's also why we own so many. Shop this around as this could be in home decor stores near you but also found online, of course. I wouldn't say the version you see here is high quality but it's enough of a quality to satisfy people like myself who are using it more as a decor or staging prop for our creativity. If you are displaying this outside, be cautious of wind as they will blow over. The stands usually come completely apart and compact down for easy travel. When I travel with these, I usually put a plastic garbage bag over the form to prevent it from getting dirty during transport. TIP: Find out if the crocheter has space and look at their decor. They may want to be part of the decision of the pattern or design of these. It feels creative to have one, in fact, I am staring at one now as I type this as I just tested a shawl. 

Click here for more information about Domspottery.

Yarn Bowls that are Wooden, Metal or Pottery are great choices. You really need to watch the quality of these bowls when making the section. The pottery yarn bowl shown here is by Domspottery found on ETSY. You are looking for a multitude of highlights which include the following, size, weight and the opening of the slots for the yarn to feed through. Many yarn bowls have a spiral opening slot or something similar to it. You are looking for bowls where the spiral formation isn't so thin that it could break if the yarn were to have tension.

Wooden Yarn Bowls

You are looking at the quality of the yarn opening as well. The wooden one here is by Knit Picks and is about $20. Pottery versions can be much higher due to more customization with staining and painting techniques. When you are at the yarn store and they may have one on the shelf, you could also find them in home dec stores too, run your fingers over the edges of the bowl opening surfaces. If you feel any hesitation or burs, leave it on the shelf. Yarn fibres will catch onto those surfaces and snag. If you have already bought one that has that, fine sandpaper over the edging should fix this. TIP: Make sure the bowl is rounded so it wants to cause the yarn ball to roll freely inside. Inspect the bowls for any surface imperfections so the yarn won't snag. Bowls range in size, think about the space of what a crocheter has to work with.

Conair Held-Held Steamer

Steamer is a must in my collection here. During a photoshoot for Yarnspirations, I noticed the prop stagger was steaming the shawls and projects before the photoshoot. I asked the designer why they are doing that as I didn't see any wrinkles. During the making of yarn, high-pressure steam is used to inflate yarn fibres seconds before rolling into a ball of yarn. It inflates the yarn like a cake in the oven. Steam allows the fibres to open up and then relax back in their natural position. You cannot iron acrylic-based fibres as they will melt.

How Caron Simply Soft Is Made. On the Conveyor.

Steaming is the old way to do it. For those with tassels or fringe, the only way to get the strands to straighten up is to either complete soak the yarn after it's done or just grab a steamer and instantly steam it. Steaming is also used for blocking crochet squares and freshening up the look of a fibre-based project. In fact, all items made here at the studio are steamed prior to taking photos as a result of what I learned. The steamer, shown above is the one I use and I picked it up at Walmart. I have since retired my iron and any clothes I need to get the wrinkles out, I just steam my clothes and I no longer worry about burning my clothes with an iron.

I Love Yarn Day Wall

Yarn Organizers which may include tubs, portable or build-in wall organizers are handy. Here at the studio, we have two rooms of built-in wall shelf storage. Being a heavy yarn user, I prefer to see my balls exposed so I know what I have. Yarn is organized in a way that makes sense for me. Some people prefer the Wire Cube organizers that can be made to any-size but as they get taller, they can be tippy unless they are secured back to a wall.

Portable Wall Unit made by SortWise

The one shown here with the closing front doors seems popular. Made by SortWise with wire cubing that has concealing panels. As much as yarn can look pretty when it's a fresh ball, it can look like a disaster once you start using inventory up and having deflated balls. The closing front doors can hide the yarn so your creativity inventory isn't a major focal point. Besides, you can hide more yarn inside there. TIP: Think about how yarn impacts the crocheter. Do they want to see their yarn as their creative journey or do they prefer their decor to have the yarn tucked away so it's not so obvious they have so much yarn? 

KnitBrooks Handmade Driftwood Crochet Hooks

Handmade Driftwood Crochet Hooks by Knitbrooks. Made from driftwood that comes in naturally from the Bay of Fundy. You can select your wood choices and colours to have the hooks custom-made for you. These are stunning and very unique.
Let's Talk Books and Resources
Crochet Relax and Unwind Shawl

The Crochet Crowd, this site, has the starting grounds for learning to crochet from scratch. The Relax and Unwind Shawl, filmed Oct 31, 2020 was the latest START TO CROCHET edition of learning to crochet from scratch. The new tutorial covers the absolute basics of crochet from selecting the crochet hook to hand positions and learning the basic stitches. Near half-way, the tutorial will then start the Crochet Relax and Unwind Shawl as a demonstration to test your new skills.

Free Pattern & Tutorial for Relax and Unwind Shawl

You can try this and the tutorial will guide you through the processes of learning to crochet. If you are using the metric system, grab either a 5, 5.5 or 6 mm hook. For those in the USA, grab an H, I or J hook. Just buy 1 yarn ball or Red Heart Super Saver and try your skills. If you are teaching kids, have them choose the yarn colour as they will be more interested in crocheting with a colour they love.

The most recommended book that I think every crochet needs is Around the Corners, Crochet Borders by Edie Eckman. I believe every crocheter should own this book as the resources to finish a project with a really stunning border is the difference between liking and loving a project at the end. It has very easy to understand instructions and crochet diagrams to follow. It's well thought out. In fact, I love this book so much, I have bought this book for our live events as part of the activity packages. You can find this on

Amazon

.

Every Which Way Crochet Borders

I also recommend Edie Eckman's book of Every Which Way Crochet Borders. It pairs. beautifully with the other book. What appeals to me most about her books is the size of the book itself. It's small enough to take with you in your yarn totes. Both are fabulously written and strikes me as a must-have for crocheters to own. I think this is definitely a strong contender to buy. It's also on Amazon.

Crochet Cute Critters by Sarah Zimmerman

I know Sarah Zimmerman in person and the Crochet Cute Critters is her latest book. Sarah is the power behind the social platform and website for Repeat Crafter Me. This book is overloaded with components and pieces to make the most adorable pieces ever. She said it was a big project to write and prepare for this book. 10's of thousands of copies have been sold of this book, it's that good. The thing that appeals to me the most is that you don't need to be an expert in amigurumi to be successful. She has it all laid out. This can be found on Amazon.

Corner to Corner Lap Throws by Sarah Zimmerman

Sarah also has a second book of Corner to Corner Lap Throws for the Family. This was Sarah's first-ever book and she has become known as a Corner to Corner C2C enthusiast. She's designed so many options that it seems endless. This has woodland creatures that can be paired or matched to someone in your life. This can be found on Amazon.

Crochet So Fine by Kristin Omdahl

Kristin Omdahl is the first designer I ever paid attention to. Crochet So Fine and so many of her other books strike my curiosity and love for crochet. Many of her books have crochet diagrams to go with the designs. I'm not a strong reader, so this appeals to me a lot. I own many of her books which include Layers, Seamless Crochet, Finer Edge, Motif Magic, 80 Handmade Gifts, 52 Crochet Gifts that can be purchased through her website at KristinOmdahl.com. Kristin is a leading tutorial host and in-person is genuine for the love of crochet. She's a designer, in my opinion, that you cannot go wrong with purchasing a book or two.

Crochet Animal Rugs by Ira Rott

Ira Rott is a Canadian Designer and many crocheters have seen her creativity flying around social media. The Crochet Animals Rugs book is fantastic. Not only does she think about the run of a room but tosses in more accessories that go with the theme. The elephant rug that has been a sensation is in this book but I have to say the Giraffe Rug and accessories are my favourite. I'm partial to giraffes. This book can keep a crocheter who loves home decor completely engaged. This can be found on Amazon.

Cold Weather Crochet by Marlaina Bird

Cold Weather Crochet is from Marlaina Bird, we know her online less formally as Marly Bird. Its focus is on accessories. It has practical, yet, do-able and portable projects to try throughout the book. She has designed 21 items that you can have within this book. Marly is a leading educator on Yarnspirations and tutorial host on YouTube and you can find her on Marly Bird Learning Channel. She is prolific in the amount of content she delivers for free and on a paid basis. You can purchase this book, along with other books by Marly on Amazon and/or visit her website MarlyBird.com for non-stop education and inspiration.

Crochet 3D Granny Squares Book

3D Granny Squares is a recent purchase for me. Written by Celine Semaan. If you are tired of the same old granny squares and are looking for eye-popping opportunities to bring your crochet to another level, this may be up your alley. Some of the designs are so simplistic that I wonder how I never thought of it. For me, this book is an accomplishment of inspiration overload. It's a safe bet for a gift.

Crochet Quick Crochet for the Home Tamara Kelly

For your home decor, Tamara Kelly aka Moogly has you hooked up with Quick Crochet for the Home. Tamara is a very strong presenter in the YouTube Educational Atmosphere and is highly influential in ideas that capture your imagination. In-person, very down to earth and she runs what appears to be a massive operation very close to her heart with a small team. As an educator myself running The Crochet Crowd, I'm in awe of how much she can do and how incredibly organized she is. Her website is probably one of the best I have ever seen from a blogger like me. Highly organized, easy to navigate and definitely a pot of tea isn't enough as you will find yourself just being hit with inspiration left, centre and right. You can also find her teaching and providing inspiration on Yarnspirations. Check out her site, MooglyBlog.com.

Crochet Stitch Designs Book

The Complete Book of Crochet Stitch Designs is the book I find myself most opening throughout the year. The combination of what Linda P. Schapper has put together is second to none. She has put things together that are unique but also showing us historical references to things that may have been lost in time. Over 500 stitch designs are a hell of a great book to invest in. It can be found on Amazon.

Tunisian Crochet Basic and Textured Book

A solid investment and has multiple volumes is the Tunisian Crochet. Written by Petra Tornack-Zimmerman. This is a skill I don't know well and Petra breaks it down so eloquently and also has so many other learning resources you don't think to ask yourself when learning Tunisian. While we have the basics of Tunisian in our collection of free tutorials. Petra will take you into so many stitching options that it could blow your mind. I have all of the volumes in this series. They are inexpensive and if Tunisian is something you are interested in, this may be up your alley. This can be found on Amazon.

The Crochet Big Book of Crochet Stitches

Finally, if you haven't clued in by now that crochet is an addiction for many of us. It's fundamental because the learning seems to never end. There's always something to pick up and improve upon. The BIG BOOK of Crochet Stitches by Jeanne Leinhauser is another example of stitches that can be formed and made to create unique crochet projects. I find this book handy when I am thinking I don't know what to do next. I look at the stitches and think further how I can make it more relevant for my life. This is a book that furthers the education of crocheters. You can find it on Amazon.
Finale of Ideas
Rolling Cart

I affectionately call this the Yarn Trolly. I don't always sit the same so as I crochet. The smooth-rolling cart shouldn't damage any floors and rolls very easily. It's a sturdy cart and I have had mine for years. Originally I got mine at Ikea but I know our Michaels carries these as well. Michaels has really nice subtle colours too. If you see a crocheter moving around their space and it would be handy for them, it's a great idea. I attached a garbage bin to mine which almost looks like a janitor cart. It saves yarn tails from being everywhere and can go right in the trash. I also put a yarn ball winder on mine and the metal can be stuck with magnets to hold patterns and more.

Crochet Yarn Sneakers

Yarn Shoes are just wacky but I own a pair too. Shoes are made by Streetment. They have assorted types of shoes with yarn ball prints. Life is short, why not eh! From sneakers to walking shoes to slip on. I would have preferred the sneakers over the walking shoes as I need arch support.
Final List of Items
Stitch Markers.
Replacement Crochet Hooks.
Measuring Tapes.
Scissors, I prefer Wescott or Fiskar brand. Blunt tips are better that don't punch through yarn totes.
Blanket Journal to Take Notes or Binder to Store Patterns.
More Collections