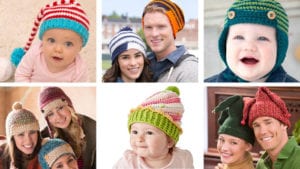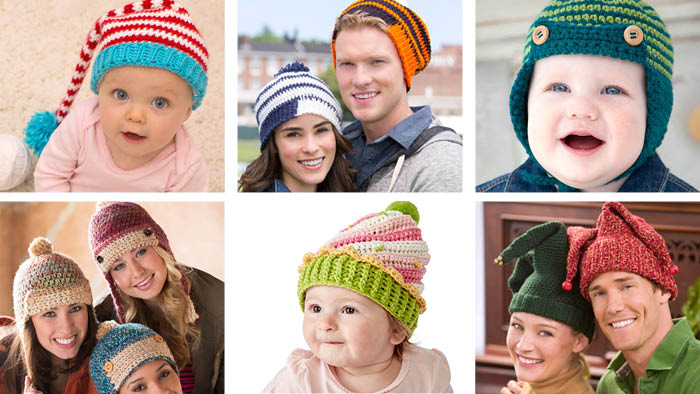 6 Fun Playful Crochet Hats
Hats are a fun little creation. They are a project that works up fast but gives you so much personality when you're out and want to share your uniqueness. Whether you like subtle solid colours or bold bright colours (like me) they are so versatile.  With slight adjustments, you can create a hat for any head size, as I've learned heads do come in all sizes.
These fun hats that we have collected are not only lovely for keeping your head warm but will look lovely in almost any colour combinations you want to create.
The Fired Up Slouchy, is great for sporting events whip it up in your sports team colour of choice!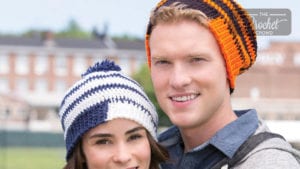 Fired Up! Slouchy Beanie
What better way is there than to show your child support than by wearing their team colours to their football or hockey game with this Fired Up Slouchy Beanie.  Looking for a gift for someone in your life that may be hard to buy for, or who just loves sports this hat is perfect for and has you covered.
My father is big into all sports, like jump on the couch hollering at the top of his lungs when his team scores a goal scarring us as kids with friends over for life, level sports lover. So of course, I know making him a hat in his favourite football team colours along with the football blanket (that you can find the pattern as well for on Yarnspirations) I know will be an instant goal! (see what I did there)
Made with Red Heart Team Spirits, designed by Laura Bain have fun making these hats in any of the team colour combinations. Football Hockey don't forget baseball make one up for every outing!


---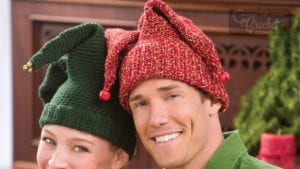 Jingle Bells Hat
Instead of wearing just a plain old Santa hat for Christmas I know we have a ton of them in my house, this adorable Jingle Bells Hat is a fun alternative. It's playful and so much fun with its majestic bell sound whenever you move your head.
Are you having an ugly sweater party?  Whip up this Jingle Bells Hat in a matching colour to complete the look. Or are you going to a Santa parade or fireworks, keep your head warm while still being festive
This Jingle Bells Hat was designed by Kathleen Sams using Red Heart Super Saver and Red Heart Fiesta.  I haven't tried the Fiesta yet myself but it sounds fun. I can't wait to see what fun colour combinations you all come up with for this Jingle Bells Hat let your creativity fly! See what other festive hats you can find on Yarnspirations see how many different ones you can find and have a festive fun hat party sporting all the different ones you make.


---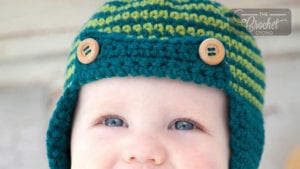 Crochet Baby Sherlock Hat
Baby hats are the cutest, they take no time at all to make their small size just makes that much cuter. This Crochet Baby Sherlock Hat is just the cutest there are so many combinations you could make and play with.
I wish I knew how to crochet much sooner in life, I was a late bloomer when I was 40 I taught myself using Mikey's videos while I was on maternity leave waiting for my house to sell, my husband was in a different province, so evening when I got the kids to bed was pretty quiet, thus bloomed my love for crochet, had I of learned much sooner my 2 older kids would have had so many cute things like this Crochet Baby Sherlock Hat, hope they don't mind wearing it now I don't want to miss out on the cuteness.
Debbie Stoller a designer from Stitch Nation designed this cute hat, using Alpaca Love if you are somewhere like here and may not have access to the particular yarn any 4 weight yarn will also work.

---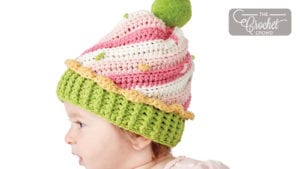 Sweet Swirl Cupcake Hat
This is a style that has been on my bucket list for craft shows, so I'm pretty excited to see this come across my computer, it's been saved and added to my print list.
it's so adorable seeing little kids in this Crochet Sweet Swirl Cupcake Hat it is by far one of my favourite hats to see on babies and little kids. there are so many fun colour combinations that you could play with and makeup. I wouldn't be totally against making one for an adult.. myself.. either.
This hat is made with the Caron Cupcakes, with slight dissection of the ball for a bit more control of how the colours are used.

---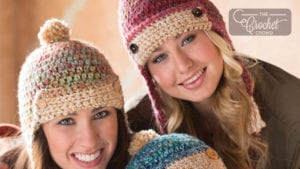 Chic Aviator Hat
I love everything about this hat, I love the yarn used, and that the Chic Aviator Hats are adult versions of the Baby Sherlock Hat so you can make one for your self to match a little one. It's lovely!
I plan on adding these to my craft show list along with the small ones I feel like they will be popular. could be just me though haha. I plan on playing and trying to figure out a way to make it a messy bun hat, the joy with crochet and creating is you can always learn new ways to do things.
The Chic Aviator Hat was designed by Salena Baca who is rapidly becoming one of my favourite designers. She designed the hat using Red Heart Medley, but if you can't locate that any 5 weight will work as well.


---
Baby Elf Hat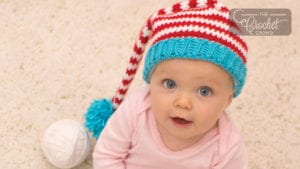 This hat is so stinking adorable, I used to have a hat something like this Baby Elf Hat when I was younger and it was one of my favourite hats, it's one my nan had made for me which I guess made it that much more special to me because we were very close, this is one of those hats that I want to make for all my kids in memory of her.
I'm loving the colour combination that is in the pattern, but playing with different colours like making red and green, or shades of purple like mine was, even throw in a verigated, have fun with it!
Nancy Anderson designed this hat using Red Heart Soft, that line is absolutely lovely, so I am pretty excited to see what you all come up with.


More Idea Ideas