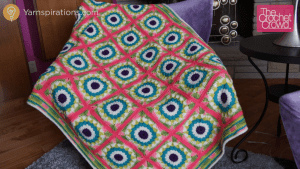 Learn the Blue Lagoon
Want to know how to make a Blue Lagoon Afghan? Let me show you.
Okay, I admit it... It doesn't look like a blue lagoon or even remotely close to it. Let's just say, Diva Dan 'diva-tized' it a bit with some great colours from Bernat Super Value Yarn.


Our assistant, Colleen, crocheted this up in about a week and did a remarkable job of matching the colours. She ventured on her own with the variegated into the pattern and by golly, she had a winner! We are really proud of her.
More Ideas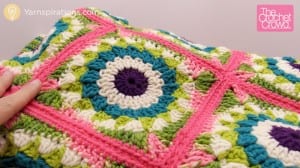 When you look closely at the square, appears like a gear to me. You could also see it as a flower or maybe even a kaleidoscope idea. Either way you see it, it's really nice!
The stitches once you get beyond a certain round begins to transform to create the look. What Colleen realized was to keep some of the colours, especially the accents, to an area of the square that matters the most. Again, you're the artist... come up with something you most prefer.
Want the pattern? It's called the Blue Lagoon Throw. When you see the original on Yarnspirations you will hardly believe it's the same thing... trust me... it is...
Want Further Help? Let me Show You How!