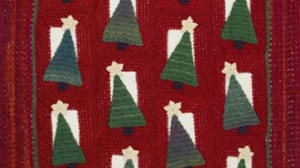 Christmas Tree Afghan
Try this Christmas Tree Afghan. This pattern is pretty simple when you break down the instructions.


The pattern consists of completing solid colour blocks. The Christmas Trees are appliques that are attached afterwards. You are to complete enough solid colour blocks for all of the trees. Due to the size of the trees, there is 4 spaces left that are half sizes. The striped Christmas Present blocks are fillers to being the afghan to being square.
More Ideas
Pattern Details
The lean of the Christmas Trees make this whimsical in nature. You will see a white patch of snow behind the Christmas Tree, that is done at the same time of making the tree. It's like a typical graph-ghan effect of changing colour in mid-row to create the image.
Though this afghan has simple trees, there is nothing stopping you from doing more motifs or adding more decorations to the trees.
Looking for something unusual. This could be a new afghan for you.