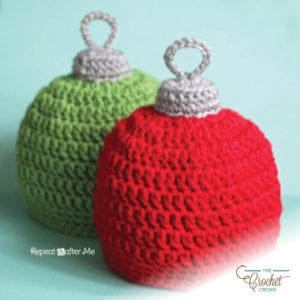 Crochet Ornament Hat for All Ages
Check out this super cute Crochet Ornament Hat for kids. Designed by Sarah from Repeat Crafter Me. Yep, I know… she has a real gift for making the ordinary to be super adorable cute!
Sarah has designed this hat for all ages from newborn right up to adult sizes. Imagine a family photo of everyone wearing their ornament hats for a family Christmas portrait on Christmas Day!
I worked up one of these Ornament Hat's it's so cute and I get so many comments on it. People do love a themed hat!


The topper is an add on at the end of the beanie. It's 3D and lightly stuffed with polyfil to keep its shape.
Big kudos for a super great Christmas inspired project!
Pattern Suggestions
Crochet Festive Pattern Ideas
More Repeat Crafter Me Pattern Ideas
Repeat Crafter Me" data-style="grid" data-row="1" data-layout="vertical" data-rtl="" data-fitrows="" data-filtercomb="" data-filterlogic="OR" data-filterload ="" data-sortbyload ="" data-orderload ="false" data-fullwidth="" data-fullheight="null" data-gutters="[[320,5],[480,5],[768,10],[980,10],[1200,10],[9999,10]]" data-slider='{"itemNav":"null","swingSpeed":0.1,"cycleBy":"null","cycle":5000,"startAt":1}' data-ratio="1.78" data-cols="[[320,1],[480,2],[768,2],[980,3],[1200,3],[9999,3]]" data-rows="[[320,200],[480,200],[768,220],[980,220],[1200,240],[9999,240]]" data-animation='{"name":"Fade in","visible":"","hidden":""}' data-transition="700ms" data-ajaxmethod="on_scroll" data-ajaxdelay="100" data-preloader="1" data-itemdelay="100" data-gallery="" data-ajax="">
# 5 Yarn Weight
,
Amigurumi Patterns
,
Baby Toys
,
Crochet Valentines
,
Crochet Video
,
Easy
,
Free Crochet Patterns
,
Holiday Patterns
,
Repeat Crafter Me
,
#5 Yarn
,
Amigurumi
,
Bernat Velvet
,
Crochet Bear
,
Crochet Tutorial
,
Easy Crochet
,
Repeat Crafter Me
,
Sarah Zimmerman
,
Valentines
Corner to Corner Patterns
,
Holiday Patterns
,
Repeat Crafter Me
,
Bias
,
Bias Stitch
,
C2C
,
C2C Ideas
,
C2C Stitch
,
Corner to Corner
,
Corner to Corner Ideas
,
Corner to Corner Stitch
,
Crochet Blanket
,
Crochet Corner to Corner Stitch
,
Crochet Tutorial
,
Easy Crochet Stitch
,
Granny Square
,
Repeat Crafter Me
,
Snowman
,
Stitch
# 4 Yarn Weight
,
Blanket Patterns
,
Crochet Halloween Blankets Ideas
,
Crochet Pumpkins
,
Crochet Video
,
Holiday Patterns
,
Intermediate
,
Repeat Crafter Me
,
Blanke
,
Crochet Pumpkin Blanket
,
Crochet Pumpkin Patterns
,
Crochet Pumpkins
,
Crochet Throw
,
Crochet Tutorial
,
Fall
,
Halloween
,
Halloween Blanket
,
Pumkin
,
pumpkin
,
punkin
,
Repeat Crafter Me
,
sarah
Blanket Patterns
,
Corner to Corner Patterns
,
Holiday Patterns
,
Repeat Crafter Me
,
Bias
,
Bias Stitch
,
C2C
,
C2C Ideas
,
C2C Stitch
,
Corner to Corner
,
Corner to Corner Ideas
,
Corner to Corner Stitch
,
Crochet Corner to Corner Stitch
,
Crochet Tutorial
,
Easy Crochet Stitch
,
Granny Square
,
Repeat Crafter Me
,
Stitch
Corner to Corner Patterns
,
Holiday Patterns
,
Repeat Crafter Me
,
Bias
,
Bias Stitch
,
C2C
,
C2C Ideas
,
C2C Stitch
,
Corner to Corner
,
Corner to Corner Ideas
,
Corner to Corner Stitch
,
Crochet Blanket
,
Crochet Christmas
,
Crochet Corner to Corner Stitch
,
Crochet Tutorial
,
Easy Crochet Stitch
,
Holiday
,
Repeat Crafter Me
,
Santa
,
Stitch
# 4 Yarn Weight
,
Baby Blanket Patterns
,
Blanket Patterns
,
Collection Patterns
,
Crochet Video
,
Easy
,
Free Crochet Patterns
,
Intermediate
,
Repeat Crafter Me
,
Baby Blanket
,
Blanket C2C Patterns
,
C2C
,
C2C Graphghan Patterns
,
Corner to Corner
,
Crochet Christmas
,
Gnomes
,
Graphghan
,
Marly Bird
,
Nordic
,
Sarah Zimmerman
,
Snowflake
,
Yarnspirations
# 4 Yarn Weight
,
Baby Hat Patterns
,
Charity Patterns
,
Crochet Video
,
Easy
,
Free Crochet Patterns
,
Hat Patterns
,
Repeat Crafter Me
,
Adult Owl Hats
,
Crochet Owl Hat
,
Easy
,
Gray
,
Kids Owl Hat
,
Newborn Owl Hats
,
Owl
,
Owl Hat
,
Red Heart Super Saver O'go
,
Repeat Crafter Me
,
sarah
,
Sarah Zimmerman
,
Toddler Owl Hats
,
Whoooo
# 4 Yarn Weight
,
Blanket Patterns
,
Corner to Corner Patterns
,
Crochet Video
,
Free Crochet Patterns
,
Michael Sellick
,
Repeat Crafter Me
,
Stitch Library
,
C2C
,
C2C Crochet Diagrams
,
Corner to Corner
,
Corner to Corner Half Double Crochet
,
Corner to Corner Written Instructions
,
Half Double Crochet Corner to Corner