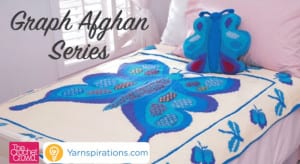 How To Make A Picture Graph Afghan
Making a picture afghan isn't that difficult as long as you get the picture and basics under your belt.
The key to getting started is to figure out how to graph your picture to be set into an afghan. There are people who will charge to have your picture converted to a pattern. In fairness to those people who do this, I have promised not to reveal their techniques on the way the pattern is written. This method I am about to show you requires you to follow along with a graph that you make using a very simple & free program online.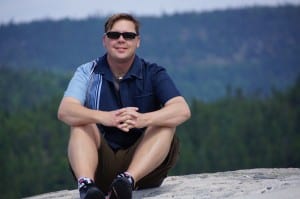 Selecting Pictures Tips
Choose a picture where there isn't a lot of colour variations.
Pick a picture that doesn't have a lot of fine details.
On the right is a picture of me. I like that I am not in the centre of the photograph. Crop the pictures as you need to fit your own personal needs.
The picture cannot be more than 1 Megabyte in size. Prepare to compress your photo size down under 1 meg to work.
Making A Graph
There is a free program that is designed for cross stitching that I have found to be really useful. You just need to understand that 1 Box equals 1 Single Crochet. The free program is called MyPhotoStitches.com.

Select Your Image.
Choose the largest available size.
Choose the number of threads… This simply means how many yarn colours you plan on using. Typically, graph afghans are done with 5 or so yarns but don't go any more than 10. Finding specific yarn colours to match the shades will be difficult with the more thread colours that you choose.
For the type of graph… choose Both colours and Symbols. This will make it easier for you to follow along.
You can choose the colour or grayscale. You don't have to use gray when choosing the grayscale but it gives you a rough idea.
Then click Make Pattern to process it.
Pattern Suggestions
Picture Results
This is an example of 10 colours. So I will need to look for 10 colours that are close to what is seen in this picture.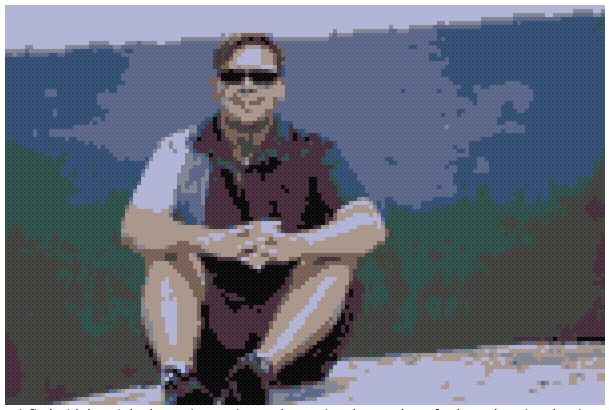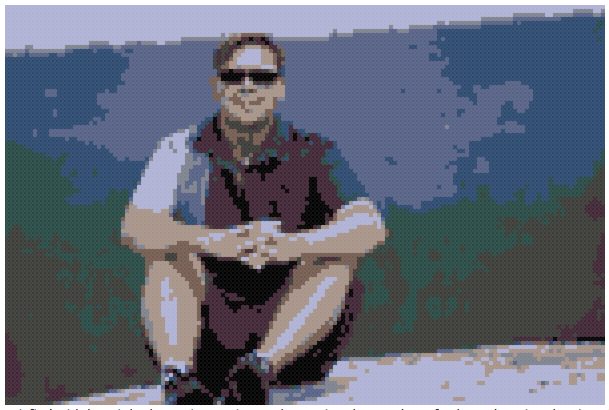 This is the grayscale version. I chose only 5 colours.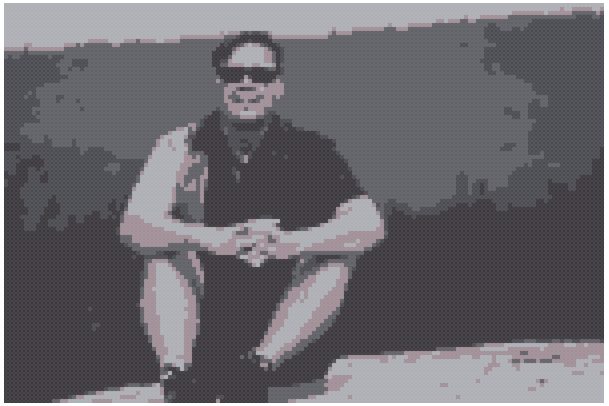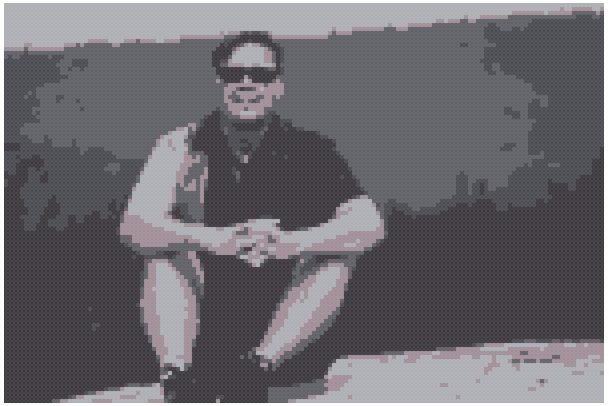 If you are satisfied with your image… It now types to get your free pattern. Simply click get the pattern.
Make The Pattern
The pattern will be provided in the form of a graph. I requested the graph to have 10 colours and I am doing this in 10 colours. The goal for me is to select the colours I need to match this as close as I can. You have creative license to do whatever you want.
A friend of mine suggested putting a label of each of the yarn balls that is very clear that has the DMC Number and CODE SHAPE. You don't want to accidentally mix up your shades and start to second guess yourself as you go.
You can see by the key code, there will be 4 pages that will make up my pattern. I would tape them together so they are one big pattern. Using your own skills, mark up the graph so it's easier for you to follow. For me, I might highlight every 10 boxes with a red pen to help me keep an accurate count.
Getting Started
Firstly and foremost, trust your graph. When crocheting you may start to second guess things and deviate from the colours it suggested. If you are going to deviate… do it from the start. You don't want to get partially done and realize you have a mess on your hands and your project hasn't worked out.
Every square equals 1 single crochet.
I would either start at the bottom and work my way up the rows or I would turn the picture sideways and my rows are working the pattern in the vertical fashion.
What I would do… look to where the colours stay the same the longest. For example, see the blue horizon, I may just start at the bottom of the picture and go up in rows because I know when I get to the horizon I will have clean solid lines going across instead of having to deal with doing partial blues each time I get to the top of the picture if the picture is being constructed sideways.
The Difference Between a Paid Pattern and This Concept
You will notice that some people do this service for a nominal fee. The results they tend to give you are very different than what I have suggested for you. Technically, I believe they are easier to follow as well.
This type of concept requires you to watch your graph and remember which direction you are crocheting in. Paid patterns usually have it spelled out for you that is hard to get it wrong. Depending on your budget, this may be a worthwhile service for you.
This type of concept puts more control in your hands to try different photos to see what it will look like. I find with the pixelation effect, not everything looks great as a graph. This way, you can double-check to see what it looks like first.
You may even want to use this program to show you the advanced look of what your project will look like. Then have a specialty website do up your pattern for you. Up to you really.
Other Graphing Techniques
I know some people use Excel or spreadsheet programs to overlay the pictures to make up their own graphs… I even know some people get really into it and eye out their own graphs to follow along. I like the simplicity of My Photo Stitch as it allows you to simply make a graph and get on your way within minutes.
Now that you have seen this free program on how to do graphs, you may find other programs free or paid for online that can allow you to size your projects better. Based on 1 Box equals 1 Single Crochet, my project will be about 100 stitches across which is a fair size. This would allow you to make this picture… then do some rounds around it to frame it better and then finally put on a wicked border.
The sky is the limit with creativity. I know I am requested 100's if not potentially 1000's of times on how to create a graph to crochet an afghan. I know this website comes up a lot in a conversation between crocheters. Hopefully, you have found my advice helpful.
Crochet Graphghan Pattern Ideas