Updated: May 22, 2023
Mikey has a vast collection of books that he has collected over the years. His first book was purchased when he was fourteen years old. The rest of the books he bought and/or received from the conception of The Crochet Crowd in 2008. The Harmony Guide to Crochet Stitches by Lyric Books Limited. I learned to crochet from the UK perspective, being Canadian. In the past, Canadians have moved onto North American / US terms. There are two books of this same name now—one in UK Terms and one in US Terms. Most of the basic stitches I know originated from this book until my mid-thirties.
Realistically, some books are great resources, while others only target a project. Purchasing books support the designers as well. As an author, it takes tens of thousands of books to sell to be adequately compensated for the time and work involved. Support your designers. Many designers also make free patterns on various websites.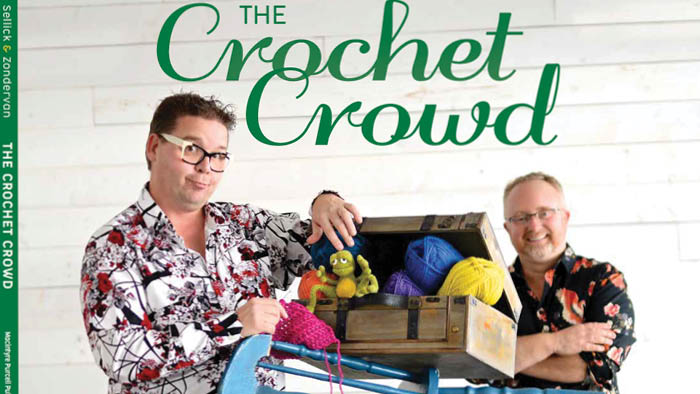 The Crochet Crowd Book, our only published book, was released in August 2021. It took a year to put the book together. Initially, the publisher just wanted a biography-based book without patterns. However, being a crochet teacher, Daniel and I were adamant that crochet patterns be designed and included in the book. The book is a mix of our backstory and designs.
This is the only book we have. We have hundreds of free patterns available online through this website.
The books are in alphabetical order. The books I use for resources most often are bold and are stitch resource guides. I don't collect many garment books as I am more interested in basics and items I don't wear.
I have a rule not to purchase or review books for monetization rewards. We don't use Amazon Affiliates for the references below. You can look up the title and author online for more details.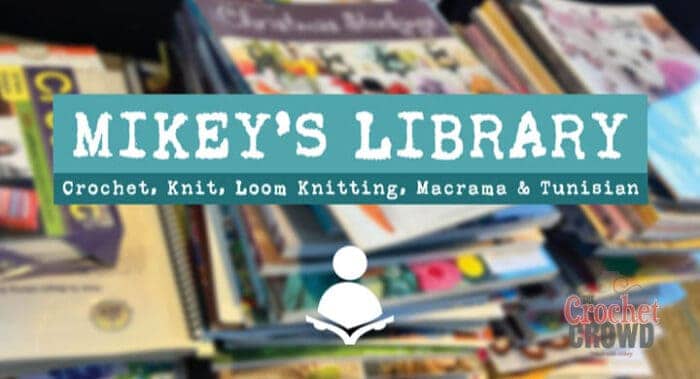 Crochet Pattern and Resource Books
Most of my inspiration for design and future patterns comes from the design team at Yarnspirations, watching them play with stitches. It gives me ideas for the future when I find a concept I enjoy.
---
50 Fabulous Crochet Bobbles, Popcorns and Puffs by Leisure Arts
52 Crochet Gifts by Kristin Omdahl
75 Lace Crochet Motifs by Caitlin Sainio
99 Granny Squares to Crochet by Leisure Arts
100 Colorful Granny Squares to Crochet by Leonie Morgan
100 Colorful Ripple Stitches to Crochet by Leonie Morgan
100 Snowflakes to Crochet by Caitlin Sainio
150 Knit and Crochet Motifs by Heather Lodinsky
150 Scandinavian Motifs by Mary Jane Mucklestone
200 Crochet Blocks for Blankets, Throws and Afghans by Jan Eaton
2014 Calendar (Cue Cards Box) by Accord Publishing
A Bouquet of Bernat Afghans to Knit and Crochet by Bernat Handicrafter
AmigurumME (cute crochet people) by Allison Hoffman
Amigurumi Circus by AmigurumeePatterns.net
Animal Heads by Vanessa Mooncie
Animal Stool Crochet Part 1 by Haakpret, Anja Toonen
Animal Stool Crochet Part 2 by Haakpret, Anja Toonen
Around The Corner Crochet Borders by Edie Eckman
Beastly Crochet by Brenda K.B. Anderson
Beyond the Square Crochet Motifs by Edit Eckman
Blings & Things for Dogs by Annie's Attic
Blooming Crochet Hats by Shauna-Lee Graham
Blueprint Crochet Sweaters by Robyn Chachula
Crochet Adorned by Linda Permann
Colorful Crochet Lace by Mary Jane Hall
Colorful Wayuu Bags to Crochet by Search Press
Connect the Shapes by Edie Eckman
Crochet Animals Big and Small by Red Heart
Crochet Animals Rugs by Ira Rott
Crochet Cafe Recipes for Amigurumi Crochet Patterns (food stuffies) by Lauren Espy
Crochet Christmas Stockings by Grace Kaplan
Crochet Cute Critters by Sarah Zimmerman
Crochet for Barbie Doll by Nicky Epstein
Crochet Kaleidoscope by Sandra Eng
Crochet Patterns by Herrschners
Crochet So Fine by Kristin Omdahl
Crochet Southwest Spirit by Susan Kennedy
Crochet Stitch Dictionary by Sarah Hazell
Crochet Stitch Guide by Jean Leinhauser & Mary Ann Frits
Crochet Wreaths and Garlands by Kate Eastwood
Edwards Menagerie by Kerry Lord
Edwards Menagerie Birds by Kerry Lord
Every Which Way Crochet Borders by Edie Eckman
Handmade Hugs by Daisy Farm Crafts
Hats, Scarves and Bags by Beehive
Interlocking Crochet by Tanis Galik
Interweave Crochet Collection of Favorite Designs by Marcy Smith
Kawaii Crochet (amigurumi stuffies) by Melissa Bradley
Learn to Tapestry Crochet by Maria Isabel
Let's Go Camping by Kate Bruning
Modern Crochet Mandalas by Interweave
Panel by Panel Afghans by Leisure Arts
Reversible Color Crochet by Laurinda Reddig
Round and Round The Crochet Hook by Emily Littlefair
Super Stitches Crochet by Jennifer Campbell and Ann-Marie Bakewell
Sweet Crochet by Sandrine Deveze
Tapestry Crochet and More (Wayuu Crochet Technique) by Maria Gullberg
The Big Book of Granny Squares by Tracey Lord
The Big Book of Little Amigurumi by Ana Paula Rimoli
The Crochet Wildlife Guide (amigurumi) by Phillip Ha and Jeff Wiehler
The Complete Book of Crochet Stitch Designs by Linda P. Schapper
The Harmony Guide to Crochet Stitches by Lyric Books (Both UK and US Editions)
Treasury of Afghans by Bernat
Unexpected Afghans by Robyn Chachula
Unicorn Dragons and More by Meteoor Books
Use Up That Yarn! by Drew Emborsky aka The Crochet Dude
Waterfall Crochet Charts for Dishcloths by Joanne C. Gonzalez
Waterfall Crochet Granny Squares by Joanne C. Gonzalez
Whimsical Stitches (amigurumi characters) by Lauren Espy
---
Knit Pattern and Resource Books
200 Fair Isle Motifs
250 Japanese Knitting Stitches by Hitomi Shida
AlterKnit Stitch Dictionary by Andrea Rangel
Japanese Knitting Patterns for Sweaters, Scarves and More by Michiyo
Japanese Knitting Stitch Bible by Gayle Roehm
Japanse Lace Stitches by Nihon Vogue, Gayle Roehm
Knit in the Round by Company's Coming
The Big Book of Knit Stitches by Editors of Martingale
---
Other Yarn-Based Books
Hello! Macrame by Samantha Grenier
I Can't Believe I'm Loom Knitting by Leisure Arts
I Taught Myself to Loom Knit by Boye
Learn to Knit Cables on Looms by Isela Phelps
Learn to Knit on Long Looms by Anne Bipes
Macrame Hangings Lee Originals by Thelma Lee
Macrame Original Reflections by Thelma Lee
Macrame West by Margo Kaplin and Curt Hunsaker
Loom Knitting Primer by Isela Phelps
Railway Knitting Workbook by Dela Wilkins
More Knitting Wheel Fashions (loom knitting) by Leisure Arts
To Knot – Not to Knot (macrame) by Bob Lewis and Jackie Day
Tunisian Crochet Basic and Textured Stitches by Petra Tornack-Zimmerman
Tunisian Crochet Colored and Striped Stitches by Petra Tornack-Zimmerman
Tunisian Crochet Stitch Guide by Kim Guzman
Tunisian Stitch Afghans by Premier Yarns