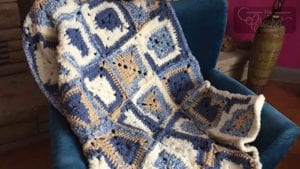 Crochet Bernat Bundle Denim Blanket
Soft, cozy and easy to crochet is the Bernat Home Bundle Granny Blanket featuring Bernat Home Bundle Yarn. Showcased in Cream Denim Blue exclusively available at Jo-Ann.


This plush and warm blanket is ideal for those cool evenings. Playfully coloured by the unique changes of 5 colours and textures throughout the ball.
More Ideas
Inside the ball are very long segments of Bernat Blanket, Pipsqueak, Boucle and Chunky Yarns all by Bernat. The segements are sewn together by the winding machines to provide instant changes without knots.
This blanket is using 6 balls of Bernat Home Bundle and will measure 46" x 58". It is 7 squares x 6 squares = 42 squares in total. To avoid the sewing, the final rounds are attached with a slip stitch to the neighbouring square so that sewing strings that are typically used will not be the incorrect colour. So, no to the sewing.
Each square is a solid granny square and only 4 rounds! You should be able to hook these really quickly. There is no strategic doctoring of colours. The colours change as they come out of the ball.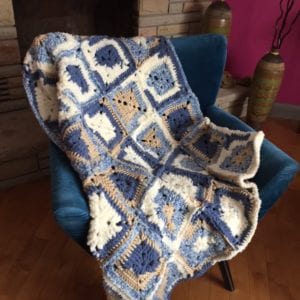 Instructions
6.5 mm, Size K Crochet Hook
6 Balls of Bernat Home Bundle
Tapestry Needle to Weave in Ends
Bernat Home & Baby Bundles are exclusive in the USA to Jo-Ann and in Canada to Walmart - Canada. Each  location has their own exclusive colour selections. The Cream Denim Blue is only available at Jo-Ann USA. Sizes of the balls are same between the two locations and you can mix and match the Home Bundle with Baby Bundle as it's the same yarn but has different colour options.
Tutorial