Reading Time:
5
minutes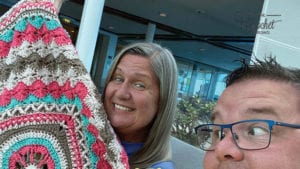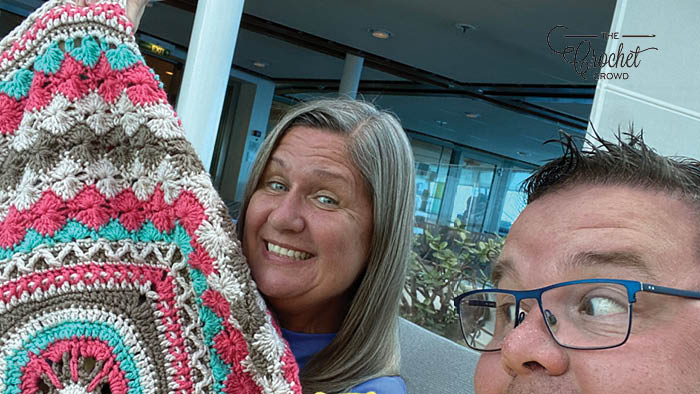 Crochet Better Together Afghan Stitch Along
Introducing the Better Together Afghan, the first collaboration of Jeanne Steinhilber and Michael Sellick (me) in a blanket where two minds are better than one. This was our third attempt as I kept changing my mind. Honestly, frustrating the hell out of Jeanne with my stalling and finding time to throw in my parts.
I brought with me 4 colours of Red Heart With Love to the Southern Caribbean Crochet Cruise where we had 2 weeks together. Jeanne had fixed my centre section as it was starting to buckle and from there, she and I added our sections. The version Jeanne is holding here, we both worked on it between each other's steps.
This afghan has a bit of texture but is focused on the visual appeal.
The Cruise Ended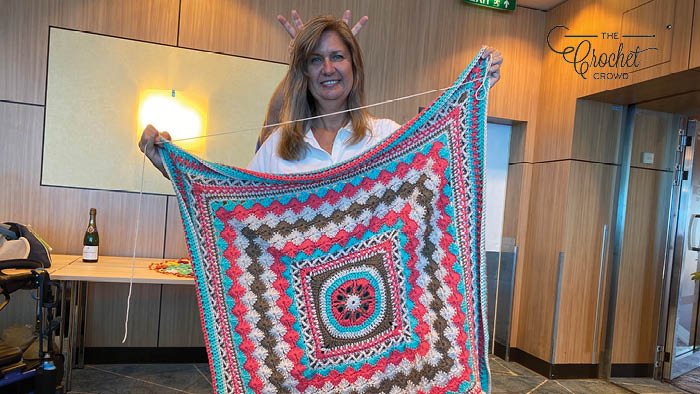 We got this far on the cruise ship and went our own ways. Cruisers onboard were very supportive and didn't take our photos with the afghan to keep it a secret. The afghan came home with me. With me taking this home, Jeanne needed to keep working on the afghan and created a second version in blue.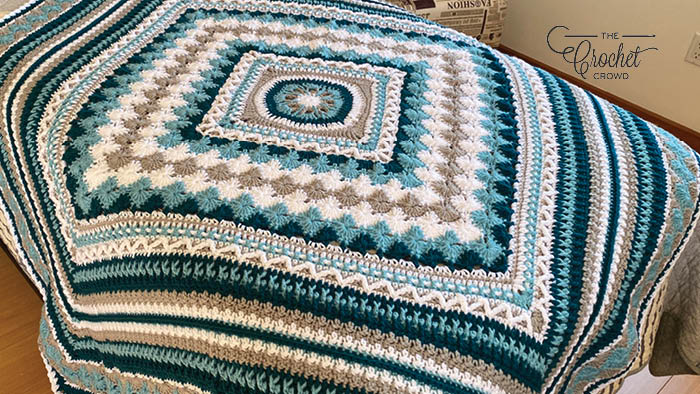 I also started a solo version to retest the pattern in real-time.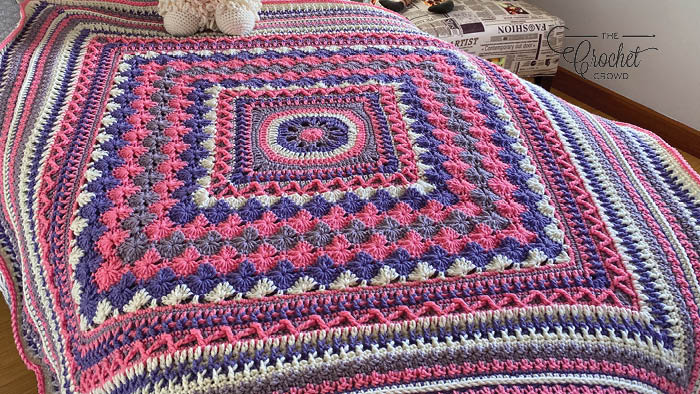 We continued to build out the afghan. We did so much frogging, it's not even funny. Both of us improving the afghan as we went. We had a rule not to exceed 4 colours and no more than 2 balls per colour. So the colouring was based on maximizing the balls.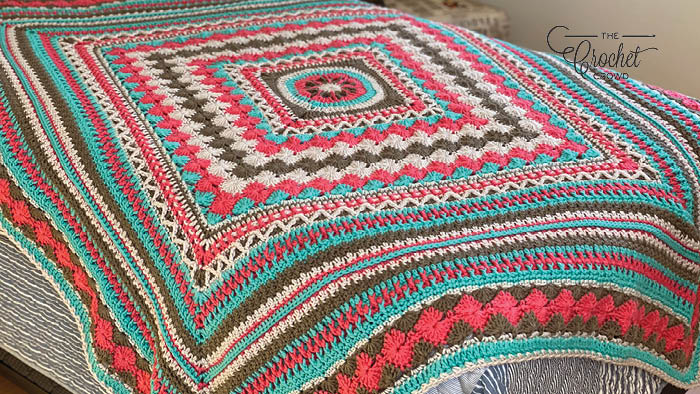 Without sounding too much like a self-congratulating fool, I'm really proud of this afghan. It hit parts of a challenging element but also, the final look was much better, in my opinion, than I had anticipated. The final border tied this all together in a stunning way.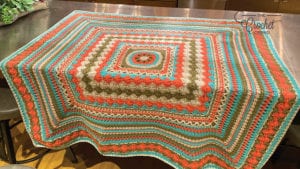 What I Learned
We took the idea of surprising each other. Sometimes, and this was more me than anyone, I would underwhelm Jeanne with my new addition. She felt, and she was right, I was cutting corners because I was time-strapped. This afghan could have looked completely different.
Jeanne also had sections where there was a small tweak needed to help prevent the buckling.
So the lesson was to collaborate and discuss more. We were crocheting our samples in real-time finding clues and conceptual ideas along the journey. Truth is, I loved every minute of this collaboration. It really pushed me but I also enjoyed Jeanne's contribution to stitchwork that I would have never considered. I learned stitches along the way.
For myself, the Catherine Wheel Stitch in the square format is something I really wanted to put into a stitch along. The trouble with this type of stitch is that it can add a lot of words to the instructions and will crocheters enjoy that fact. We won't really know until it's released.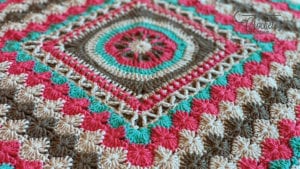 Which Version Do I Like The Best?
Version 1, the Joint Version between Jeanne and I is my favourite. It's special to me as we both had our own stitchwork into the same afghan. Also, the colours were a pure fluke as I just randomly grabbed 4 colours before the cruise and the way the Papaya plays off the Wintergreen colour in an incredible way.
Jeanne's version of the blues is my second most favourite. Jeanne really loves blue, like really loves blue! In third place is my Bubble Gum / Grape, Version 3.
Tutorial Version
Bernat® Premum™ (198 g / 7.0 oz, 329 meters / 360 yds)
A – Hot Pink
B – Yellow Balloon
C – Green
D – Taupe Heather
Stitch Along Launch and Next Step
This stitch along launches in July 2020. The full pattern will be released on the first day so you don't have to wait for each week. The tutorials will be spread out over 7 weeks for those who need extra help. Currently, it's just been through tech editing by Yarnspirations. Crochet diagrams have been made and now I have to start the filming and graphics need to formulate the final PDF. Realistically, I need more time to film, so we cannot push this ahead in the time frame. 
So what I am going to do for you is leave you a PDF of the colouring and technical details so you can shop and make informed decisions.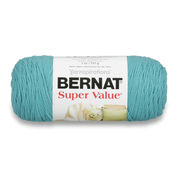 Yarn Substitutions
The original sample is using Red Heart® With Love™ (198 g/7 oz, 338 meters/370 yards). Look to the yardage of the balls when subbing. Note that variegated yarns have less yardage so you may need more variegated balls if you are choosing that.
Bernat Super® Value™ (197g / 7 oz, 389 meters / 426 yards)
Red Heart® Super Saver™ (198 g/7 oz, 333 meters/364 yards)
Red Heart® Soft Baby Steps™ (141 g/5 oz, 234 meters/256 yards)
Caron® One Pound™ (454g / 16 oz, 742 meters / 812 yards)
Red Heart® Comfort™ (454 g/16 oz, 792 meters/867 yards)
Red Heart® With Love Metallic™ (127 g/4.5 oz, 183 meters/200 yards)
Red Heart® Baby Hugs™ (127 g/4.5 oz, 225 meters/247 yards)
Bernat® Premium™ (198 g / 7.0 oz, 329 meters / 360 yds)

– Tutorial Version
We used 2 balls of With Love per colour. 370 yards x 2 = 740 yds per colour.
If we wanted to use Super Saver. 740 yds / 364 yards of Super Saver = 2.03. So you will need just over 2 balls (3 Balls) of Super Saver. If we used Caron One Pound, 1 ball for each colour should be enough.
More Ideas
Tutorial
Coming in July 2020.
More Stitch Alongs