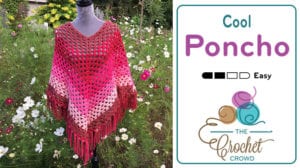 Crochet Cool Poncho
Shown in 5 XL I present to you the Cool Poncho, a free pattern by Yarnspirations. I purposely did the 5 XL version on the pattern to see how far the Caron Cakes will go. Luckily, it only takes 2 balls of Caron Cakes. I have some extra tips for making this yarn really work out nicely.

Even the smaller sizes, you most likely will use 2 balls of Caron Cakes.
This pattern is done in two different panels. There really isn't a front or back as both mitered panels are identical. The version below shows 28 rows as per the 5 XL in the pattern. The smaller versions, it will be shorter. The neck area is identical on all adult sizes, the smaller sizes will be shorter.
The Caron Cakes have this colourway automatically. I used Cherry Chip and the colours changed on their own. I didn't doctor or alter the colour scheme in any way. I used a 5 mm or Size H crochet hook as I changed the yarn recommendation in the pattern.
Pattern Suggestions
Tips
I crocheted the first panel and finished it. I used most of the Caron Cake with enough spare for the fringe. I put the ball aside and started the second panel.
With the second panel, I used a fresh ball and instead of following the directions exactly, I joined with a slip stitch as I went so the two panels were being joined together as I did the second panel.
With the join as you go technique, there is no sewing. With variegated yarn like this, it's impossible to find a strand colour that will hide well when you join them together. So with the join, as I go for the second side, you don't see any colours that shouldn't be there. With variegated yarn like this, there will be a hard stop at the seamlines but if you use solid colours, you won't see such an obvious stop.
Fringe
You will have yarn left over for each ball. Chances are they will be at different colour schemes. So pulling yarn from both to make the fringe. Pull together and cut.
I shortened the fringe to strands of 8" that are folded in half and secured. I put fringe as each ch-2 space on the edges on the front and back panels.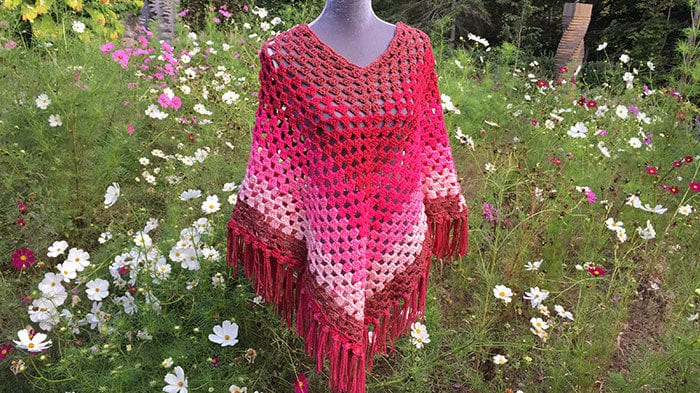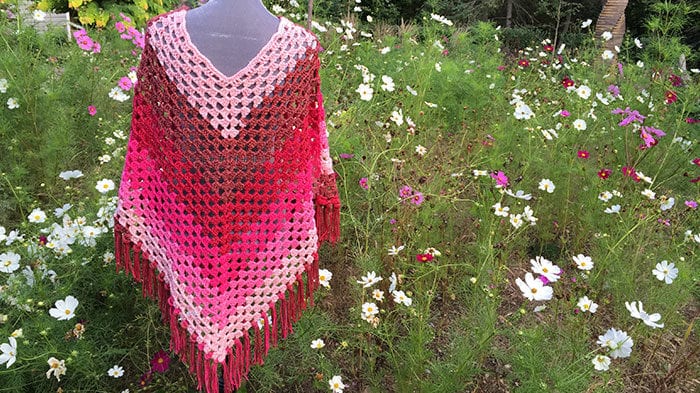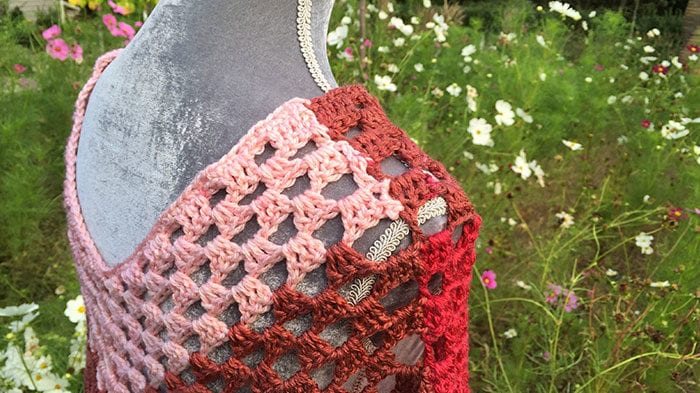 Tutorial
More Crochet Poncho Pattern Ideas
No post was found with your current grid settings. You should verify if you have posts inside the current selected post type(s) and if the meta key filter is not too much restrictive.