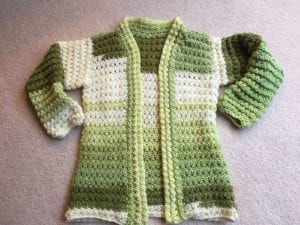 Crochet Feeling Loopy Cardigan
My Feeling Loopy Cardigan is hooked up in the Back Loops Only, so you may feel a little "loopy" by the time you're finished, but it is oh so worth it!
The combination of working in the BLO and the "up-down" stitch work of alternating single and double crochets creates the amazing texture.  Add in the soft warmth of Caron Cakes and you have a winning combo!  While I used the regular Caron Cakes, you could substitute the Big Cakes if you prefer 100% acrylic, and it would still be warm and cozy.  With so many different colourways from which to choose, I bet you can't make just one!  I know I will be making another one for myself 🙂
I hope you enjoy this pattern as much as I did designing it.  Until you see me next time here on The Crochet Crowd, you can find me on Ravelry as The Crochet Ninja.
Quick Tip featuring Donna Bondy for this Design
https://www.youtube.com/watch?v=i63Woq6d-3E