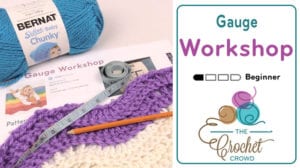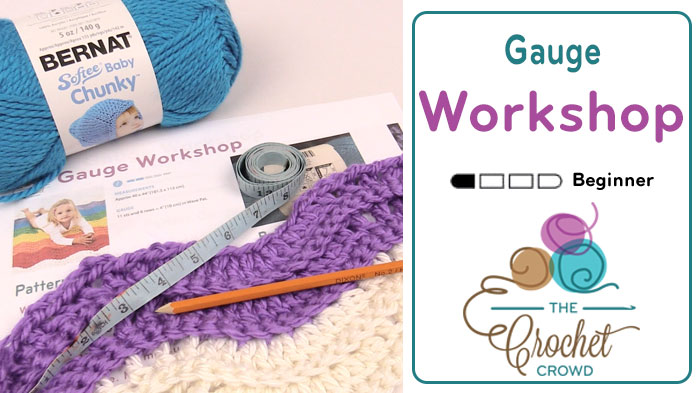 Crochet Gauge Workshop
What is gauging anyway and why is important? Gauging is the process to determine how to match exactly what is in a pattern to something you are making at home.
Everyone in the world crocheters in their on style. Daniel is exceptionally tight in crochet and I am really loose. It's our rhythm in how we crochet. We both can make the exact same pattern and his will be too small, mine will be oversized and the right size is in the middle of us.
More Helpful Ideas
For many items like crochet afghans and scarves, we tend not to gauge. I know I don't. If I am off by a few inches, I'm not too worried about it. However, if you are making something to wear, gauge should be strongly considered before you get too far into your project as you may be making the wrong size based on your style of crochet.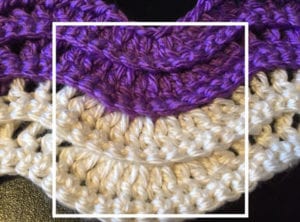 What is a Gauge Swatch?
Gauging is the act of measuring a square patch on a project to determine the stitch and row counts.
Typically, the gauge general rule is a 4" square. If a designer has changed the gauge swatch, they will usually indicate what the size is. Major publishers such as Yarnspirations always post their gauges on their products and patterns they make.
This gauge will determine if you are too tight, too loose or just right.
Where to Find Gauges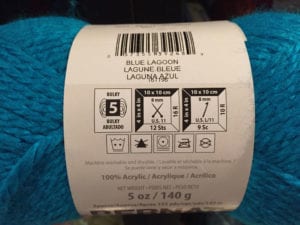 Yarn Ball Bands
Most major box store retailer yarns that in stores will have gauge information on the ball band. It's not just extra ink, it's important details that many new crocheters don't consider as important or understand exactly what it is telling you.
The manufacture has determined, based on quality control, fibers and other items to give the recommended crochet hook and knitting needle sizes. Included in this area is the weight class of yarn and washing/handling instructions.
The Craft Yarn Council of America has standards that most, if not all, of the major manufacturers of yarn in North America have accepted as standard information and is provided on ball packaging. This information, being standard across the yarn brands and manufacture, make it easier for us crocheters and knitters to not have to learn a different method of reading ball labels between them. Though the manufacturers are competing against each other, they come together as council members to create, maintain and make necessary changes as needed.
For myself, I am constantly looking at this information. I am primarily looking at the recommended hook size that goes with yarn and weight of the yarn ball. It helps me design and consider tutorial making and more.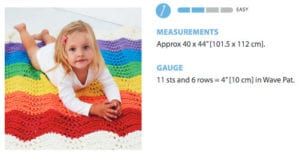 Written Patterns
The most important gauge is directly on the pattern. Most major publishers have this information as part of their written pattern.
This information is telling us what the actual sample that is in the photograph has for dimensional gauge. This is critical for the following reasons:
Will give us accurate information to get the right dimensions on the project we are working on at home.
It will keep us accurate to the ball counts used to make the project. If you are a loose crocheter, you will blast through more yarn following this exact same pattern and could run out of yarn before you finish.
How to Measure Gauge
You will take a tape measure and hold it over the swatch or partial project you are making to see what your gauge is.
Count the number of stitches that are 4" across.
Count the number of rows that are in a 4" height.
Cross compare your findings to the recommended gauge and determine if you are correct or need to adjust.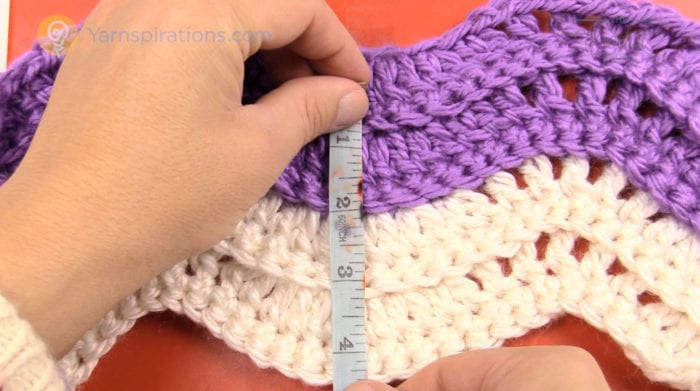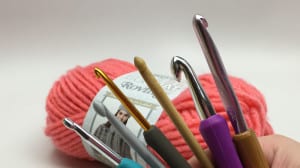 How to Make a Gauge Swatch
Make a Swatch that is about 5" wide and 5" tall.
Chain enough to extend about 5" wide.
Sc, 2nd chain from the hook and in each stitch across turn.
Ch 1, 1 sc in each stitch across. Turn.
Repeat last step until the swatch is 5"
Why 5" tall and not 4" to match the 4" x 4". You will tend to relax a couple rows in and your stitches will stabilize. Your project could expand or contract and if you go an additional inch, it will adjust giving you a more accurate reading.
How to Change Your Gauge
Other than your own personal tension which can change the gauge, your hook and yarn substitution can change your gauge.
For example, I crochet loose with an ergonomic hook because I am more relaxed and it flows in my hands. With a standard hook without grip, I am tighter.
Substituting the yarn that is recommended in the pattern will instantly change your gauge. The thickness of the yarn plies has everything to do with the changing of the gauge. Yarns can look visually the same but act completely different between brands once processed through your hook.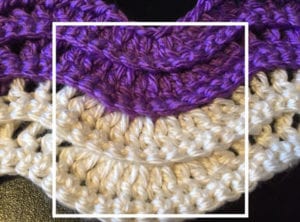 Reducing Your Gauge
Assumption: 11 sts are across in the example.
If you count only 8 stitches are in the 4" sample and not 11. It means you are loose or your gauge is too big. You project will be bigger and use more yarn.
If you insist on using the yarn you selected, you will need to reduce your hook size a few sizes smaller.
Gauge again with a smaller hook to see where you are.
Increasing your Gauge
Assumption: 11 sts are across in the example.
If you can count more than 11, let's say 15 sts are in the 4" sample. It means you are too tight and your gauge is too small. Your project will be smaller than what the designer's version is.
If you insist on the yarn you select, you will need to increase your hook size a few sizes bigger.
Gauge again with a bigger hook and see where you are.
Printable Workshop Pages
Click on the pictures to have an option to download, save or print.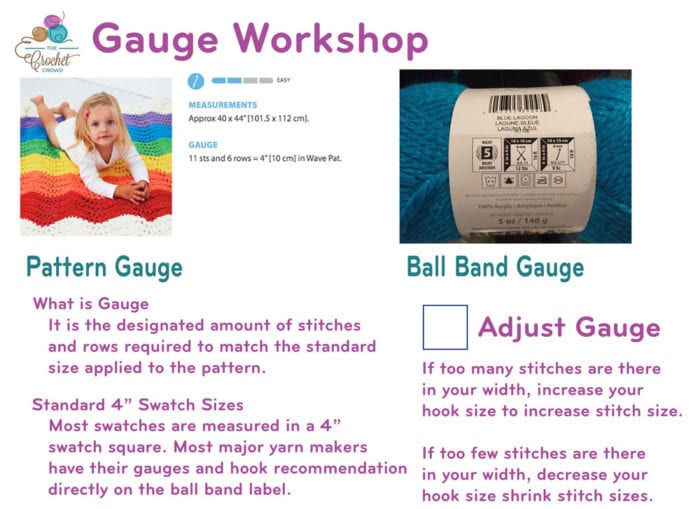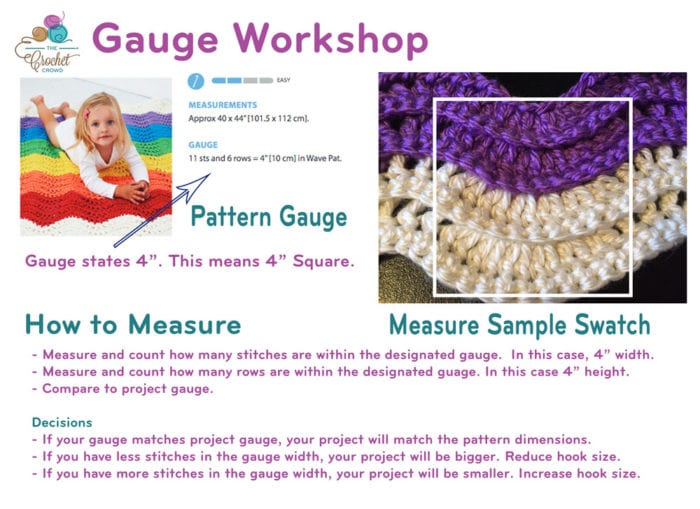 Video Tutorial