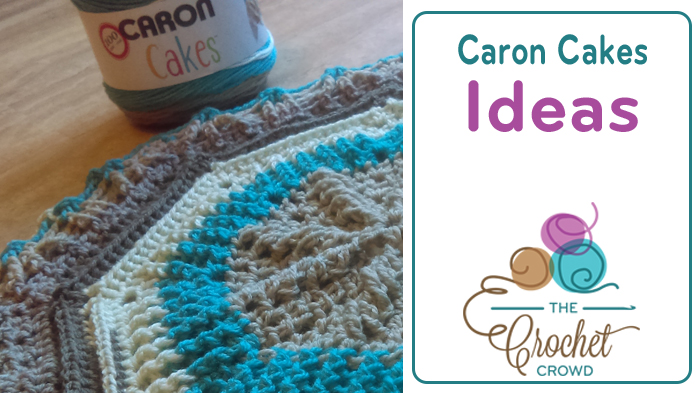 Caron Cakes Pattern Ideas
Caron Cake Craze
*UPDATE* See even more patterns HERE!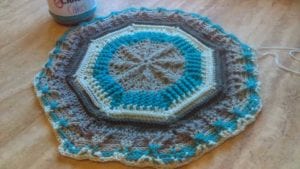 Did you jump on the Caron Cake craze these past couple days?  I sure did!  I'll admit, I'm a sucker for following the crowd when there is something hot in yarn or crochet.  I spotted the yarn in the Crochet Along Crochet Crowders Facebook group, I believe on Wednesday, and the colors and size of the ball looked so fun.  On Thursday the photos started rolling in more and more.  By Friday, I just HAD to HAVE it!
I was at my desk just squirming trying to figure out if my local Michaels Store would have it.  Also, trying to figure out how to justify bringing more yarn into the house and explaining to my dear husband how it's part of my job to buy more yarn yet again. My girlfriend then texted me as she was on vacation and went to Michaels.  She texted and asked which ones do I want!  SCORE!
So I finally got my hands on this yummy yarn yesterday and my hook started flying!  Let me tell you, this yarn is so soft and amazing.  I just love the feel of it against my hands, like buttah!  I don't know if this is just a one time special yarn or not, but I sure hope Caron continues this line.  I would also enjoy seeing this yarn come out in solid colors too.
I decided this yarn would be perfect for using to crochet an afghan by one of my favorite designers, Frank O'Randle.  He released a pattern this summer called Life of Change, just full of texture using lots of post stitches, which is right up my alley.  I hooked up one whole Caron Cake last evening and you can see how beautiful it looks in the photo above.
So I have seen many, many photos of you yarn collectors who also ran out to buy this fun yarn.  Have you picked out a project yet?  Don't let this one gather dust!  It is such a dream to work with so grab your hooks and get busy!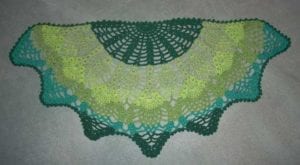 Free Patterns ideas to get you started hooking your new yarn.
Virus Shawl – this super popular shawl is perfect for the color changes in this soft yarn.
Virus Blanket – another popular design is always popping up.
Pineapple Peacock Shawl – see the example done by one of our Crochet Crowders.
Mile A Minute Baby Afghan – just make your strips longer for a full-sized blanket.
Squared Diamond Granny Throw – any granny design would be fun with this yarn.
Road Trip Scarf – a fast and easy design to make.
Crocheted Shoulder Cozy – this is shown with a thinner yarn, but adjust your hook and starting chain and it would be cozy with Caron Cakes yarn too.
Stuck on You Shawl – you do have to supply your email to download if you're interested in this one.
Chunky Ribbed Cowl – try a K hook with this yarn, a few more starting chains for this one, and you will get a nice drape on this cowl.
Tranquil Waves Ripple Blanket – let the colors flow through this pretty project.
Southern Diamonds Baby Blanket – beautiful stitches with diagrams to guide you along.
Corner to Corner Puff Stitch Blanket – just a bit different than the usual C2C.
Corner to Corner Baby Blanket – the border on this one caught my eye.
Tutorials
All of our Caron Cake tutorials.
Some great ideas right here on The Crochet Crowd pages.
Stitches that may lend well with the color changes, as Mikey says, "you're the artist, you decide."
*UPDATE* See even more patterns HERE!
And don't miss my Glacier Cowl made with only one Caron Cake.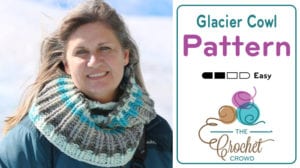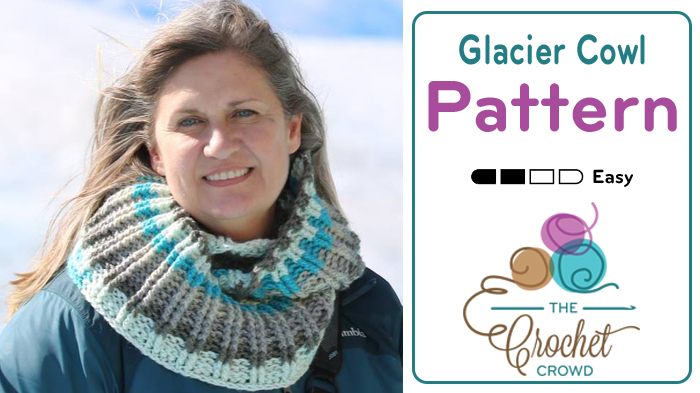 Post and share your projects ideas on our Facebook Wall!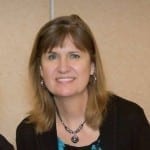 Be creative! 🙂 – Jeanne – The Crochet Crowd