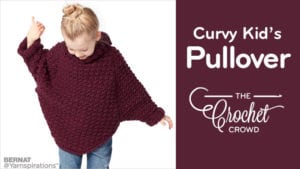 Crochet Kids Curvy Pullover
Introducing a brand new pattern called the Crochet Kids Curvy Pullover by Yarnspirations. Jeanne suggested that a tutorial would be good for this projects so I began the preliminary background of the tutorial yesterday in pre-prepping tutorial samples and finely go through the pattern.
It's easier than I expected… like way easier! In fact, given a full day, I would have finished the smallest child-size version in just a day.
This is more fashion-oriented than anything. Currently trending in the almost poncho-like pullover.
I was letting fear of the schematic making pre-assumptions but the directions were so clear and easy to follow. I felt like I spent half of my time crocheting and the other half checking off the instructions as I went. I felt like progress was being made quickly.
So I am preparing to film this project. There is a matching adult version for this as well. I'm going to film the child-size as the adult is just bigger, instruction wise, but the concept is the same. People can transpose the instructions to adjust easily.


Pattern Suggestions
Tutorial
Clothing Pattern Ideas