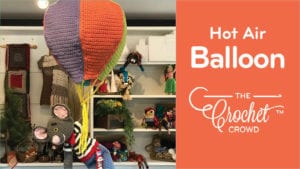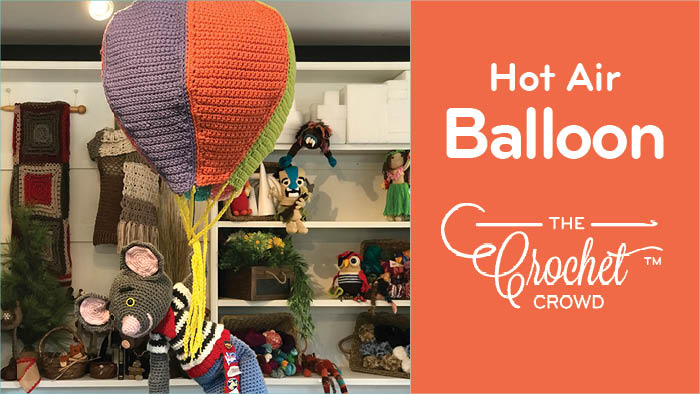 Crochet Hot Air Balloon
Create this Crochet Hot Air Balloon that is intended for cute whimsical decor.
This balloon was designed for my own Yarn Studio. It was a design never intended for me to share with the audience. However, there was something I needed to do, I had to create 6 identical panels and was required to write down my steps so I could do all 6. That's where the majority of the work is involved in this design. Once I was finished, I realized I had the pattern written out to be able to share if I wanted to.


Pattern Suggestions
The balloon is 16″ tall and 15″ diameter. I needed a balloon that would be bigger than my Crochet City Mouse.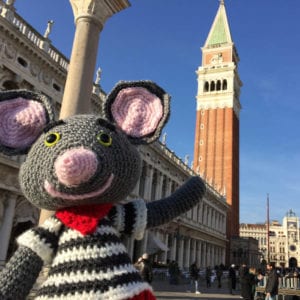 The City Mouse is a free pattern on Yarnspirations. I made him for my European personal vacation back a couple of years ago. If you look at his sash, you can see all the places he's been.
I coloured him up to have a red kerchief and red belt sash that isn't part of the original pattern. Knowing we would start our European adventure in Venice. I wanted him to be an iconic gondola driver. You can see all of the places Antonio went in Europe.
In searching for a balloon as I wouldn't have to figure out the pattern. Most of the balloons I saw were like the old fashioned hot air balloons. You know, the one you might have been from Wizard of Oz. It wasn't what I wanted.
Most of the balloons that I saw in the shape I wanted to look distorted. I wanted as close to the real shape I could get. I didn't want the top of the balloon to be shaped in a way that makes the balloon look like it's stretching as a result of being hung up.
So I head on over to Pinterest to look at Hot Air Balloons to study the shape. I realized I can do the shape in 6 panels. I had Styrofoam Rings in my craft collection and realize if I can get the top to jet out from the top and make the turn with an elongated shape.
I wanted my balloon to have the symbolism of creativity carrying you away. So I axed the idea of the basket. The city mouse is about 16″ tall without the ears. So I wanted the balloon to be in line with his size.
Once the 6 panels are complete, you whip stitch all of them together but leave the last join open to insert a homemade support structure. I talk about this in the free pattern.
Once the balloon has the support and is stuffed. It will look like it's floating away instead of being stretched.
I hope you enjoy my creation. I'm of the opinion if I cannot find exactly what I want. I have to create it myself. I'm glad to share with you how I did it.
Amigurumi Pattern Ideas