Reading Time:
2
minutes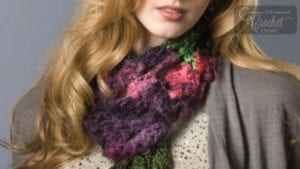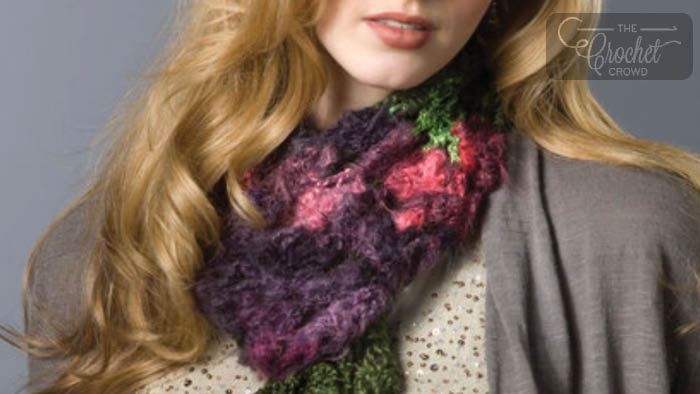 Crochet Spectrum Scarf
The spectrum scarf is one of those scarves where the pattern looks difficult but is extremely simple. The pattern repeats easily and depending on your yarn choice, it can look really complicated. I used Red Heart Boutique Magical. No… I didn't change colours or yarns, the ball did on its own making for an amazing looking scarf.
Follow Video Tutorial If You Prefer
Introducing the Spectrum Scarf by Red Heart Yarns. I was asked by Red Heart to film a complimentary tutorial that would be free for everyone to use. With Red Heart, I get to pick the projects I want to film based on my own excitement and love for the project. I chose the Spectrum Scarf due to a few reasons.
I loved the way it looked on the model.
I loved the yarn, being Red Heart Boutique Magical. Colour is called Wizard.
The pattern appears complicated by is so easy to follow.
I loved how the crochet rows don't look like usual crochet train tracks. That was probably my biggest reason for wanting to do this project.
Spectrum Scarf Crochet Pattern
Here are my thoughts:
As you will see in the video, I loved this scarf as the original yarn that the designer used; however, I did like the scarf as a solid colour as well. This means I could substitute my yarn very easily.
In the tutorial, I opted to use Red Heart Boutique Changes due to the one colour being easier to follow. I created a sample scarf for myself to ensure it looked right and I fell in love with the look pretty much instantly as I was crocheting it.
The scarf isn't that long. So I think if you wanted a larger scarf, just use two balls of yarn instead to get your desired length.
I didn't change the pattern or recommended hook size, the designer nailed this pattern for the best choices right upfront.