Reading Time:
< 1
minute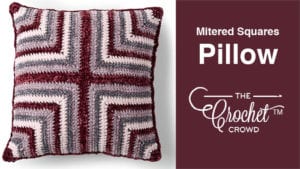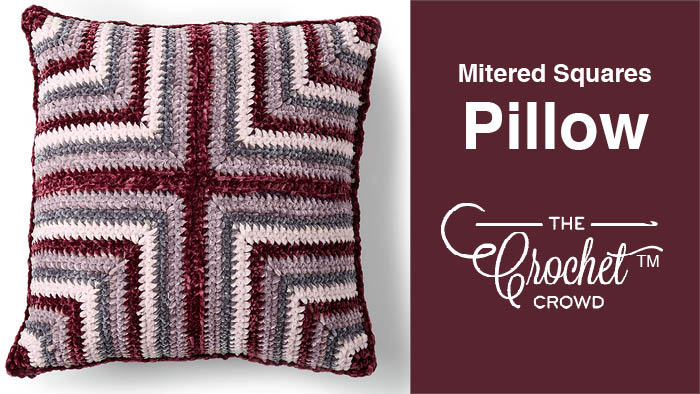 Crochet Mitered Pillow
Consisting of 8 mitered squares is the Crochet Mitered Squares Pillow.
Be strategic with your colouring to create your own unique looks. Bernat Velvet is a full-body yarn. Meaning, it will fill out the stitches. It feels and looks luxurious. This is a generous size pillow of 20″ x 20″.


More Bernat Velvet & Bernat Baby Velvet Ideas
# 5 Yarn Weight
,
Amigurumi Patterns
,
Crochet Video
,
Easy
,
Free Crochet Patterns
,
Holiday Patterns
,
Repeat Crafter Me
,
Velvet
,
#5 Yarn
,
Amigurumi
,
Bernat Velvet
,
Crochet
,
Crochet Bear
,
Crochet Tutorial
,
Easy Crochet
,
Free Crochet Pattern
,
Repeat Crafter Me
,
Sarah Zimmerman
,
The Crochet Crowd
,
Valentines
,
Yarnspirations
# 5 Yarn Weight
,
Amigurumi Patterns
,
Holiday Patterns
,
Intermediate
,
Velvet
,
#5 Yarn
,
Amigurumi
,
Bernat Baby Velvet
,
Bernat Velvet
,
Crochet
,
Doll
,
Easter
,
Free Crochet Pattern
,
intermediate
,
intermediate crochet
,
rabbit
,
The Crochet Crowd
,
Valentines
,
Yarnspirations
# 4 Yarn Weight
,
Blanket Patterns
,
Crochet Video
,
Intermediate
,
Velvet
,
Afghan
,
Bernat Velvet
,
Chevron
,
Crochet
,
Crochet Blanket
,
Crochet Ogee Stitch
,
Crochet Throw
,
Crochet Tutorial
,
Crochet Wave
,
Free Crochet Pattern
,
intermediate
,
Mikey
,
Ogee Stitch
,
The Crochet Crowd
,
Yarnspirations
,
Zig Zag
# 5 Yarn Weight
,
Bernat
,
Blanket Patterns
,
Free Crochet Patterns
,
Intermediate
,
Velvet
,
Bernat Baby Velvet
,
Bernat Velvet
,
Crochet
,
Crochet Blanket
,
Diamond
,
Diamond pattern
,
Free Crochet Pattern
,
Mikey
,
Tapestry
,
Tapestry Crochet
,
The Crochet Crowd
,
Velvet
,
Yarnspirations
# 4 Yarn Weight
,
Baby Blanket Patterns
,
Blanket Patterns
,
Easy
,
Velvet
,
#4 Yarn
,
Afghan
,
Baby
,
Baby Blanket
,
Bernat Baby Velvet
,
Crochet
,
Crochet Baby Blanket
,
Crochet Blanket
,
Easy Crochet
,
Flower
,
Flower Patch
,
Free Crochet Pattern
,
Granny Blanket
,
Patch
,
The Crochet Crowd
More Pillow Ideas