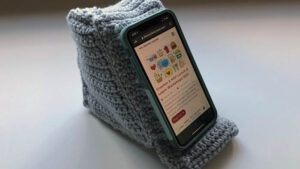 The Crochet Mobile Alert Cell Phone Holder is a great gift and tabletop accessory. Angled for sitting at a desk and getting facial recognition without strain.
Sit in front of your keyboard or a surface for quick glancing without having to pick up your phone. Should you need to see an alert in more detail, your face should be at the right angle so you can just quickly swipe up without having to pick up your phone.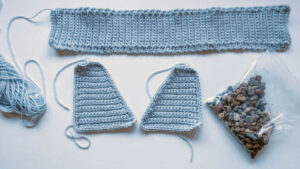 There are three components that made this. Left and right side and then a gusset that is between the sides where the phone will sit on.
Scoop about 3 handfuls of rocks and place them in a baggie. That will be at the base of the holder inside so it has a bit of weight so it doesn't flop or tip over.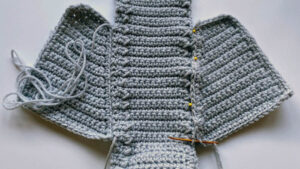 The free downloadable instructions will include pictorial demonstrations on where to sew. Joining with one loop on the sides will create a nearly invisible join. With the intentional puff stitch used in the gusset, any imperfections in the joining are not as noticeable as well.
More Ideas

More Collections