Crochet Quick And Easy Patterns
If you're looking for something quick and easy to whip up between big projects this collection is here to help. It's nice to get a pattern finished quickly from time to time, you know to remind us what finishing something actually feels like when the big project feels like it's never going to end. I have a few of those never-ending ones on the go myself.
If you are looking for quick little craft show ideas or simply have a bunch of leftover yarn that you want to get used up on something to make room for a new stash, this collection is a few suggested patterns to help with any of that.
---
Crochet Bow Ties For The Guys Pattern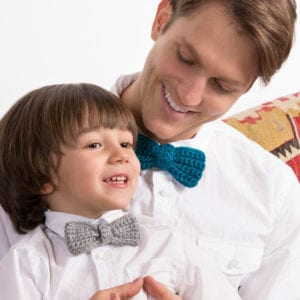 My oldest went through a phase where he wanted to wear bowties all the time when he was younger. I really wish I had seen this Crochet Bow Ties For The Guys Pattern then and knew how to crochet at that time, I would have made him up one in a few colours to wear, wonder if he would still wear them now…
This is a great little yarn busting pattern Designed by Carlotta L. C. Craig. Carlotta designed this Crochet Bow Ties For The Guys Pattern using Red Heart Soft which is a very lovely yarn. This pattern would also be a cute idea for weddings you could make up the Crochet  Bow Ties For The Guys Pattern in the wedding colour if you were having a rustic theme. Also, a cute little BowTie to whip up if you have a dress-up box.

Crochet Hot Hibiscus Tea Cozy Pattern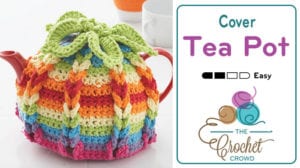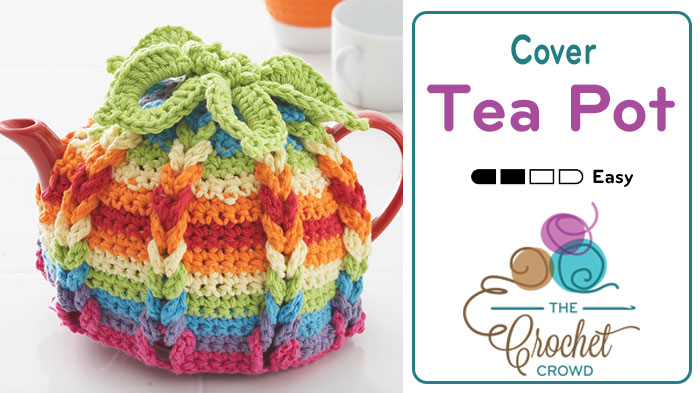 I am an avid tea drinker, so this Crochet Hot Hibiscus Tea Cozy Pattern appealed to me and caught my eye right away. If you are familiar with Jacobs Ladder, this pattern is along the same line as that pattern. It's such a pretty pattern with all those different colours when it's worked up, I may have to buy a teapot just for this cozy.
The Crochet Hot Hibiscus Tea Cozy Pattern is made up of the Lily Sugar N' Cream and a Lily Sugar N' Cream Scents. there are such pretty colour combinations you can come up with, and the cotton yarn will help hold the heat in and keep your tea warm for an added bonus.

Crochet Mustache Mug Hug Pattern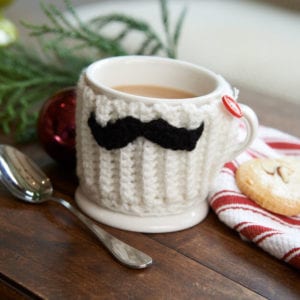 Now that we have dressed up your Tea Pot we can't forget our mug, this Crochet Mustache Mug Hug Pattern had me cracking up when I saw it. I really want to adapt it to be able to use it on my travel mug. Or keep one in my bag to use on the disposable cups for my tea when I'm out.
This cute little Crochet Mustache Mug Hug Pattern was Designed by Michele Wilcox it was made using Red Heart Super Saver, I myself like to add cotton when I make these I find it helps to keep them from stretching, and also helps hold the heat or cold in a little better where I tend to use my cup cozies on hot and cold drinks, not just hot ones.

Crochet Key Ring Pouch Pattern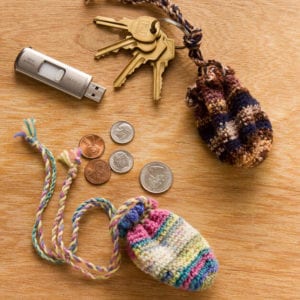 If you're anything like me you're always digging in the bottom of your bag for something, and it always seems to be the smallest thing in there, most of the time for me its a chapstick of some sort, and even though I keep like 5 in there in hopes to find one faster, still seem to take me to the brink of frustration before I find it.  This Crochet Key Ring Pouch Pattern is brilliant! keep one in there, not only will I find my chapstick quicker, but I'd find my keys quicker when they fall to the bottom of my bottomless pit of a bag. I know an easier solution would be to carry less stuff, but let's be real here, that's never going to happen this is a way easier solution!
This Crochet Key Ring Pouch Pattern was Designed by Kathleen Sams. Kathleen made this using Red Heart Heart & Sole with Aloe, it's also a great little project to use up some yarn ends.

Crochet Cell Phone or Tablet Cozy Pattern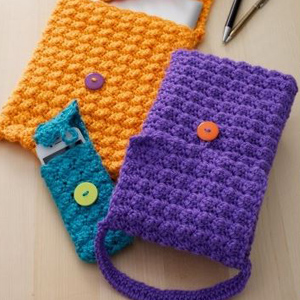 If you're someone who travels a lot whether it's down the road or on a plane and you take your tablet this Crochet Cell Phone or Tablet Cozy Pattern is a handy pattern to have and whip up to keep your device safe. Even if you aren't someone who tends to take your device with you, and you keep it home keeping in one of these Cozy's on it when you aren't using it at home, isn't a bad idea, I've been hard on mine not by choice but because I'm a clumsy human one of these may have saved one or two.
The Crochet Cell Phone or Tablet Cozy was designed by Lorna Miser made using Caron Simply Soft. You can use that, or leftover yarn, make it for your self a gift or craft show ideas. Lots of possibilities.

Crochet Phone Cover Pattern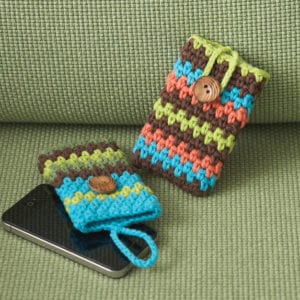 This Crochet Mobile Phone Covers Pattern is a great little pattern to keep your cell safe, or you can add a few more rounds and have a case for your sunglasses, to keep them from getting scratched. A great yarn busting project make up these awesome little Crochet Cell Phone Covers for a gift to someone, or a great little craft show item.
This Crochet Phone Cover Pattern was made using Lily Sugar N' Cream. Keep those phones from getting scratched, or a little more protection when they get dropped. Play with those colours and make one fit every mood or match an outfit.

Pattern Suggestions
Crochet Pattern Ideas