Here is a group of different crochet placemats to enjoy.
---
Options Placemat & Coaster Pattern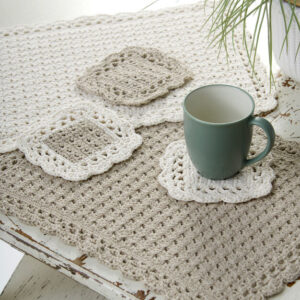 This pattern is a really pretty beginner pattern, that you can work up in your favourite colours. Work this Options Placemat & Coaster to match either your kitchen or your dishes if like me you have a set with colour. I really love that the pattern has a matching coaster as well.
Designed by Marilyn Coleman this placemat pattern was worked up using RED HEART® Eco-Cotton™Blend, I'm not sure that this yarn is still out, I haven't seen it in awhile. If you don't have that particular cotton yarn on hand use any of your favourite cottons to work up this pattern.

Crochet Pinwheel Coasters Pattern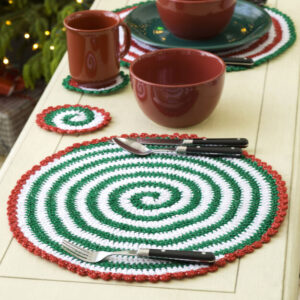 Enjoy making these fun Pinwheel Coaster and Placemat design for your holiday decor. Using any yarn colours you wish, your Candy Swirl can be any combinations of colours. You need three colours in all. Two colours are for the swirl and then an outside border colour to block it all in together.
Designed by Mary Jane Protus this pattern was worked up using RED HEART "Holiday". Loving the fun round shape this would be a great one worked up in any holiday colour combinations.

Tutorial
Mad For Plaid Crochet Placemat Pattern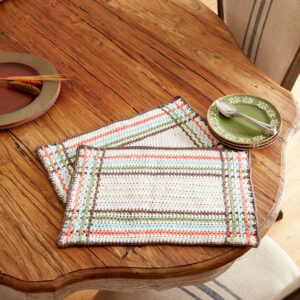 I love plaid so this would likely end up my everyday set done in Red and black to match my kitchen. This Mad For Plaid Crochet Placemat would look cute worked up in any Holiday colours.
This easy placemat pattern was worked up using Lily® Sugar'n Cream™. It's really a neat approach to how the vertical stripe is added, it would be fun to attempt it for bigger projects.

Crochet Celtic Placemat Pattern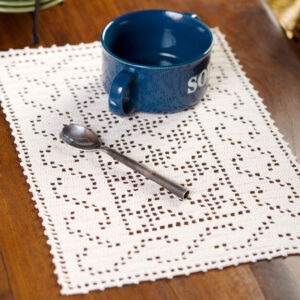 Although this pattern is considered an intermediate pattern, if you have basic knowledge of the fillet this Celtic Placemat would be fairly easy. There is a diagram to show where your stitches would be for us visual learners.
Designed by Susan Lowman this really pretty placemat was worked up using AUNT LYDIA'S® "Classic Crochet Thread". This placemat worked up in a set would make a great gift for someone you know who uses them, as well as a fancy pattern for your own table. There are some really pretty colours in Aunt Lydia's crochet thread colour.

Crochet Placemat Pattern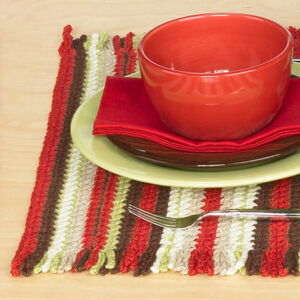 This is a really cute easy little pattern, that reminds me of older style placemats. With this Crochet Placemat pattern, you could have fun with colours work them up in holiday colours, or simply your favourite colours. This placemat is also a great stash-busting pattern.
Design by Vicki Blizzard this pattern was worked up using RED HEART® "Super Saver®". This is a great little everyday placemat, another great craft show item in sets of 4 or 6.

Crochet Holiday Placemat Set Pattern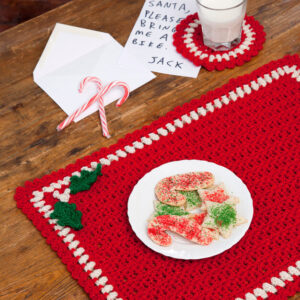 This lovely little Holiday set will look great on the table for those meals during this time of year. You could also work up this Holiday Placemat Set in different colours for the other times of the year if you are looking for something a little more on the simple side, just leave off the holly and leaves.
This placemat pattern was worked up using RED HEART® Holiday. it's another great craft show item, of course, once you are done making a set for yourself.

Pattern Suggestions
Crochet Patterns For The Kitchen