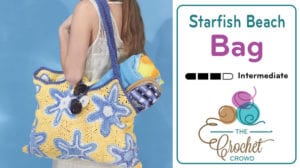 Crochet Starfish Bag
The Crochet Starfish Beach Bag is a nearly neat pattern that will most likely grab attention if you are walking with it. It's so beachy and unusual, it's bound to turn a few heads.
The beach bag consists of 10 hexagon motifs that go from a circle interior to miniature legs as it grows to a full-size starfish. The final two rows bring the starfish back to a hexagon shape leaving each motif to be really neat.
Included with the free pattern is a crochet diagram which I think will really help you with this whole process. During the video tutorial presentation below, you will see I will refer back to the crochet diagram to explain what it is asking you to do and then do the step next. Of course, if you prefer to read instructions only and skip the diagram, that is also provided in this free pattern.
The assembly process is relatively easy and you just have to slap on two handles at the end to bring it to the conclusion. I think you may really love this bag! One crocheter commented on The Crochet Crowd that she submitted this particular design to the local craft fair and it won first prize. She was tickled and it's nice to have your own creativity acknowledged in a public setting like that too.


Pattern Suggestions
Video Tutorial
More Bag Ideas