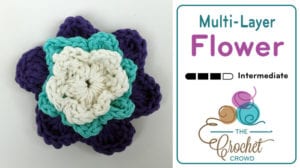 Crochet Multi Layer Flower
Learn how to crochet a Multi-Layered Flower using an existing pattern from the Shower Flowers.
Flowers are really high in demand for accessorizing items such as hats, bags and so much more. Some crocheters love to do bouquets and wreaths too. This pattern has 3 layers that will lend itself well to a three-dimensional look.
For this pattern for the 3 layers and 3 colours. Here's the break down:
Use the same colour for beginning, round 1 and round 2.
Use the next colour for round 3.
Use the final colour for round 4 & 5.
The tutorial is demonstrating showing the shower flowers where only 2 colours were used. The colour changing is completely optional as you might only prefer one colour for your complete flower. That's up to you.


Pattern Suggestions
Video Tutorial
More Flower Pattern Ideas