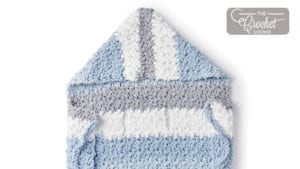 Crochet Stroller Blanket
The Crochet Stroller Blanket is a new design that has the straps in mind for securing a baby to the stroller, while keeping the baby warm, of course.
A schematic is available to see how the pieces of this blanket work together. This is using Bernat Baby Blanket Stripes yarn.
See pattern for more visuals with how a baby is placed inside this.


More Ideas
More Baby Blanket Ideas