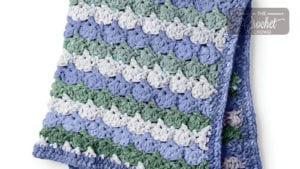 Crochet Tippy Toes Baby Blanket
The Crochet Tippy Toes Baby Blanket is a bit of texture and fun stitching combination. This is a 4-row repeat pattern and if you use different colours, you can really highlight the stitchwork that is shown within this blanket.
The border, which isn't shown in the tutorial, is simply just half double crochet rounds.
If you are looking for something more than just regular double crochets and want to play with a new concept. This is a neat blanket to try.


More Ideas
Tutorial
Baby Blanket Pattern Ideas