Ideas for Non-Slip Slippers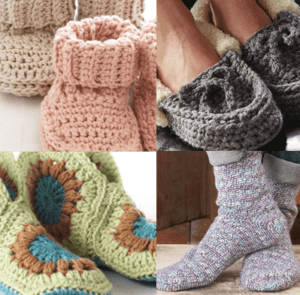 Don't you just love how a cozy pair of crocheted slipper make you feel?  I love to come home after work in the winter, put on something comfy, which always includes my slippers to keep my toes warm.  But one must be careful on certain flooring, such and hardwood and tile, as those fibers can definitely get slippery.
I haven't experimented personally yet with any of these products, but I will be soon.  I found a few items that I will definitely be giving a try to see which work best.  They all look pretty simple and are generally easy to find items.
If you have personal experience with these or any other items to make your slippers non-slip, please share your story in the comments below.  I'd love to hear what works best from our own Crochet Crowders.
YouTube Ideas
Plasti Dip – A spray rubber.  Might be a bit messy but sounds like a good product.
Colorful 3D Markers – This looks fun and simple to use.
Puffy Paints or Dimensional Fabric Paints – You can create fun designs on the bottoms of your slippers.
Bath & Kitchen Silicone – Easily found at any hardware store.
Regia Latex – It appears that this product is available in the U.K.
Sew On Non-Slip Options
Dritz Pj Gripper Fabric – Sew the Dritz 11" x 24" Anti-Skid Gripper Fabric White onto your little one's pajama feet soles and slippers to avert slipping and falling. You can also use this gripper fabric to prevent scratches on the base of your home decor items. This 100% cotton fabric, designed with anti-skid ERB dots, is easy to care for. The package includes a 11 x 24-inch piece of the fabric.
Slipper Grippers – For the soles of kids pyjamas, knitted and crocheted slippers and fleece slippers and socks. Cut to desired size and sew to the sole of slipper or sock. Machine wash and dry.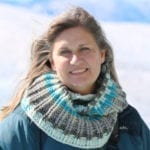 Be creative! 🙂 ~ Jeanne – The Crochet Crowd
Save
Save
Save