Many crocheters struggle with the idea of reading crochet patterns. For some people, they catch on quick. For others, it's a bit of a journey. Mikey took a while to learn patterns and is still learning new things as he goes along. In this detailed and comprehensive video series, Mikey breaks down the barriers of crochet patterns by filling in the gaps with insider tips.
See all of the courses to date that are offered by clicking 'Read More' below. 
More Ideas
Basic Introduction
I learned to crochet when I was 14 years old. I bought a book that had crochet diagrams and written instructions. From that moment on, I skipped over the written directions and just referred to the crochet diagrams. When I launched The 
Crochet Crowd back in 2008, I was still unable to read patterns but didn't think it was a big deal. I realized I was missing out on tens of thousands of free patterns available.
Viewers would email me their pattern questions and I kept ignoring them because I didn't know the answers. I finally hit a milestone where I realized if I don't start learning how to read patterns, I'm not going to be able to help anyone. Using viewers questions, I did research to find the answers and in this process, I began to understand how to read patterns. Please note, I receive a lot of email today with patterns being copied for me to decipher. I don't guarantee that I will answer back pattern questions because I am slammed with them every day. 
I will admit though, I still won't buy a crochet pattern book unless it has the diagrams in it. It's just a personal preference for me. 
---
Intro & Lesson 1 – Reading Yarn Labels
I welcomed you to the world of crochet patterns. I was honest that not everyone is meant to understand crochet patterns. Some people get it right off the bat and other people, like me, take time in getting to understand them. The best advice is to be patient with yourself. Challenge yourself but set realistic goals.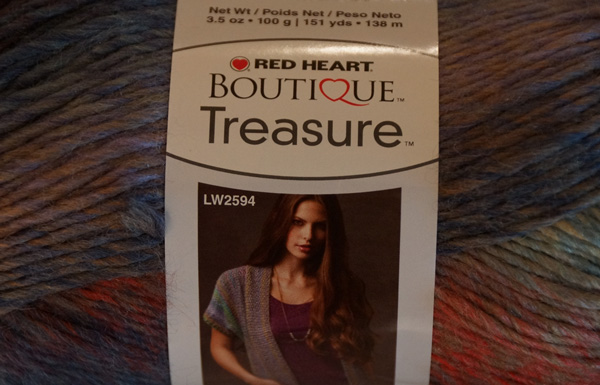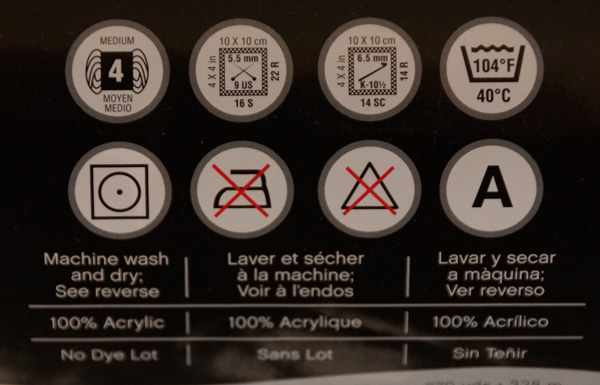 Learn what the yarn manufacturers are trying to tell you.
To start off with, I decided to go through a yarn label first. Everyone buys yarn but do they understand what the yarn ball is telling them. I figured this is a great place to start as people tend to buy yarn before they will buy a pattern book or take a shelf tearaway to use. 
In this video, I referenced many different resources but I am going to give you the ones pertaining to the yarn balls. In future lessons, I will give you further links and discuss those in more depth. 
Materials referenced in this video are as follows:
---
Learning How To Read Pattern Keys – Lesson 2
In this lesson, I went through two crochet patterns from Red Heart's Website. One pattern was considered easy while the other was considered experienced. Reading key elements in a pattern help me to determine if I will do the pattern or not.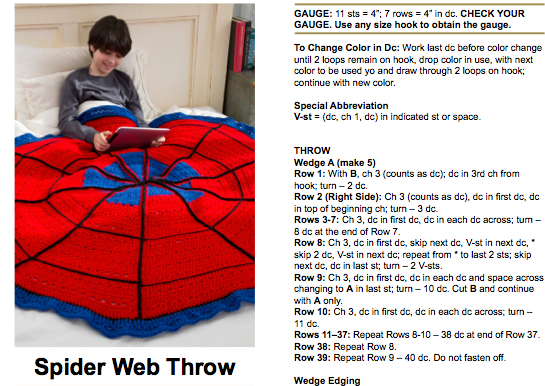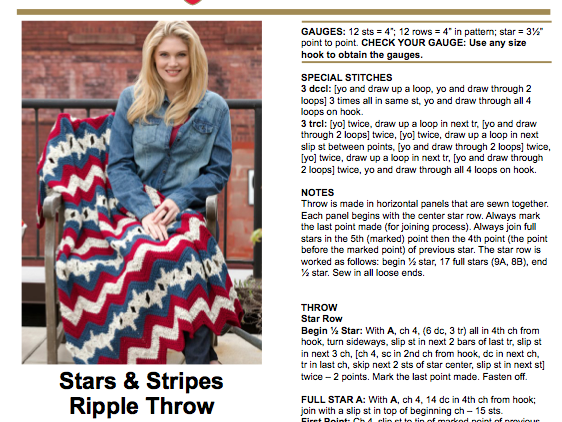 Two Patterns that were examined more carefully. 
I broke down the pattern into sections to show you things you should immediately look for when determining to complete the project. I give you key tips and further resources for what things mean and how to decipher the pattern further. Finally, I gave you some important advice if you are a loose or tight crocheter to be able to substitute yarn products in patterns. 
Materials I reference in this video are as follows:
Spider Web Throw Afghan Pattern
---
Learning How To Read Crochet Diagrams – Lesson 3
In lesson 3, I pulled apart the crochet diagrams for easier memory hooks. I pulled a pattern from Red Heart's Website that uses a diagram for you to reference as well.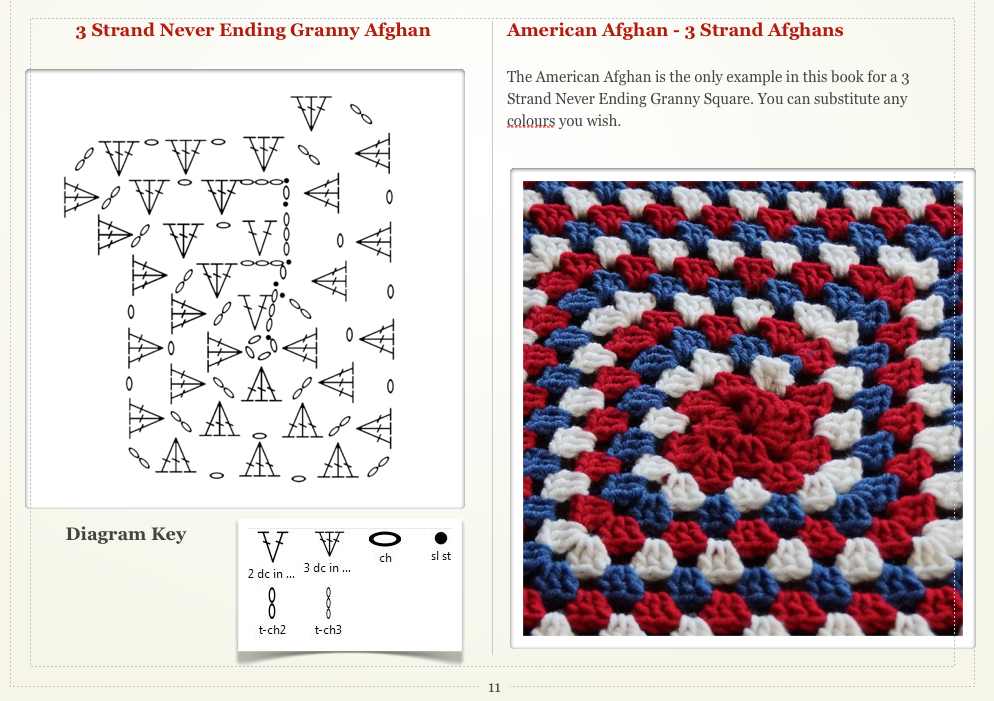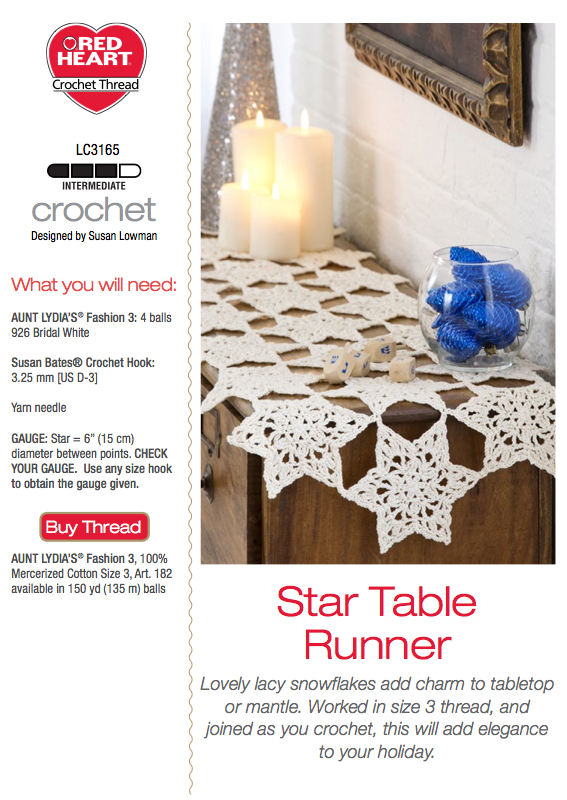 You can follow crochet diagrams, if the symbols are universal, in any language because of the versatility of the usage. Therefore, if someone in India created a pattern in a crochet diagram, we would be able to follow it here in North America without having to worry about language barriers.
I go through some common symbols and gave you my own memory tips in order to remember what they are. I have also given further information for things to look for in patterns.  
---
How To Read Patterns Lesson 4 – Diagram Exercise 1
In lesson 4, we are starting our first follow along with exercise. Using a crochet diagram, I shared more tips in the beginning of the video. Then using a crochet hook with on-screen graphics, we will complete the sample crochet diagram as we go. 
Here is the lesson to follow along. I have provided an answer key below for those who need that.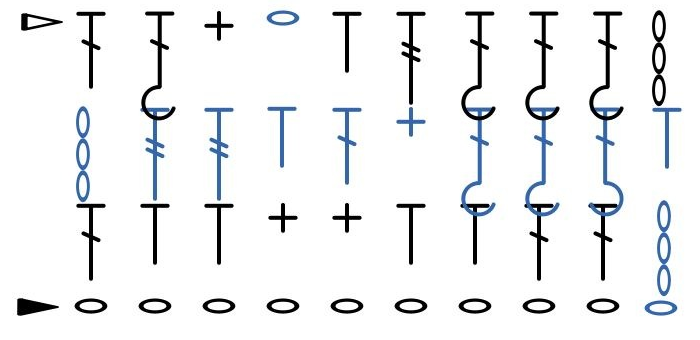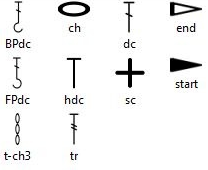 Answer Key by Line Number:
Ch 13

2 DC fifth Chain from Hook, 2 HDC, 2 SC, 2 HDC, 1 DC

CH 3, 2 TR, 1 HDC, 1 DC, 1 SC, 2 BPDC, 1 FPDC, 1 HDC

CH 3, 3 BPDC, 1 TR, 1 HDC, 1 CH, 1 SC, 1 BPDC, 1 DC, fasten off and weave in ends. 
---
How To Read Patterns Lesson 5 – Diagram Exercise 2
In this lesson, our crochet diagram has more symbols to complete. The point here is to understand where the stitches are supposed to be put in comparison to the row below. Follow the diagram and visualize where the stitches are to go and then repeat it on your sample. 
Here is the lesson plan as seen in the video.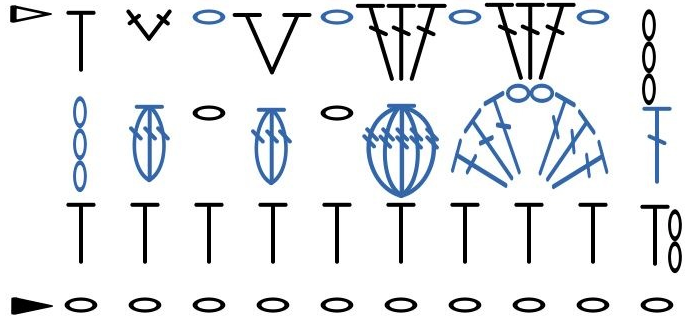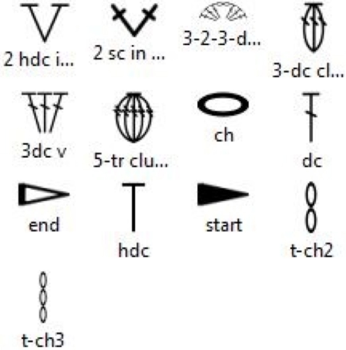 Answer Key by Line:
Ch 12

HDC 3rd from Hook, 10 HDC

Ch 3, 3 DC Cluster, Ch 1, 3 DC Cluster, Ch 1, 5 TR Cluster, 3 DC – Ch 2 – 3 DC into same stitch, DC

Ch 4, 3 DC into CH 2 Space, Ch 1, 3 DC into top of 3 DC Cluster, Ch 1, 2 HDC into same stitch, Ch 1, 2 SC into same stitch, 1 HDC, Fasten off and weave in ends.
---
How To Read Patterns Lesson 6 – Diagram Exercise 3
This is the final lesson of playing with a random diagram with doing rows that I have created. It's good to examine simple ideas like this and figure out the stitches. It's great for practice. I'm not going to put the answer key on this one, you will need to figure it out for yourself.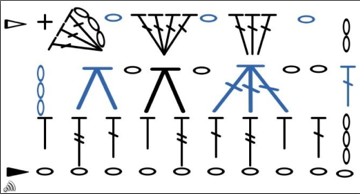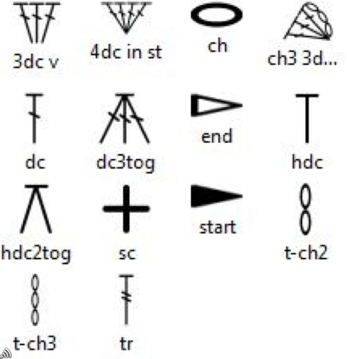 ---
How to Read Patterns: Lesson 7 – Diagram Exercise 4 Round
In this lesson, we are working on a crochet diagram that is round. In all my history, every diagram I have seen always operates in a counter-clockwise reading formation. This is a great exercise because hats are constructed this way. In crochet patterns, when working in circles, it's called "Rounds". In pattern descriptions instead of being Row 1, Row 2 and etc… it will be Round 1, Round 2 and etc. Below is the diagram with the diagram key to follow along.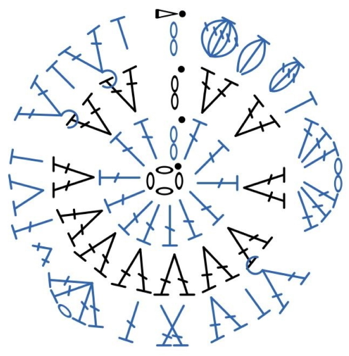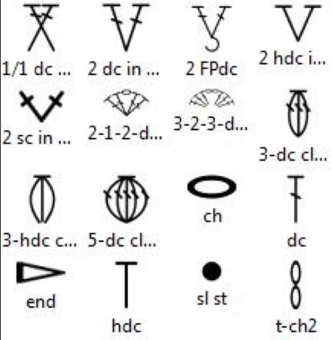 ---
How To Read Crochet Patterns: Lesson 8 – Real Project To Test Your Diagram Skills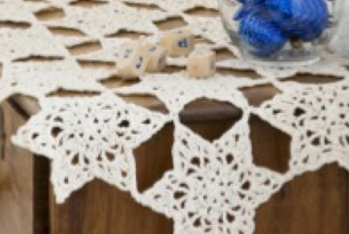 Enough with the hypothetical diagrams. Let's get real and do a real project together. The pattern is the Star Table Runner by Redheart. This pattern has the written instructions as well as a crochet diagram to follow along. 
Some designs like this one opt for a diagram as a diagram can be clearer than too many words and instructions to follow. You can follow the video that I have provided by looking at the top of the page to find the video. 
Remember, just because they show you design doesn't mean you have to follow it exactly. You can decide to use bits and pieces or change it altogether to match your project. I loved this star formation so much I made a few just for pillows instead of an entire runner.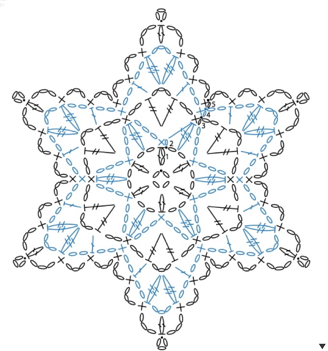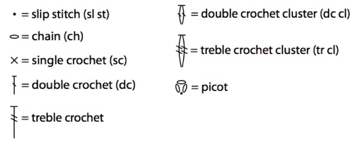 Next Lesson to be filmed.
To be filmed.
I'm unsure how many videos will be in this series.