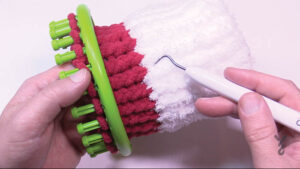 The brims of loom knitting can be changed in colour without a lot of fuss. This can be used for cuffs of socks or stockings as well.
You can make your brim in a completely different colour or yarn and then have it matched to the body of the hat.
When flipping the first round back onto the loom to secure, you will wrap the loom with the new colour and stick the yarn ends of the brim and beginning strand of the new colour inside the brim itself. You can secure it with a tapestry needle if you prefer it.
This method creates a seamless transition between the brim or cuff to the body of the project.
More Ideas
Tutorial
More Loom Knitting