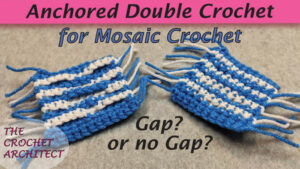 Susan Lowman, The Crochet Architect has been enjoying textured stitches for years.
I met Susan back in 2014 at one of the last professional conferences that I have attended. I'm not a celebrity or designer follower, so who's who in the yarn industry was unknown to me.  Susan approached me on the floor to introduce herself. At the time, she was doing Wiggly Crochet. I was a nobody back then, so it would turn out, she's up there with skills and for her to take the time to introduce herself has always stayed in my mind.
You learn more about Wiggly Crochet on Susan's Website. There's a free pattern to follow.

---
Recently, Susan has been discovering even more with Mosiac Crochet and using a technique she calls Anchored Double Crochet. The technique is demonstrated in the free tutorial below.
Her technique thickens up the strength of the overlay that is present. It also eliminates out any gaps that can appear with different techniques of mosaic crochet concepts. So the back will stay flat without having any bumps to it.
It's a really neat technique.
Flight of Stairs Scarf
Susan has a paid pattern called the Crochet Flight of Stairs Scarf. With the techniques you can learn above, you can make a purchase of her pattern with confidence.
It's elegant and the stitching concept may keep you engaged with watching the pattern turn out before your very own eyes.


More Ideas
More Mosaic Crochet