---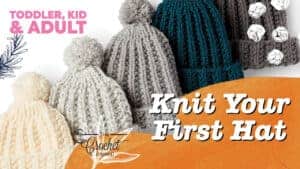 I had a mission to knit my first hat finally. Yarnspirations gave me this suggestion and I am quite proud of myself. These are the Family Knit Basic Rib Hats that use the Mistake Knit Stitch.
I learned plenty of things in using this as my first example:
How to read a basic knit pattern in understanding abbreviations.
I learned to understand how the loops are on the needles if I make a mistake.
I learned to identify what stitch is on a needle by observing and repeating.
I learned to relax and let the work play itself out.
I learned I am capable, which has propelled me to learn more.
My Sample
I did my sample using 3″ for the brim in one colour and then switching to the other colour for the remaining. Using a gold pre-made pom on the top of the hat for the adult version. My colours were Limelight and Natural. The poms I got from Amazon in an assorted pack of colours.
The tutorial is the Toddler Version in Pumpkin colour with a green pom pom on the top just for fun.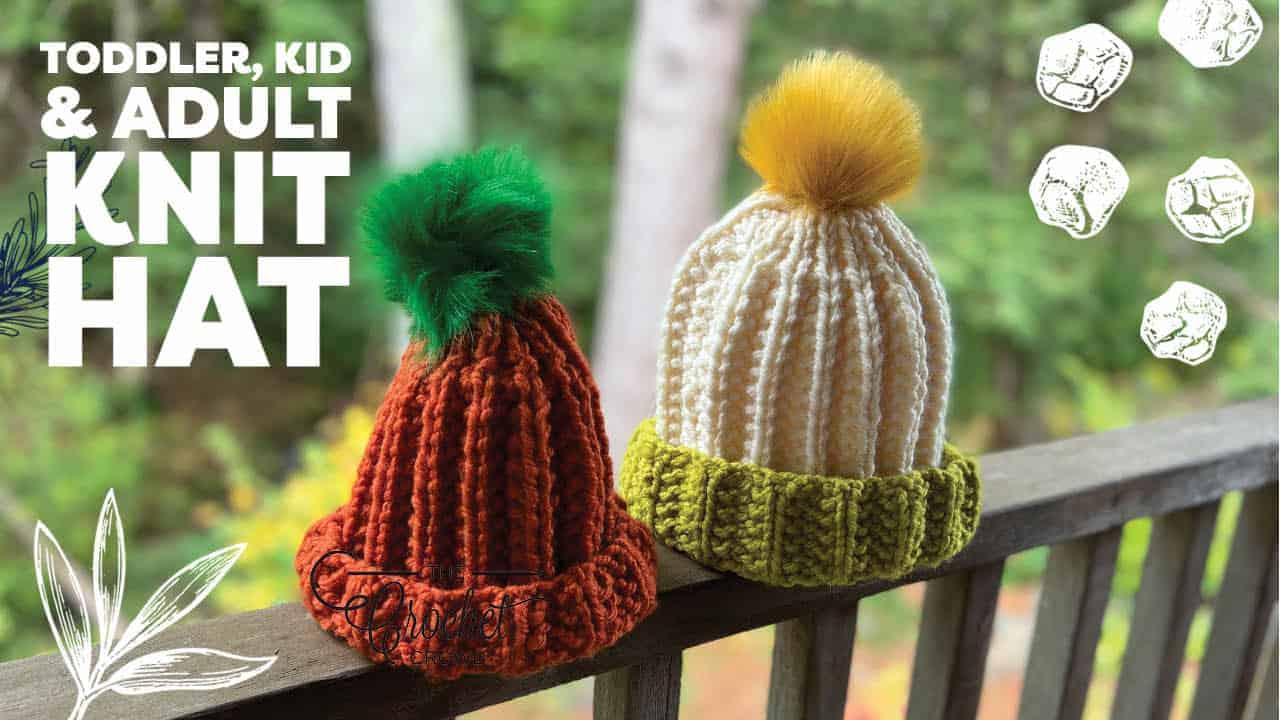 ---
Pattern Details
Project Size: Toddler 2 – 4 Years Only, Kids 6 – 8 Years Old and Average Adult Sizes
Gauge: 12 sts and 16 rows in stocking stitch.
Designer: Yarnspirations Design Team
Stitch Multiple is 4 sts + 1
Needle Size on Pattern: 6.5 mm / US 10.5
Yarn In Pattern: Bernat Softee Chunky. Note the pattern is using the 14 oz, 400 g balls but those are discontinued. I used the 100 grams balls. I needed 1 ball for Limelight and 1 Ball of Natural for the adult version. In the Toddler version I used 1 ball of Pumpkin but there wasn't enough to hand make a pom pom. So you will need two balls for that.
Pattern Date or Last Revision Known: June 24, 2019
Please use the pattern for details on yarn quantities, gauge and other details not listed here. This pattern may have been updated since the creation of this tutorial, and the information or presentation of the printable PDF may have been changed without notice.
More Ideas
A matching crochet hat is very close to the look of this hat that I also enjoyed. I have filmed those up a few years back and I was compelled to do the knitting version so I had both types of hats in my pattern tutorial library. These are Crochet Basic Rib Hats.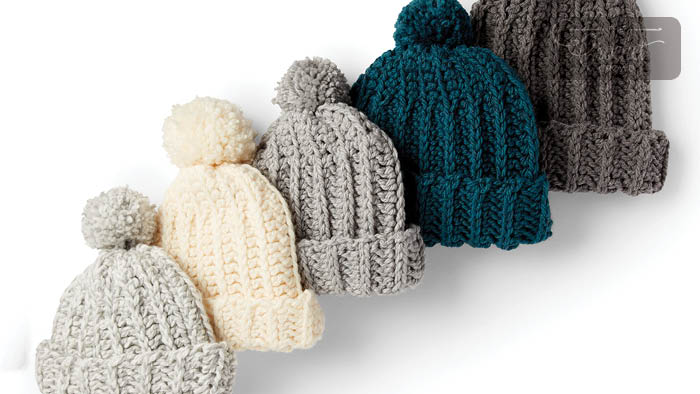 Tutorial
The tutorial covers all sizes, and the shaping of the top is the same information for all three sizes. I give tips on making mistakes and how to fix them twice in the tutorial for tinking and also fixing rows below without starting over.
---
More Hats