Rainbow Wave Afghan Pattern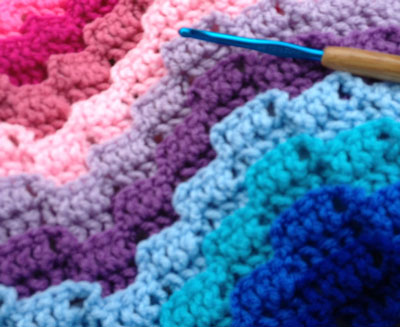 This afghan is really stunning. You can decide to crochet using the back loops as it is suggesting or do the regular stitches. Each has a unique way of looking. If you review my video tutorial on the bottom, you can clearly see the difference between the two stitching techniques. Personally, I don't think the back loops on this project is tough at all and looks far better.
Honestly speaking, this afghan takes a bit of getting started to count the stitches. You may think you are screwing up as it takes 2 rows to be done before it starts looking like the pattern. So stick with it and you will be happy.
More Ideas
For this pattern, I have not been able to figure out the multiple counts to make different width sizes.

Tutorial
©2013 The Crochet Crowd, Michael Sellick