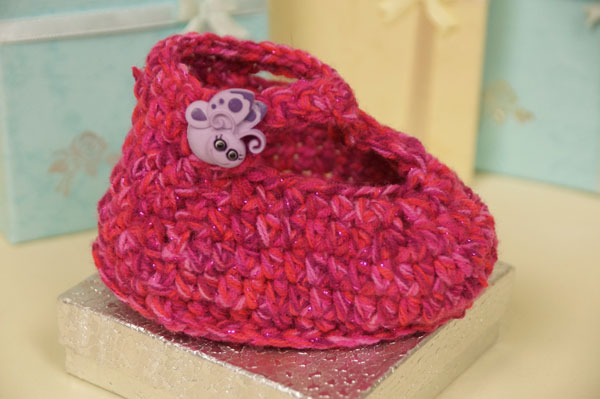 Ruby Slippers Baby Booties
 "There's no place like home," Mikey said as he was finishing this adorable t-strap bootie. The original pattern is by Red Heart Yarns. Another heartwarming project for an expected mother and baby shower gifts. This pattern comes in two different sizes, newborn - 3 months and 3 months - 6 months.
You may sell any projects you make from this pattern. Please refer your friends to this web page if you want to share this pattern.


Pattern Suggestions
2 Sizes of Booties for Newborn up to 6 Months
This pattern is compliments of RedHeart.com. Mikey substituted the yarn for Red Heart Shimmer. The yarn colour is called Lipstick.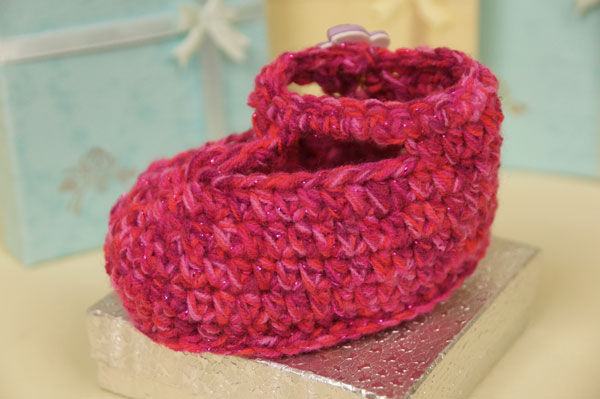 As indicated in the pattern, you change the sizes by following the size difference by looking at the parentheses (). This pattern works up pretty quick and Mikey did several pairs just because they were a lot of fun.
The T-Strap aspect is a real functioning strap. There is a loop around the strap to go over the button to secure it into position.
The colour of the yarn reminded Mikey of the Ruby Slippers as seen on the Wizard of Oz movie. The button on the side was a cute little find in a local fabric shop. The manufacturer of those buttons is called "Dress it Up".
More Crochet Baby Bootie Pattern Ideas