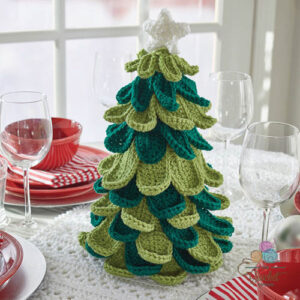 Get the size right for your Christmas Tree Skirt plus we have 7 free Christmas Tree Skirt Patterns. You can always make your own Christmas Tree with yarn as well like the Make It Merry Christmas Crochet Tree.
From the little 1 foot tall trees to 9 and 10-foot tall trees, the right size Christmas Tree Skirt needs to fit your own decor.
Things to consider:
Your own personal space you have an allowance for.
Tripping hazards usually extend beyond the diameter of the bottom part of the tree.
How long do you plan on using it to put minimal or maximum effort into crocheting it?
Do you prefer the Christmas Tree to have a split so you apply after the tree is up or prefer the skirt to be a solid unit without a split?
If you plan on this skirt being an heirloom to pass along or intend on using it for years, I would spend more time on it and make it really special.
Christmas Tree Skirt Sizes
Mini Trees Office Reception or Long Term Size Table approximately 12″ – 14″ diameter.
Table Top Trees for Foyers about 2 to 3 feet tall approximately 20″ diameter.
Pencil Style Trees (thin shaped) is about 35″ in diameter.
Small Christmas Trees about 48″ (4 feet tall) is about 40″ – 45″ diameter.
Large Christmas Trees about 72″ (6 feet tall) is about 48″ diameter.
XL Trees from 72″ – 120″ (6 to 10 feet tall) is about 56″ diameter.
Christmas Tree Skirts without Splits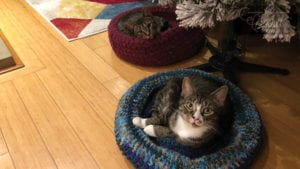 I prefer Christmas Tree Skirts without splits. We have Binky Binky and Puss Puss which think tree skirts are romper room toys. In this case, I put Crochet Cat Beds under the tree instead of a skirt.
To put on a skirt without a split. 
Put the tree stand down.
Place the skirt over the tree stand so the hole of the skirt is over top of the hole of the tree stand. I usually fold up the edges of the tree skirt so the top surface doesn't get debris as I place the tree and decorations.
Once decorated, open the tree skirt back up and position it.
For some of you, you will not enjoy this option but it's what I prefer.
---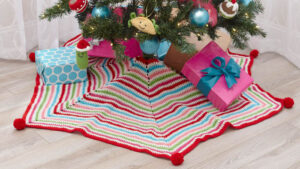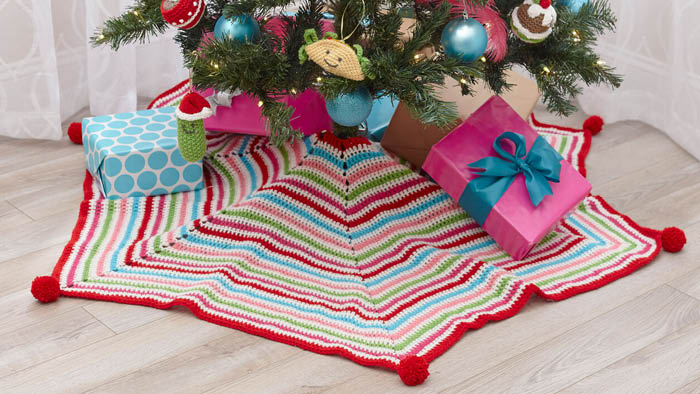 Pom Pom Christmas Tree Skirt
The Crochet Pompom Trimmed Christmas Tree Skirt is easy to follow the pattern.
There are two rows in this easy to repeat pattern. 1 row is double crochet, the next is a half double crochet. The colour changing is really up to your own personal choices. However, there is a colour sequence in the pattern if you wish.
You can also make pom poms.

Tutorial
---
Crochet Christmas Granny Tree Skirt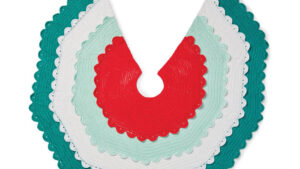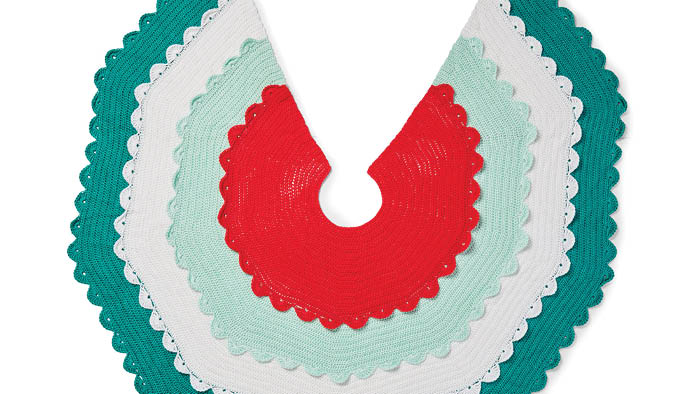 With the Crochet Flirty Tree Skirt pattern, I have additional resources to share with you.
The pattern grows out consistently and you have to watch the beginning of each row for the starting point. The number of stitches before the repeating is 1 less than the actual repeat number. It will be talked about in the tutorial.


Worksheet for the Flirty Tree Skirt
I have itemized the row counts and also given extra information in the event you want to add more scallops to your skirt. It will be explained in further detail in the tutorial. You can click the picture below to get the PDF or download the worksheet here.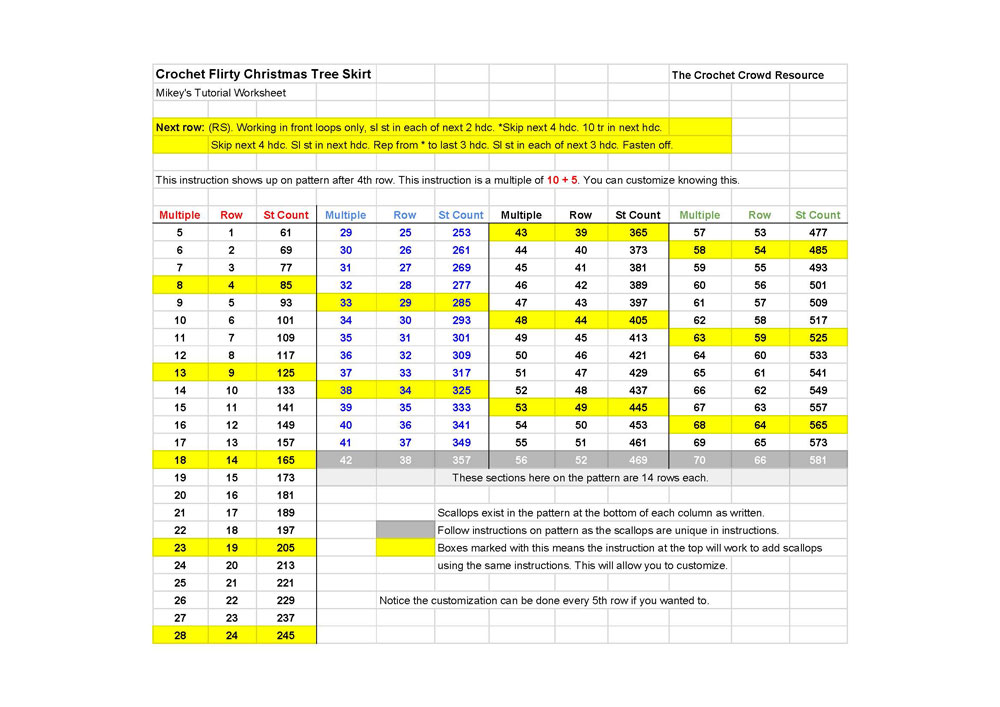 Tutorial
---
Crochet Starshine Christmas Tree Skirt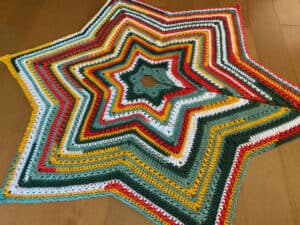 The Starshine Christmas Tree Skirt is remake of the Starshine Hugs & Kisses Blanket Pattern. So it's a design you may already know and love, minus the bobbles.
This is my first every tree skirt design.  I was inspired by the new Red Heart Super Saver O'Go Christmas yarn.  Of course, you can use your favorite yarns and colors to create your own personalized project.  My tree is a bit small, so if you would like to make yours bigger, just continue to repeat the 28th to 31st rounds until you have the size you need.
Mikey's version in the tutorial was using Red Heart Roll With It Melange. Colour is called Gossip. You will need two balls of that if you wish to substitute. Mikey did 19 rnds and then the border. His size was 28″ [70 cm] across tips.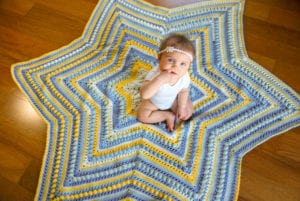 When you upload your project to The Crochet Crowd Stitch Social Group or Instagram, feel free to tag me so I can see what you have crocheted.  Follow me on Instagram @ jeannestein or on Facebook.  My designs can also be saved in your Ravelry favorites by following me HERE.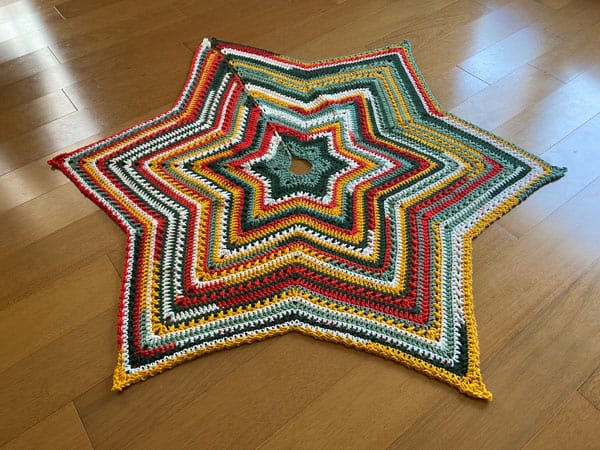 Tutorial
---
Crochet Christmas Granny Tree Skirt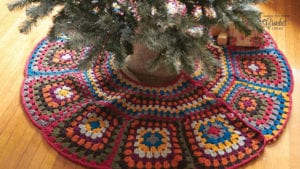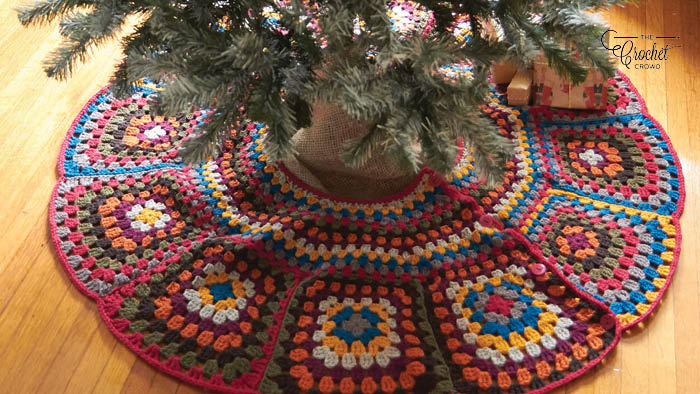 With the Crochet Boho Ornament Afghan, you will have yarn leftover. So why not pair a Crochet Christmas Tree Skirt with your afghan. Also, if you have spare yarn, this really hits the basket beautifully. You will be able to randomly put your crochet Christmas skirt together using the same balls from your Boho Ornament Afghan.


There are 12 trapezoid granny squares that force the shapes to form the circle.
More Christmas Ideas
Then, once those are done and assembled, you fill in the center back to the stem of the tree.
There will be two tutorials. One for the trapezoid shape and one for the filling in and final border. Stay tuned. I'm willing to help you in the tutorial format!
Tutorial
---
Crochet Christmas Star Tree Skirt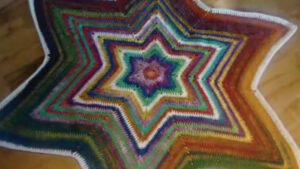 The video that accompanies this pattern is the only resource available for this Star Christmas Tree Skirt. I filmed this back in 2010 prior to having a website. The video is the instructions itself.
It was filmed with Bernat Mosaic Yarn that transitioned on its own. You can control your colours if you wish. I did intentionally make the last round white to give it balance.
---
Crochet Hexagon Christmas Tree Skirt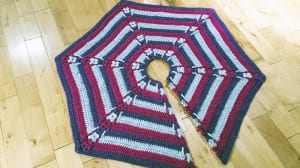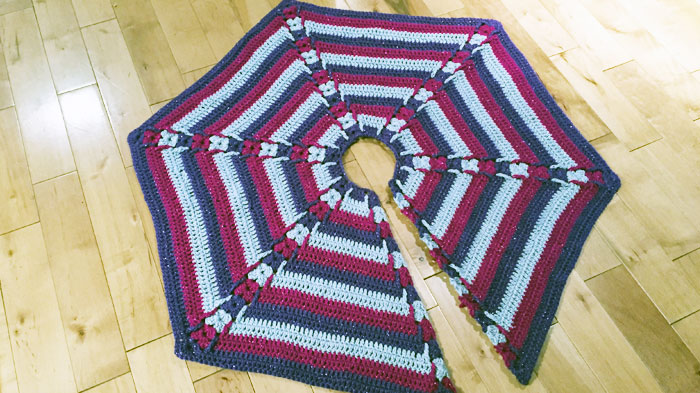 Crochet Hexagon Tree Skirt has simplistic corners. I have included a rough diagram of the stitchwork so you can see exactly what is happening in this design.
I used Caron Simply Soft Party yarn for my version as it has a bit of sparkle to it.

Tutorial
---
Bernat Christmas Tree Skirt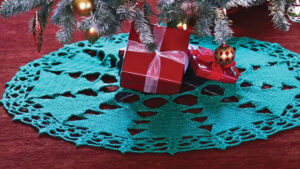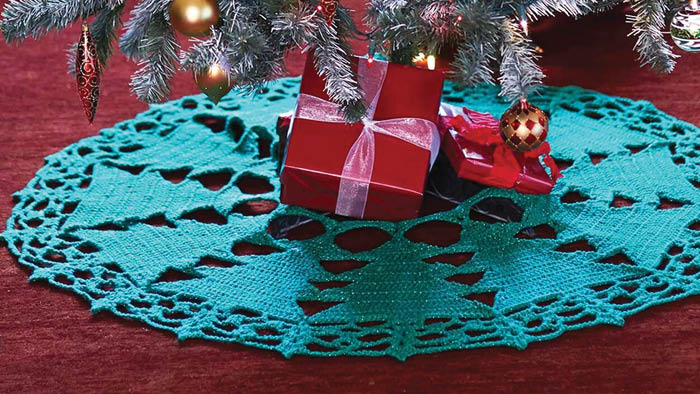 The Bernat Crochet Christmas Tree Skirt has tree motifs crocheted into place. In fact, you can be creative and make each tree its own colour.
You will start off with a row that will be the centre point of all 11 Christmas Trees. From there, you will build on and each tree joins to each other as you make them.
The border is a little complicated to start but once it gets into your head, your will most likely succeed. There is an error in the crochet diagram but I followed it during the tutorial. In the tutorial, I show how to get back on track as by the time I noticed the error, I had already completed 2 trees. So there is always a way to fix things.

Stitch Work Example at Border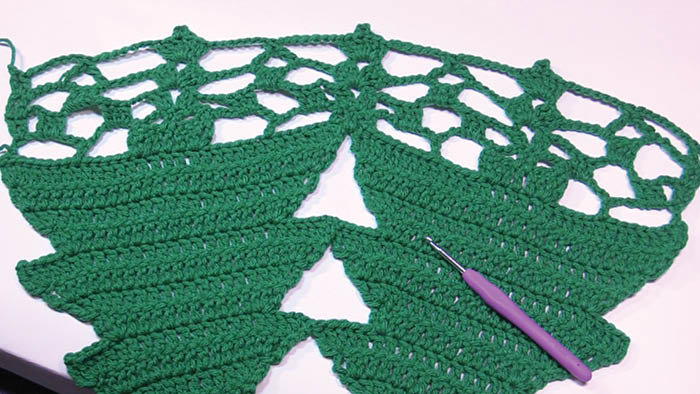 Tutorial
More Christmas