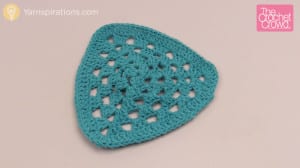 Triangle Granny
Crochet Triangle Grannies are similar to square grannies but obviously there is only 3 times instead of 4. Turning the corners are slightly different as the corner needs to be more than 90 degrees.
Getting started is the trick, once you get beyond the beginning, turn on the TV sit back and relax. You've got this!
This triangle is part of another project that I have used. You should know that my video doesn't follow the pattern 100%. I have simplified the triangle to let beginners have a fighting chance to be successful. Get the free pattern, it's called Granny Strawberry Dishcloth.
Video Tutorial