---
Tunisian Fair Isle Cowl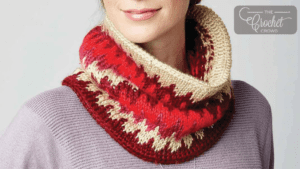 Of all the entire Tunisian Series, this was the project that hit the top of my most satisfied and sense of pride within myself. I have always wanted to do this but knitting is too hard for me. I was finally able to accomplish this look and not give up my hook. This is the Tunisian Fair Isle Cowl.
This is definitely one of the hottest projects for me to personally do one in colours that mean something to me. It takes a bit of getting used to carrying yarn but you cannot deny how amazing the final look is.
More Ideas
Get this free pattern, it's called the Tunisian Fair Isle Cowl. You will not be disappointed. By the way, don't give up if you are finding it awkward at first, it does take getting comfortable with.
In my video tutorial, we are going to follow the diagram doing a mini sample. Try a mini example before attempting a full size. You will be doing yourself a favour.
Video Tutorial