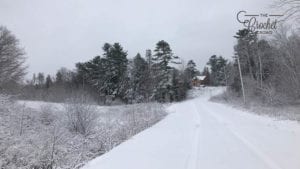 Winter Has Arrived
Since my last update, winter has arrived here in Nova Scotia. Due to the ocean, winter arrives later than other regions but our springs last longer. Since moving here, our seasons are shifted by 3 - 4 weeks. Absolutely beautiful summers with long-lasting autumn. I do love winter here though, it's not as harsh as where we had lived before.
We have a long laneway off the highway, so people think our laneway is a sideroad. There is a senior facility on the next road and people think our laneway is the road to get there.
The Guilt of Peak Season
We are in the peak season of The Crochet Crowd. Content is being pushed out fast, communications with crocheters are coming in fast and furious. A lot of questions, so little times. Absolute guilt in seeing crocheters not get questions answered.
On YouTube, it's difficult as I will run into a comment where the consumer is claiming I never answer anything, which is far from the truth. My issue is the volume and location of the comments. With over 1,800 live videos, comments are being left in a variety of videos each day. While my platform has a central base behind the scenes, the comments can be very complex.
How many chains if I want to make this an adult size blanket? (most videos have the multiple chain count inside the tutorial so that can be figured out.)
Can I use this yarn instead? (If the hook compliments that yarn, it shouldn't be a problem but people want a reassurance they are not wasting their time which I fully get.)
Can you refilm this project with a different colour yarn or film it much slower? (Yeah, sometimes I speak too quickly and look at the level of the project and determine that I don't need to be beginner slow when filming.)
Facebook is the hardest platform in the entire social media platform for us. I am tagged an unmanageable amount of time to get my attention. From thank you messages to requests for information to people wanting to show me their projects. It's truly a privilege to be tagged but due to the amount of the tagging, how on earth does a person prioritize what is sitting on my desk to getting down versus doubling back to address all of the tagging. It's a losing situation.
I have the email notifications for tagging turned off as it drains my phone halfway through the day. I'm not on Facebook for most of the day, of course, there are always exceptions. I am bouncing around in programming, video creation, designing, blog writing and general administration duties. Which reminds me, I have to do the quarterly financial reports... ah, never enough time in the day.
Social Experiment
Daniel and I have been watching the weekly episodes of The Circle. Season 1. Daniel put it on TV as just to fill time as there hasn't been much to attract us to Netflix lately.
The Circle, both Daniel and I differ on the takeaways. We are just a few episodes in.
Myself, the drama is a bit much. However, it gives us a glimpse of how much we leverage someone on social media without ever meeting. I have no interest to finish watching season 1.
Daniel is fascinated by the concept of watching behaviours change as situations change. He thinks it's interesting from an analytical point of view. Daniel wants to watch season 1, so we will together.
Changing Gears 
In another documentary, we watched a couple of weeks ago. The woman claimed she could be anyone online. From a super friendly to being sometimes super nightmare with intentionally picking fights. For some, it's their form of entertainment of projecting a personality that isn't actually part of who they are, maybe a superego coming out or something. For me, it changes how I see the internet.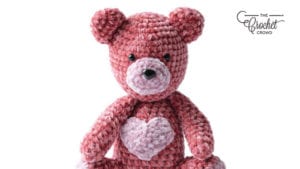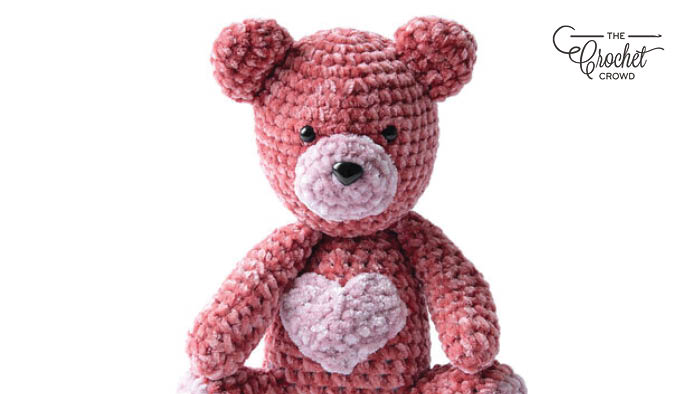 On The Filming Desk
The Crochet Valentine Bear is on the list for being filmed asap.
I had a lengthy chat with Sarah from Repeat Crafter Me. She is the designer of this bear and handed it over to Yarnspirations last year.
I admire Sarah for her skills to turn something ordinary to extraordinary by adding cute touches. I met Sarah back in 2018 and I was so delighted. What you see online is the person you see in person.


We laughed, shared and more. We are both determined. She has strengths where I fall and vice versa.
So I have asked Sarah to help me raise awareness about the video once it goes live. She can always say no but we have a great working-friendship behind the scenes. She's down to earth and easy to talk to. Definitely one of my favourite relationships behind the scenes.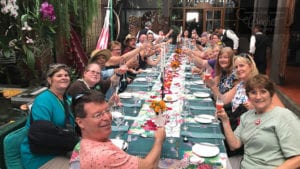 Crochet Cruise Planning
We are rounding the corner for the next crochet cruise in planning. I am on a tight time crunch in getting to major things done for Daniel.
I am working on a wrap that when I started, I wasn't feeling it but I had to get myself through the stress of time and see the pattern begin to work its magic. I'm loving it now. However, I have a few more hours of time to put into the project before we can photograph it and write the final pattern.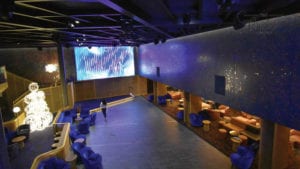 We also kicked off the final of the Crochet Cruises this past weekend. The registrations are flying in fast. In fact, some cabin levels have already sold out. Our agent is starting to call people back to finalize their registrations. It's going to be an amazing end to this portion of our events.
It will be the biggest venue and biggest party as crocheters that we are hosting.
We are assembling the entire team to be on board with us as well. Our entire team has never been together in one space. In fact, Jeanne has never met Wendy at this time. Everything we do is cyber through our home computers.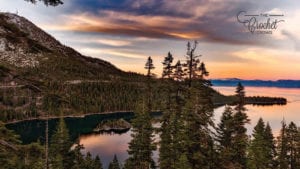 Lake Tahoe Retreat
We are nearly finished the budget for the Crochet At The Lake Retreat for Lake Tahoe for October 2020. Our co-planners are Jimmy Beans Wool.
We have gone through the budget several times in expressing concerns about this and that. Where money can be shaved off to bring down the activity fee portion of the event.
To put in perspective on the decisions behind the scenes. The meals for our group are significant in cost. We didn't plan on providing wine for the dinners but if we wanted wine, it would be an extra $7000 for the meal budget just to serve wine. The retreat location has a bar, where those who want to get an adult beverage, trust me, the crocheter can go to the bar to buy their own drink far less than the cost than it is for us to provide that. Not everyone drinks and we are going to take that to the bank to put it towards other things like purchasing yarn and more for the guests.
Unlike the Crochet Cruises, other than catering in our conference room, we don't need to worry about feeding people. So it's an element that we don't usually get involved with.
Where we can save money, we can lower the price of the retreat. Last budget check yesterday, $125 per guest has been removed from the budget per person. We eliminated some extra things, not really required. More wishlist items when you don't know the actual true costs.
Land retreats at more complicated to plan. I do know, once people see the final pricing, some people are going to flip out. From our planning perspective, the final price is really good. If people take into account how much it is to stay at the resort on its own consider the food and 1 excursion isn't included with the hotel stay. People will see the value of 2 full and 2 half-day gatherings. Full meals included for the duration of the retreat. Exclusive usage of 2 dedicated meeting places at the resort. Surrounded by others who have the same interest, learning workshops and fun stitching socials. It's an experience.
All guests for the retreat have to stay at the resort in order to keep our budget in check as minimums for the retreat have to be honoured to keep our budget in check.
Conclusion
There's a lot more going on here but I will save it for another time. It's year-end and we have to get the year-end books completed. Our plans for 2020 are underway for The Crochet Crowd. I'm loving the direction of 2020 so far!
I'll see you online.
More of Mikey's Thoughts
No post was found with your current grid settings. You should verify if you have posts inside the current selected post type(s) and if the meta key filter is not too much restrictive.