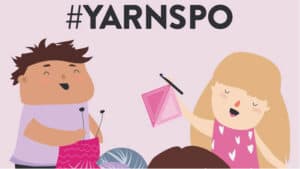 New effective July 16th is the updated version of #Yarnspirations to now being #Yarnspo.
#Yarnspo will be the new nickname for Yarnspirations and will continue to be the main umbrella hashtag for Yarnspirations.
Speaking personally, for myself, I'm super glad about it because I am known to spell Yarnspirations incorrectly and it's a long name to type into being a hashtag for a status update. So I gladly welcome this change.
Yarnspirations also has dedicated hashtags for many of its brands. Generally, the public mostly uses the name of the product without the word yarn applied to it but not always the case. They are as follows:
Bernat - #BernatYarn or #Bernat
#BernatAlizeBlanketEZ - Bernat Alize Blanket-ez
#BernatBlanket - Bernat Blanket Yarn
#BernatBlanketYarn - Bernat Blanket Yarn
#BlanketYarn - Short for Bernat Blanket Yarn
#BernatMakerHomeDec - Bernat Maker Home Dec Yarn
#BernatVelvet - Bernat Velvet Yarn
#BernatVelvetYarn - Bernat Velvet Yarn
#BernatPop - Bernat POP! Yarn
#BernatBabyBlanket - Bernat Baby Blanket Yarn
#BernatBabyBlanketYarn - Bernat Baby Blanket Yarn
#BernatSofteeChunky - Bernat Softee Chunky Yarn
#BernatSofteeBaby - Bernat Softee Baby Yarn
#BernatBabyVelvet - Bernat Baby Velvet Yarn
#BernatHandicrafter - Bernat Handicrafter Yarn
#BernatBlanketBig - Bernat Blanket Big Yarn
More Ideas
Red Heart - #RedHeartYarn or #RedHeartYarns
#SuperSaver - Red Heart Super Saver Yarn
#SuperSaverYarn - Red Heart Super Saver Yarn
#RedHeartSuperSaver - Red Heart Super Saver Yarn
#RedHeartRollWithIt - Red Heart Roll With It Yarn
#RollWithItYarn - Red Heart Roll With It Yarn
#RedHeartSoft - Red Heart Soft Yarn
#RedHeartHygge - Red Heart Hygge Yarn
#HyggeYarn - Red Heart Hygge Yarn
#RedHeartWithLove - Red Heart With Love Yarn
#WithLoveYarn - Red Heart With Love Yarn
#ItsAWrapYarn - Red Heart It's a Wrap Yarn
Caron Yarns - #CaronYarn or #Caron
#CaronSimplySoft - Caron Simply Soft Yarn
#SimplySoftYarn - Caron Simply Soft Yarn
#CaronOnePound - Caron One Pound Yarn
#CaronCakes - Caron Cakes
Patons Yarns - #PatonsYarn or #Patons
#PatonsClassic - Patons Classic Wool Yarn
#PatonsClassicWool - Patons Classic Wool Yarn
#PatonsKroySocks - Patons Kroy Socks Yarn
#PatonsWool - Patons Classic Wool Yarn
#PatonsAlpaca - Patons Apalca Blend Yarn
#PatonsGrace - Patons Grace Yarn
Other Brands
#LilySugarnCream - Lily Sugar'n Cream Yarn
#PeachesAndCreamYarn - Peaches and Cream Yarn
#AuntLydias - Aunt Lydia's Thread
#PhentexYarn - Phentex Craft and Slipper Yarn
#SugarnCream - Lily Sugar'n Cream Yarn
#SugarnCream - Lily Sugar'n Cream Yarn
#AuntLydiasCrochetThread - #AuntLydias Crochet Thread
#CoatsAndClark - Coats and Clark Company
#SusanBates - Susan Bates Yarn Tools
#AnchorThreads - Anchor Threads
#WonderArt - Latch Hook Kits
#JPCoats - Original Coats and Clark Name
#CoatsThread - Coats and Clark Yarn
Other Hashtags For The Crochet Crowd
#TheCrochetCrowd - The Crochet Crowd
#MikeyDesign - Designs by Mikey aka Michael Sellick
#JeannStein - Designs by Jeanne Steinhilber
#SummerStitchAlong - Summer Stitch Along with Projects
#HugsandKisses - Hugs and Kisses Projects by Jeanne
#CrochetTutorial - Crochet Tutorials
Retailer Hashtags
#MadeWithMichaels - Michaels Stores
#HandmadeWithJOANN - JOANN Fabrics and Crafts
#Walmart - Walmart
More Collections