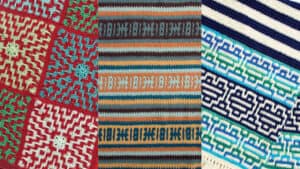 Yarnspirations rolled out 3 new Mosaic Crochet Blankets that make me squeal with delight! This blog has innuendo and may cause you to blink twice.
I love the challenge of a mosaic. It's interlocking but not as hard as conventional interlocking that has me tapping my head and rubbing my belly. Honey, I cannot chew gum and walk at the same time! So these are terrific as they can make me look like a superstar when I am finished! It's a type of project that gives a high-level satisfaction that makes me moan at the end. 
Red Heart Hearty Stripes Blanket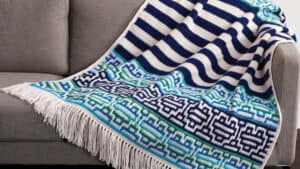 I dropped my jaw when I saw the Crochet Hearty Stripes Blanket. Get me the car jack so I can lift it off the ground.
I don't know if the colour of the entire concept itself. I cannot help but hear Ru Paul... Good Luck and Don't F it Up!
We did the hearts before in the Party Hearty Blanket that I have put as a bonus pattern at the bottom of this article. I have to review that one carefully to see if there is a difference or whether it's a yarn change. I know the stripes between are divine.
I don't want to make a sample swatch for the tutorial. I want the entire blanket! I don't need another blanket but I NEED THIS!
What do you think of this one. Leave me a comment. Moan or Groan! haha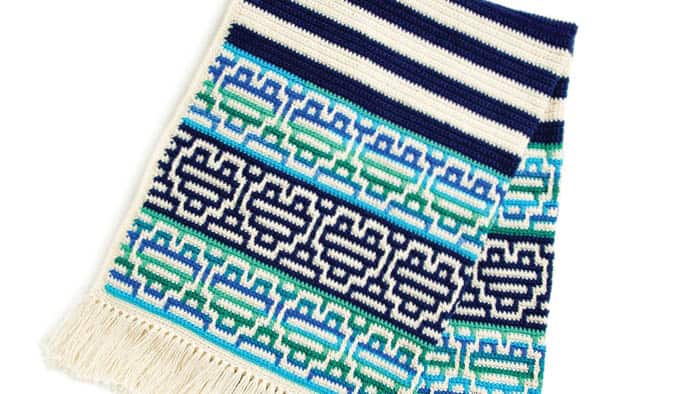 Tutorial
Not filmed at this time but I have this as a wish list item. Let me know to film it or skip it in the comments. 
---
Bernat Blanket Mosaic Stripes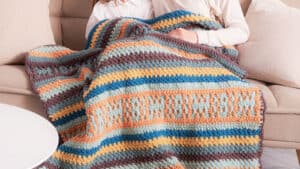 What a great introduction to mosaics if this is your first time. It's like a first date. You are testing the waters and seeing if it's something you want to do a second time.
This is the Bernat Blanket Mosaic Stripes Blanket.
Yummy colours with the new Bernat Blanket O'Go. Color play you say... YAAAAS!
This makes me wiggle in my chair! Wiggle wiggle... stitch stitch. I cannot help but think of Austin Powers... YEAH BAYBEE... YEAH!
What do you think of this one? Leave me a comment.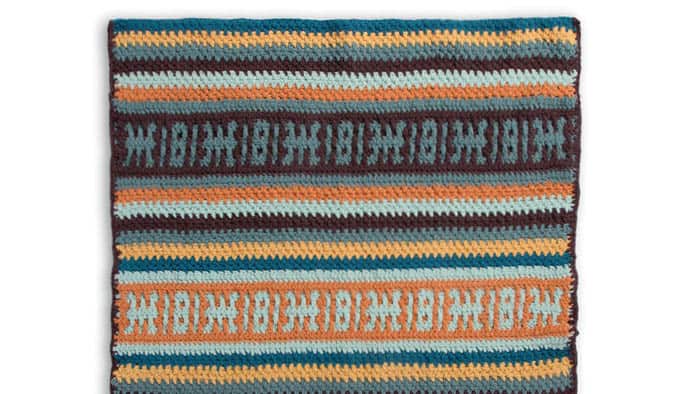 Tutorial
This is not scheduled to be filmed but I can be convinced if you need me too. What do you think? Leave me a comment and motivate me baybee! YEAH BAYBEE. YEAH! 
---
Crochet Mosaic Motifs Blanket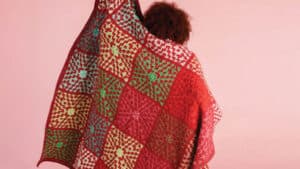 I think I just peed myself a little. OMG, did I just admit that! Just shut up and give me that free pattern right now! Oh, I am using my inner voice... I'm not religious but I think I just saw what yarn heaven looks like. Wait... maybe I blacked out a bit. LOVE THIS DESIGN!
This is the Caron Mosaic Mosaic Motifs Blanket.
I wondered if mosaics can be done in motifs and now I know. The pattern is a doozy! I need to film this one... hell no... not for you, but for me! Let's get our priorities straight here! haha If I film it, it means I am forced to learn it... is that so bad?
So I need this on my list to film! Omg, the color play possibilities! I think a need 2 minutes here to ummm savour this pattern.
What do you think of this pattern? Moan or Groan? Come on... it makes you moan right!? Leave me a comment.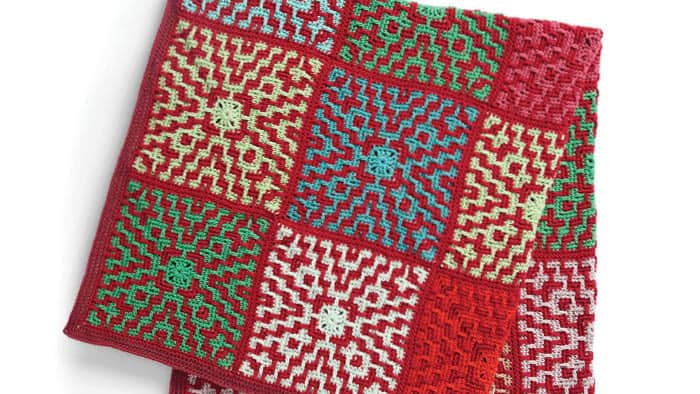 Crochet Motif Mosaics

Tutorial
---
Bonus Free Pattern With Tutorial
The Crochet Heart Mosaic Baby Blanket is a new pattern where the heart is created using Mosaic or Interlocking crochet techniques.
Of the mosaic crochet patterns, this one is easier and is a good beginner to this technique project.
More Crochet Patterns and Ideas to Consider
A heart shape will immerge from this design and really looks amazing. If you pick the right colours, it can really be cool. I regretted doing the tutorial in the pink and purple combo but the original testing trial was grey and purple and looked so much better. In short, have fun with the colouring.
I have created an exclusive worksheet download that is below that has extra tips and is used on the tutorial for working my way through the project. You may find it helpful too.


Two Other Crochet Mosaic Blankets
This Crochet Nordic Stripes Blanket has a free pattern and exclusive full-length free crochet tutorial as well.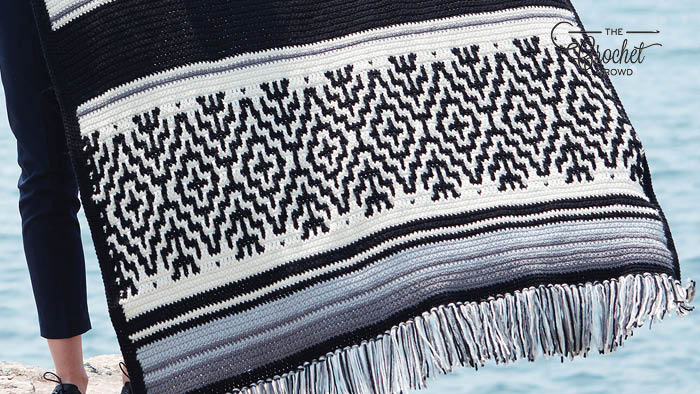 This is the Crochet Woven Mosaic Blanket that is the Stitch Along for Spring 2020. This is also a free pattern and matching tutorials to go with it too.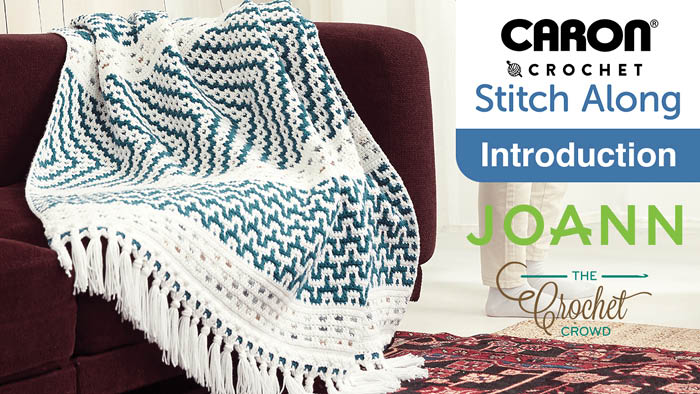 Tutorial Worksheet
The worksheet as seen in the tutorial is downloadable. You can click the pic or download my exclusive worksheet here.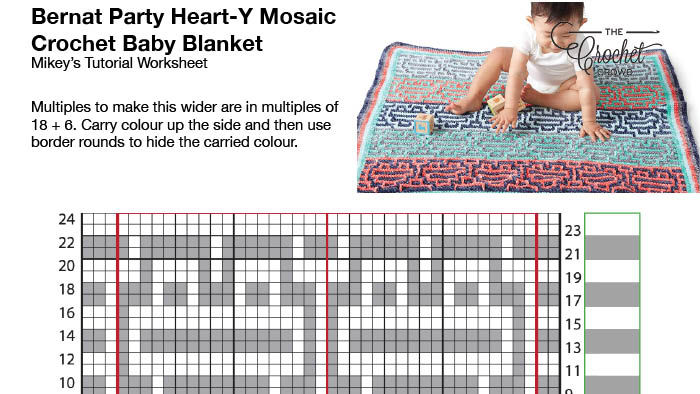 Tutorial
More Mosaic Patterns
No post was found with your current grid settings. You should verify if you have posts inside the current selected post type(s) and if the meta key filter is not too much restrictive.