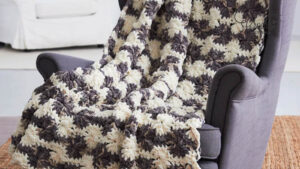 Bernat Blanket Big Wheel
Introducing the Bernat Blanket Big Wheel Crochet Afghan. This is a Michaels Store exclusive pattern that can be found only on their website. The link provided will take you there.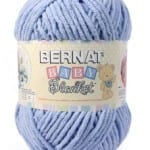 This afghan consists of Bernat Blanket Yarn that is chenille and really thick. To make this generous 50″ x 60″ generous size afghan, you will need a total of 6 balls of the 300 gram balls.
You can substitute the Bernat Blanket with Bernat Baby Blanket as the yardage and weight are the same. This will give you far more colour options too.
I am making an assumption that if you wanted to make this afghan 3 colours instead of 2. You could most likely get 2 balls of 3 colours instead of 3 balls of 2 colours. Of course, if you want to make your afghan bigger, you just have to add more yarn.
This afghan is very similar to the Catherine Wheel Stitch. There's a slight change in the number of chains between the centre points and the single crochets. It's extended by 1 extra chain so it will sit properly.
Due to this blanket being made of Bernat Blanket Yarn, this will go super quick to make.


Pattern Suggestions
Video Tutorial
More Afghan Pattern Ideas