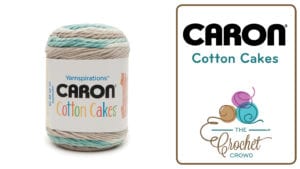 What To Do With Caron Cotton Cakes
Caron Yarns just launched a new yarn to compliment their collection called Caron Cotton Cakes. We got to see one sample and all of the colour shades a few weeks back prior to release. Daniel was floored! Daniel LOVES the finer things in life, being the Diva he claims to be. This yarn is exquisite and cannot believe it's part of the Caron Yarns line up. He's a type of Diva that wants champagne on a beer budget. Meaning, he loves finer things but loves great prices even more!
Disclaimer
This is not dishcloth or tea towel cotton. This is yarn intended for fashion. Once you see it, you will see the difference of regular 100% cotton verses this yarn. So do not use for this for your dishes or kitchen needs. It's not designed for this purpose. 
Video Preview
Myself, the colour combinations used are really perfect representing a beach theme. The beach glass colour is my favourite of them all. For myself, I haven't seen a full ball yet and I am dying for my local Michaels to get this in stock so I can see it and fill up my basket with options.
The yarn is a mix of 60% Cotton and 40% Acrylic. It has a sheen to the yarn. It is also not conventionally spun to give a top quality look. Speaking bluntly, once you see this yarn, you are not going to believe it because it's high end yarn looking for everyday crocheter and knitter prices. Priced at only $4.99 USD. It's so hard to believe as I have spent way more on yarn that looks like this quality.
The yarn will glide through your hands like BUTTAH! It's pleasure in every stroke of the hook. Most Michaels Stores will have this yarn for a limited time. It's for only $4.99. It's expected to fly.
Skip The Line and Potentially Empty Shelves & Order Online Directly Through Michaels
For residents of the USA, you have the ability to order this yarn online directly through Michaels. You can visit the Caron Cotton Cakes Page at Michaels to see all colours and/or purchase. Get the colours you need and in the quantities you need. At the time of this publication, 3 of the colours were sold out but may be replaced later.
Most Michaels Stores across North America will have this yarn in stock but may go really quickly.
Free pattern can be found at Michaels.com. It's called "Make A Point Crochet Shawl" using Caron Cotton Cakes, Beach Glass Colour.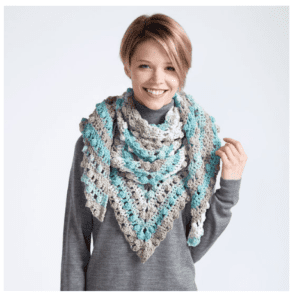 See All Colour Choices
See all colour choices for this yarn at: Available Yarn Colours
Yarn Story
Enjoy the self-striping Caron Cakes yarn in this unique cotton blend! This soft, versatile yarn is a summery take on our striping staple, so whip up your seasonal projects in new Caron Cotton Cakes! Featuring a lovely range of pastel shades, this is a great choice for garments and accessories like beach bags and coverups.
Weight: Medium Worsted (4) Contents: 60% Cotton, 40% Acrylic
Skein Weight:3.5 oz./ 100 g
Yardage: 211 yd. / 193 m
Knitting Gauge: 20 sts – 26 rows = 4" (10 cm)
Crochet Gauge: 14 sc - 17 rows = 4" (10 cm)
Suggested Knitting Needle: 4.5 mm, US - 7
Suggested Crochet Hook: 5 mm, US – H/8
Current Colours
At the time of publishing. All of these colours were being offered at Michaels.
All Projects Featuring Caron Cotton Cakes
No post was found with your current grid settings. You should verify if you have posts inside the current selected post type(s) and if the meta key filter is not too much restrictive.