Coming in late March 2023 is the next Stitch Along with our friends at JOANN. For the first time, there will be a knitting stitch-along hosted by Marly Bird. Both projects are not in the same category of the finished item as each other. Knitters will have a unique experience, but they go together in the same theme, if that makes any sense.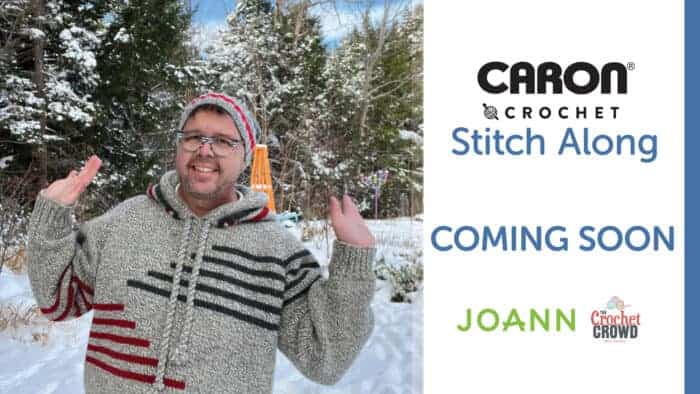 I know there will be an outcry for the materials list, but I still have to keep it quiet. One of the colours I am using, if not two, is brand new for JOANN this spring. If I tell you now, it might not be on the shelves for a bit or available to order online. They need time to get the yarn to the stores and the online warehouses for those who prefer to shop online. There's no point upsetting people by showing yarn that isn't available yet.
Currently, I am filming the week-to-week adventure for the Stitch Along. It's a sampler, and two of the sections were fascinating. I had to relearn two sections and examine the finished sample so I could assist in teaching the correct elements.
My version, as usual, will be a blanket. It will be 49″ x 54″ long. Yes, it's not a square. You will have opportunities to pull sections of the blanket and make them a blanket on their own or even change the width of the sections to make it more comprehensive. Of course, you can make it longer too. The best thing is that the finished border will adjust without much thought to any size you do! It beautifully frames this one-of-a-kind blanket.
There will be no sign-ups. Just stay tuned. JOANN will give out the announcement once they are ready with the stock levels and the online warehouse is ready. I will update this article with more details and the Stitch Along details as information is allowed to be released.
I'm looking forward to seeing what colour options people do. I was moved emotionally by this blanket. It hit me in a good way about looking backward to what is currently in trend today.
I filmed this video log a week before this article. I cannot wait to see what people do with this… Hook up with me this spring! Some of you are going to blow this out of the water! You watch!