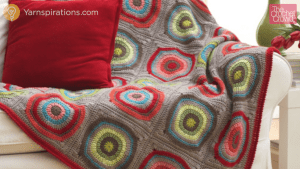 Crochet a Circle in the Square Afghan
Learn how to crochet your very own Circle in Squares Motifs to make your own Circle in Squares Afghan.
There are 4 motifs in this pattern but they are all the same technically speaking. The difference between them is that there are 4 different colourways to consider. Don't let this pattern stop you from coming up with your own crochet colorways as I think this would be an amazing scrapghan project to use up their partial balls sitting around in your home.
This afghan offers a bit of a challenge in the sense that the centre has to transform from a circle and then eventually to a square by the 8th – 9th rounds. The trick is to watch the colourways to know what colours you want to have more attention than others.


More Ideas to Enjoy
Technically speaking, there's nothing in this pattern that I would deem being too complicated for anyone to do.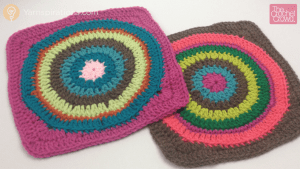 Get the free pattern, it's called Circle in Squares Afghan.
Here's A Tip
You will notice there is a size difference between the two squares on the right. The brown trimmed one is 9″ using 5.5 mm or size I across. The one in the tutorial which is the pink trim is 10″ across using a 6 mm or size J crochet hook. It doesn't sound like much of a difference but there is when it comes to the overall squares that are needed.
According to my Granny Square Calculator, there is a significant difference between the two sizes by the number of squares you need to complete an afghan.
For Example:
With the squares being 9″ across. I will need 49 squares to complete an afghan that is 60″ square.
With the squares being 10″ across, I will only need 36 squares to complete the afghan to be 60″.
One inch difference makes the world of difference when achieving the size of the afghan you want. You can try my free Granny Square Calculator for yourself as you may have other projects where you will want to figure this out in advance.
During the tutorial, I got the giggles in round 4. I have no idea why I was giggling but to keep my tutorials real to honest with my fans, I have left it in. Enjoy the giggle and learning at the same time.
Video Tutorial (Right & Left)
Granny Square Pattern Ideas