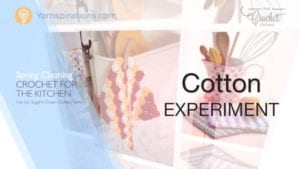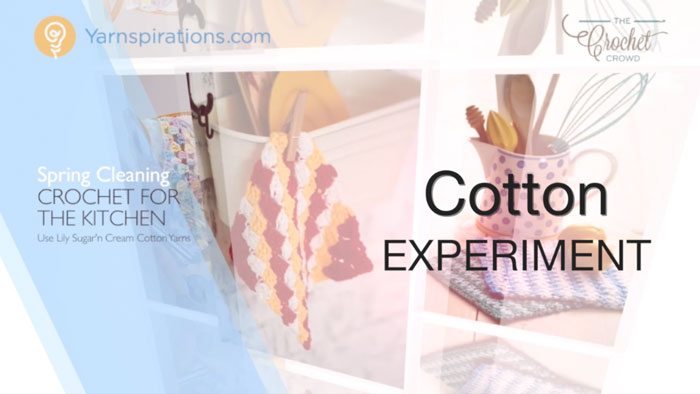 So What's Up with Cotton for the Kitchen
Coming up shortly is the new "Crochet for the Kitchen Series". If you have been following along with my crochet tutorials and ideas over the past 8 years, you will know I haven't got into cotton much. There are some reasons for that or should I say excuses.
Many years ago, I made a dishcloth with just double crochet. I wasn't really happy with it. One dishwashing session, the dishcloth was stretched beyond recognition and I was so disappointed. In the attempt to try again, I used Acrylic Yarn for the second one and I might as well just tossed the ball into the trash without even crocheting it. Now, I'm not the smartest tool in the shed, so I wasn't understanding the properties of cotton yarn versus acrylic and things to look for.
Fast forward to today, I use cotton more as I understand when and how to use it. Does it require me to have a degree in yarn-ology? Not really and by the way, as far as I know, there is no degree for such things but it's fun to think about a certificate in such things!
Pattern Suggestions
Cotton Properties
Cotton doesn't stretch yarn wise. If you are going to do loose stitching, the project may stretch as a result of the stitching but it is not the yarn stretching itself.
It is sturdy and durable.
Once a project is stretched, it doesn't bounce back.
It's eco friendly as it's a source of yarn that is actually grown.
Cotton originally feels a bit rough but washing it will have it calm down and soften up.
It takes to dyes beautifully with bold and bright colours as being an option.
On a hot day or people who live in warmer climates, cotton projects will keep you cooler and not keep in the heat like animal blends or acrylics.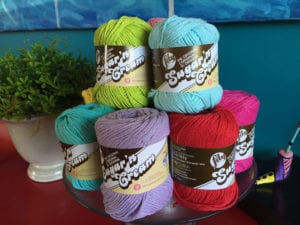 Lily Sugar'n Cream Cotton Yarns
Spinrite Yarns, you will know them at Yarnspirations is North America's Largest Manufacturer of Cotton Yarns. Proudly grown and spun in the USA. It then comes to Canada to the Spinrite Yarn Factory where the yarns are custom dyed and packaged.
For our American Friends, you will know this yarn as Lily Sugar'n Cream. For Canadians, like me, we will know this yarn as Bernat Handicrafter. Due to Trademark and location, the same yarn is called two different brands depending on what side of the border you are on. For Yarnspirations.com, you can buy either format no matter which side of the border you are on.
Lily Sugar'n Cream is available in two different packages. One is the ball format that you see in the above picture. Available in tons of different shades depending on the packaging.
Lily Sugar'n Cream Smallest Size – 71 g solids, 57 g Ombres – 88 Colours
Lily Sugar'n Cream Bigger Size – 113 g solids, 85 g Ombres – 44 Colours
Lily Sugar'n Cream Twists – 56.7 g, 6 Colours
Lily Sugar'n Cream Stripes – 57 g, 8 Colours
The large format of Lily Sugar'n Cream is available in cone format.
Lily Sugar'n Cream Cones – 400 g, 17 Colours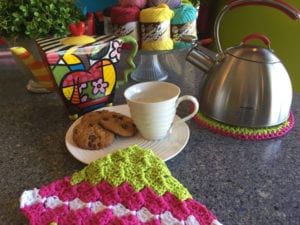 Bernat Handicrafter Yarns
In Canada and select locations in the USA and other parts around the world, Bernat Handicrafter is the cotton yarn made by Spinrite Yarns. Bernat Handicrafter comes in more formats than Lily Sugar'n Cream Cottom. Made in the same location, there are similar and different colour options for this yarn. One of the yarns comes pre-scented with the fragrance that is added to the yarn. Having been at the facility several times and during our plant tours, you can smell the aroma of the scented yarns in the air.
There are several sizes and styles to the Bernat Handicrafter Yarn line:
Bernat Handicrafter Small Size – 50 g solids, 42.5 g Ombres, 62 Colours
Bernat Handicrafter Scents – 43 g, 6 Colours
Bernat Handicrafter Stripes – 43 g, 7 Colours
Bernat Handicrafter Holidays Medium Size – 113 g, 6 Colours
Bernat Handicrafter Large Format, 3 Styles – 400 g solids, 340 g Ombres, 340 g twists, 62 Colours
The Experiment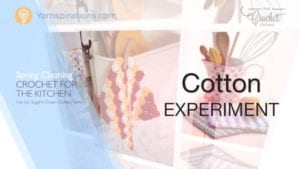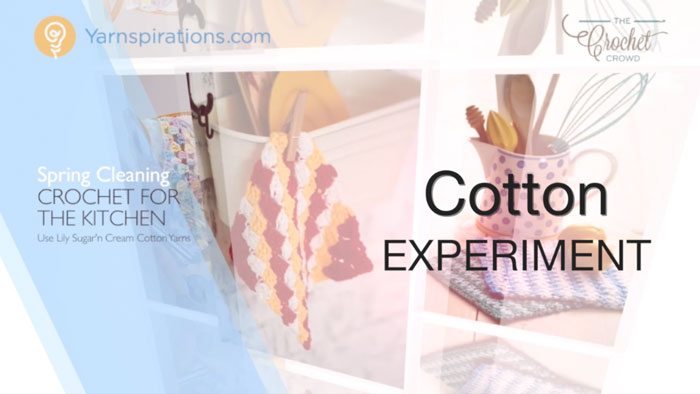 Being that I didn't understand cotton and the properties of cotton many years ago. I didn't get that not all yarn can be used in the kitchen. Cotton has properties, being natural, that other yarns cannot offer.
Known Facts – Non-Cotton Yarns
Using animal blends such as wool or alpaca would be a waste as it's higher-priced and will not last in the kitchen unless it's for decor only things.
Using acrylic or petroleum-based yarns such as nylon, polyester and others. Placing a hot casserole dish onto the surface, if it's made with these materials, will cause the yarn to melt and potentially burn.
Using acrylics or petroleum yarns for things such as oven mitts, hot plate servers or other things involving protecting your hands from absorbing the heat of a dish in the kitchen has serious potential for personal injuries which could include the yarn melting onto your skin causing significant burns.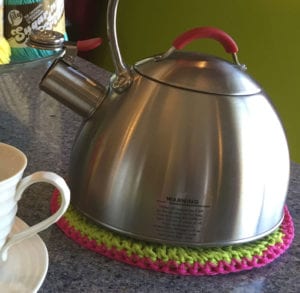 Known Facts – Protection
Cotton can withstand high temperatures. Due to the temperatures, it can take, cotton can be sterilized. Being that it can resist heat, it is a great barrier between a hot surface and surface such as a table or counter where a hot item may burn the surface.
It can be used for oven mitts and potholders. Be aware of the stitch as gaps between the stitches may allow your skin to push through the stitches to touch the hot surface.
Cotton is long-lasting as it's a natural fibre
Cotton is hypoallergenic.
Cotton is less sensitive to sunlight and will resist colour fading.
Cotton works for keeping you cool in the summer and warm in the winter. It naturally absorbs moisture which adjusts based on your situation. Moisture is what can cause overheating and feeling cold in the winter.
Yarn is so strong that it is nearly impossible to break the yarn by pulling on it without assistance such as scissors or a sharp edge to break the yarn strand.
Dish Washing with Cotton Yarns
One element that I wasn't careful with many years ago was that my stitch choice and hook didn't match the recommendation of the yarn. For dishwashing, you want tight stitches. Though the cotton yarn will not stretch, the stitches itself can stretch. Loose stitches will stretch the project. The tighter is better. Years ago, my second dishcloth was made of acrylic. You will see in my experiment why it's the wrong choice, but if you are new to using yarn, you may make the same mistakes I did.
Below is my experiment of testing Cotton versus Acrylic in water and scrubbing.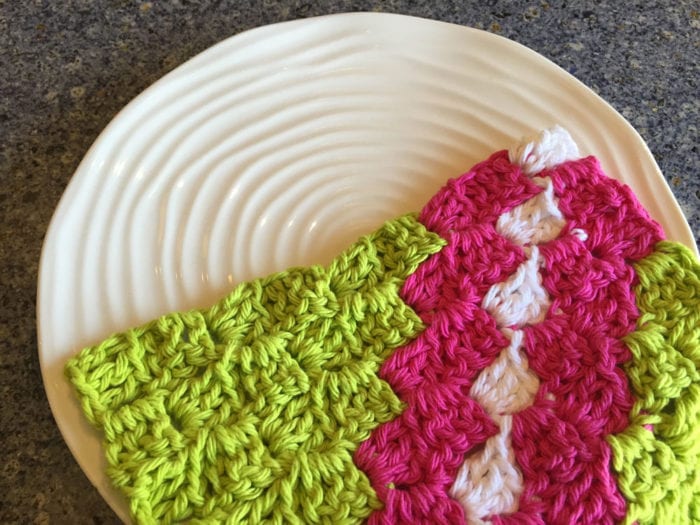 The test includes wetting both cotton and acrylic yarn.
Scrubbing a cutting board.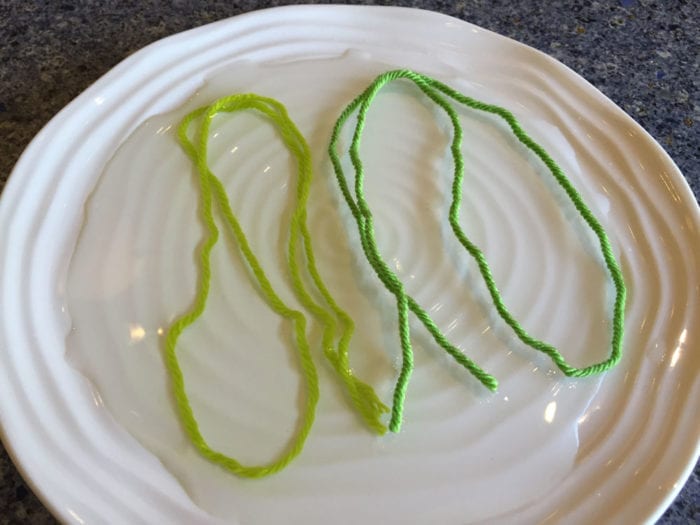 Cotton yarn instantly absorbed the water and sank to the bottom.
Acrylic yarn stayed afloat and had to be forced under the water to absorb the water.
This confirmed that cotton does in fact absorb moisture. Therefore making it cooler in the summer to wear and warmer in the winter as moisture is the cause of feeling hot or cold.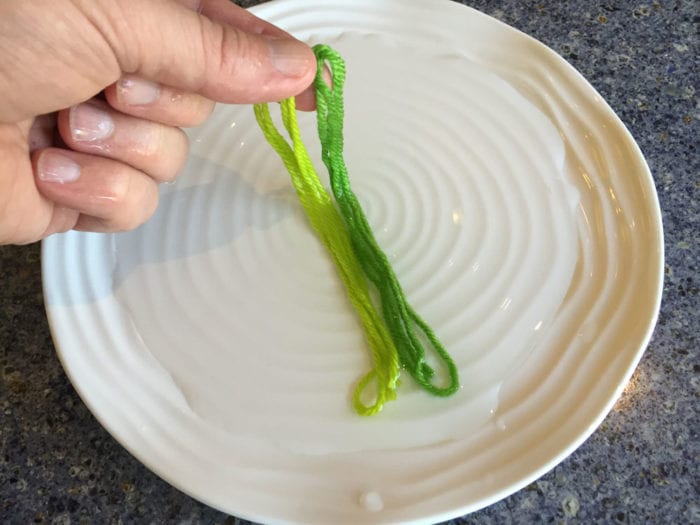 After forcing the acrylic into the water and massaging the yarn strand, it finally absorbed the water.
Upon pulling out, the acrylic feels thinner to the touch but the cotton remains unchanged.
This confirms that cotton isn't stretching or changing when water is hitting it.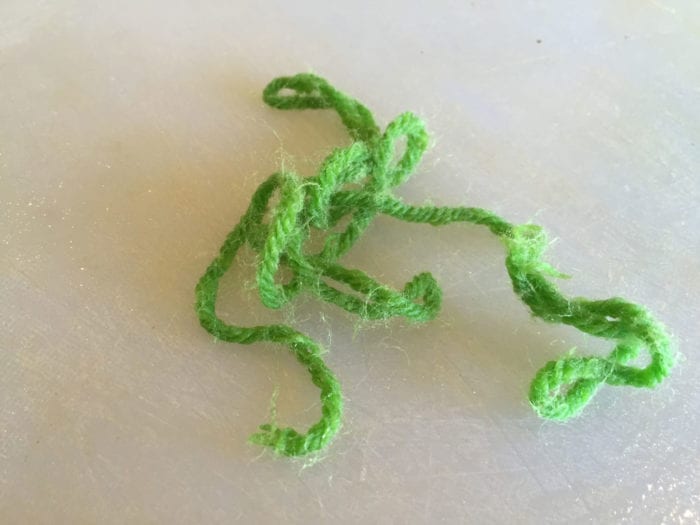 1 minute of rubbing acrylic yarn onto the cutting board.
Fibres are beginning to separate from the strand.
Fibres feel thinner.
Fibres are grabbing onto each other like Velcro.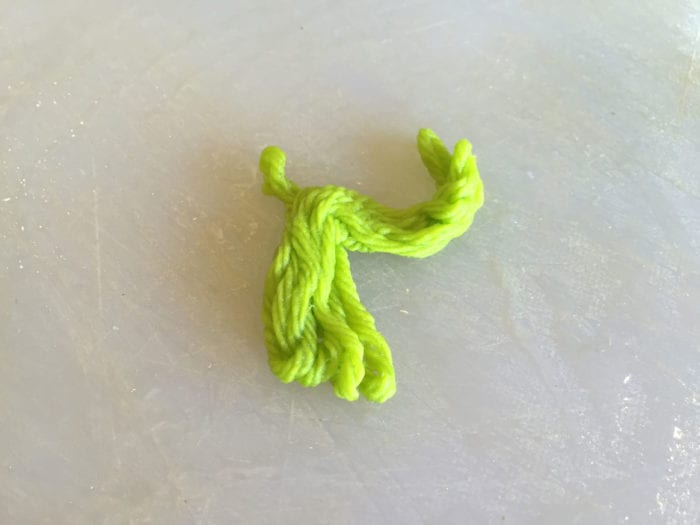 Scrubbing the cutting board for 1 minute, like the acrylic example. The cotton yarn appears to be unchanged.
The plies have held together.
The yarn strand is rolling with others and the fibres are not pulling away from the strand.
Thickness and stretch remain unchanged.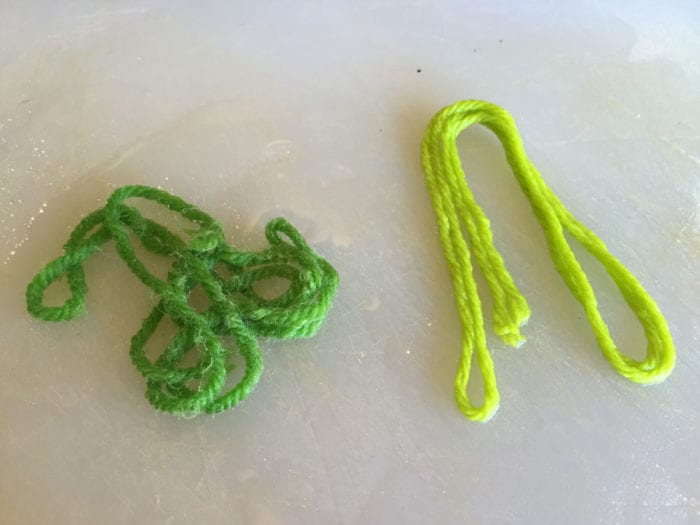 At the end of the experiment, the cotton yarn on the right comes apart back to its original format without any exhaustion or difficulties. The acrylic on the left has fibres that have pulled apart and are grabbing onto other fibres making it more difficult to pull the example apart. It can be done, but it's not with ease like cotton.
If you were to use cotton to dry the dishes or tea towels, the cotton will pull the water from the surfaces while the acrylic will try to fight it. After rubbing surfaces dry, the acrylic example will look pilled and damaged. It will never look the same as when it was finished coming off your hook.
The cotton yarn can withstand the demands of a kitchen and has properties that we need to have in the kitchen. While acrylic yarns are fabulous in other parts of lives, the kitchen is NOT the place for the acrylic.
Crochet Kitchen Pattern Ideas