Crochet Rising Tides Bag
Crochet the Rising Tides Bag, a design by Mikey. Using Caron Cotton Cakes, the colour shown is called Nested Blues. Inspired by the Bay of Fundy as it's just around the corner from my home. The tide goes up and down between 40 - 60 feet every 13-hour cycles. It's so remarkable. The amount of water moving is mind-boggling.


My bag represents the Bay of Fundy Tidal Cycle. With the browns showing the base of the ocean floor exposed by low tide then rising into the majestic blues during high tide.
More Bag Ideas
The Chevron illusion in this design. Though it appears we are going up and down for the chevrons, those are trebles overlaying in front every other round. So it's the chevron look without the frustration. The bag is solid and I believe doesn't need to be lined as the stitches are tight.
Use the tutorial below to get yourself started. This bag didn't take me long to design and make. Keep it simple but fabulous. RIGHT!? 
Watch the Tide
Full Picture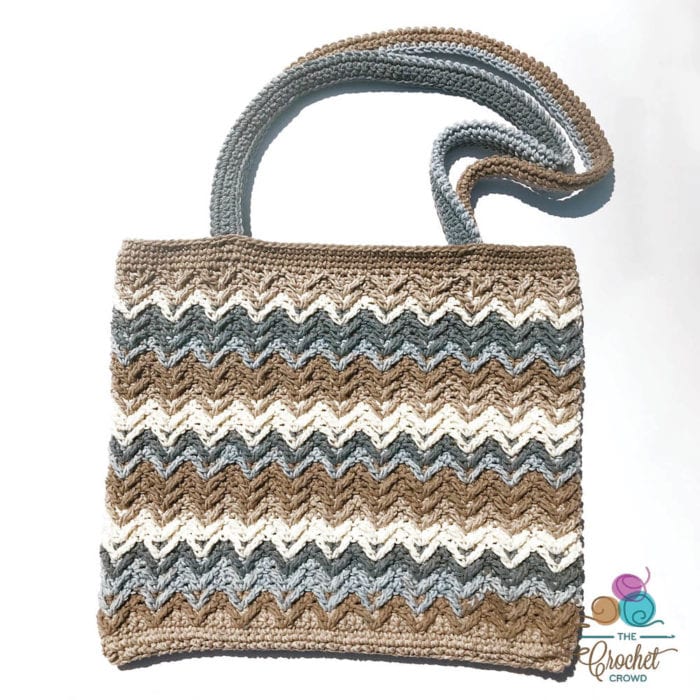 Tutorial
More Caron Cotton Cakes Patterns
No post was found with your current grid settings. You should verify if you have posts inside the current selected post type(s) and if the meta key filter is not too much restrictive.
More Bag Patterns