Designed to yield as much yarn as possible with Caron Big Donut yarn, this blanket uses the C2C Brush Stitch as a base with a simplistic border to finish it off. Fast and easy to maintain, a colour strategy is at play here.
Caron Big Donut, now discontinued by Michaels, was a long self-striping yarn. The colours and yarn definition were fantastic. For my home, I prefer the yarn not to play its tune but have thoughtful colour changes so I don't end up with a colour change in the middle of a row. It's not OCD, it's a personal preference.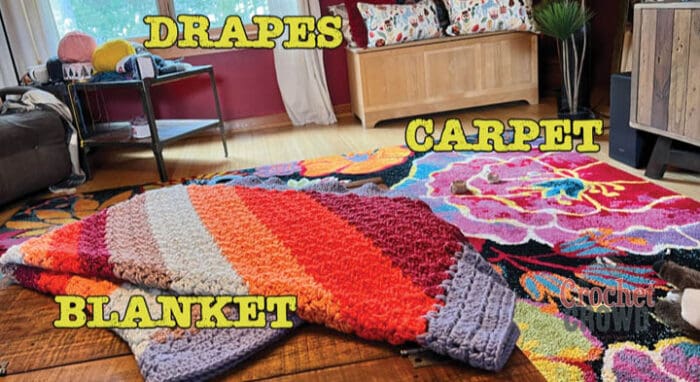 Strategy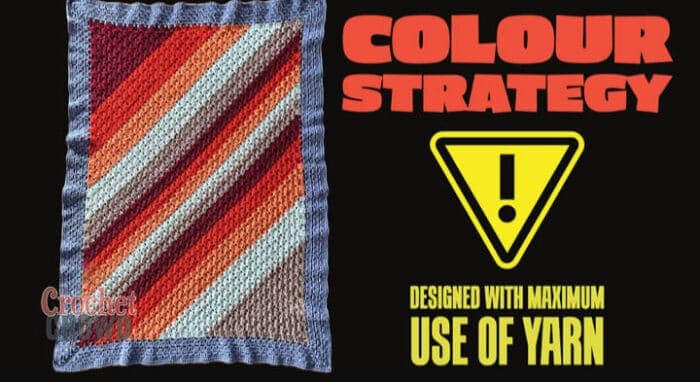 There are 5 colours in the Caron Big Donut O'Go called Spiced Ginger.
This blanket is a rectangle.
Crack open start with colour 1. In some colours, to finish a row, you may need a bit more from the next o'go to finish it. Move onto colour 2 and so on. I will have the row counts below.
Once I finished the first o'go, I only did 3 rows of each of the colours, starting back at colour 1 again. This left extra yarn so I could use it on the final decreasing.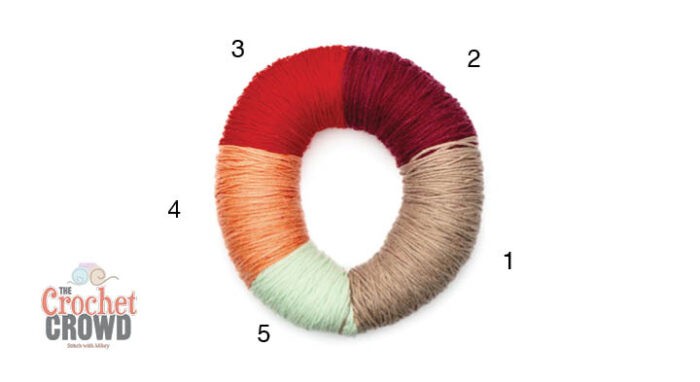 For the border, I used 1 ball of Caron Big Donut O'go called Frostberry.
---
TIP: If you don't want to use the Spiced Ginger, you will need 300 yards / 275 meters of each of the 5 colours to make this work. I don't have yarn quantities for different sizes.
---
The tutorial below will show you how to get started for both rectangle and square versions. Also the border is started as well. It's easier to show you the steps as the stitch work can be complicated.
The stitch diagram below shows you the square version of how the stitches look in crochet format. The tutorial will help you with the rectangle.
Tutorial
Blanket Details
Blanket is using 5.5 mm / I/9 crochet hook. Uses 3 Caron Big Donut - Spiced Ginger and 1 Caron Big Donut - Frostberry.
The blanket measures 53" long by 34" wide. It is designed for a lap on a chair. May be great for people also that use a wheelchair.
The afghan is 40 blocks (short distance) by 58 blocks.
The border is done precisely like Jeanne's Modern Granny. Once you go the first round around the blanket after the C2C is completed, the rest of the border is done like her blanket.
Rnd 2 looks just like the beginning edge border of the tutorial for the Brush Stitch. Rnd 3 in the Modern Granny Video is the next rnd you need. You will repeat Rnds 2 and 3 until 6 rnds are complete.
The final round is 1 half double crochet in every stitch and only 3 half double crochet in the corner.
Colour by Row Counts
Colour 1 - 18 rows.
Colour 2 - 8 rows.
Colour 3 - 6 rows.
Colour 4 - 5 rows.
Colour 5 - 3 rows growing. 1 row starts the rectangle shape started.
Colour 1 - 3 rows.
Colour 2 - 3 rows.
Colour 3 - 3 rows.
Colour 4 - 3 rows.
Colour 5 - 3 rows.
Colour 1 - 2 rows. 3 rows with both sides decreasing.
Colour 2 - 6 rows.
Colour 3 - 6 rows.
Colour 4 - 8 rows.
Colour 5 - 16 rows.
If you decide to change the yarn or shape, it will change the yarn quantities but I don't know what that would be.