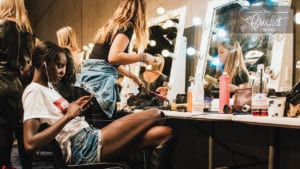 Crochet Broadway Makeup Mirror Square
It's 5 minutes to curtain peeps, introducing the Crochet Broadway Makeup Mirror Charity Square assignment.
For Crochet Cruisers going to Bermuda with us departing New Jersey in July 2019, each one of you needs to complete 9 squares of this project to bring with you.
The free downloadable PDF has the instructions for the square and more about this charity project for the ship. There are also close-ups and more photographs to help you in the pdf.
To recap quickly. You can use any yarn you wish that is equivalent to Caron One Pound yarn. Be sure to do a gauge check as each of our squares needs to be very close to the same size to mix up the squares with each other on the ship.
The base of the pattern is the blank mirror illustrated in grey. Keep your mirrors in the grey tones. However, be fun with the frames and lighting. I have given you an option if you are uncomfortable with changing the yarns for the 4 quadrant granny squares to just use 1 colour of grey if you prefer. However, don't be scared to at least try.
Cruisers are asked to add something to your 9 mirrors. It can be the same thing as you are exchanging squares on board. Or you can live dangerously and make each 9 unique. Be creative, have fun.


Crochet Cruiser Options
To satisfy all levels of crocheters on this cruise. You have 5 options.
Type 1: Complete the 4 tone granny square concept like it shows in the video and written instructions. Using gray as a mirror background.
Do the step above and add a reflective type of motif to the gray area of the square. 
Type 2: If you are uncomfortable with doing the 4 tone concept, use 1 colour and do a solid granny square so the mirror is all one colour.
Do the step above and add motifs to the reflective surface.
Type 3: Complete a solid granny square in one colour other than gray from start to finish. The square must measure 16″ x 16″ to fit with the other squares. 
If you see any errors in the pattern, let me know at i[email protected]. I plan on filming this pattern soon.
Wet Block Your Final Squares
Once complete, wet block your square and bring with you to the Crochet Cruise.
Tutorial
Afghan Pattern Ideas